Whincup and Lowndes claim pole for tomorrow's Sandown 500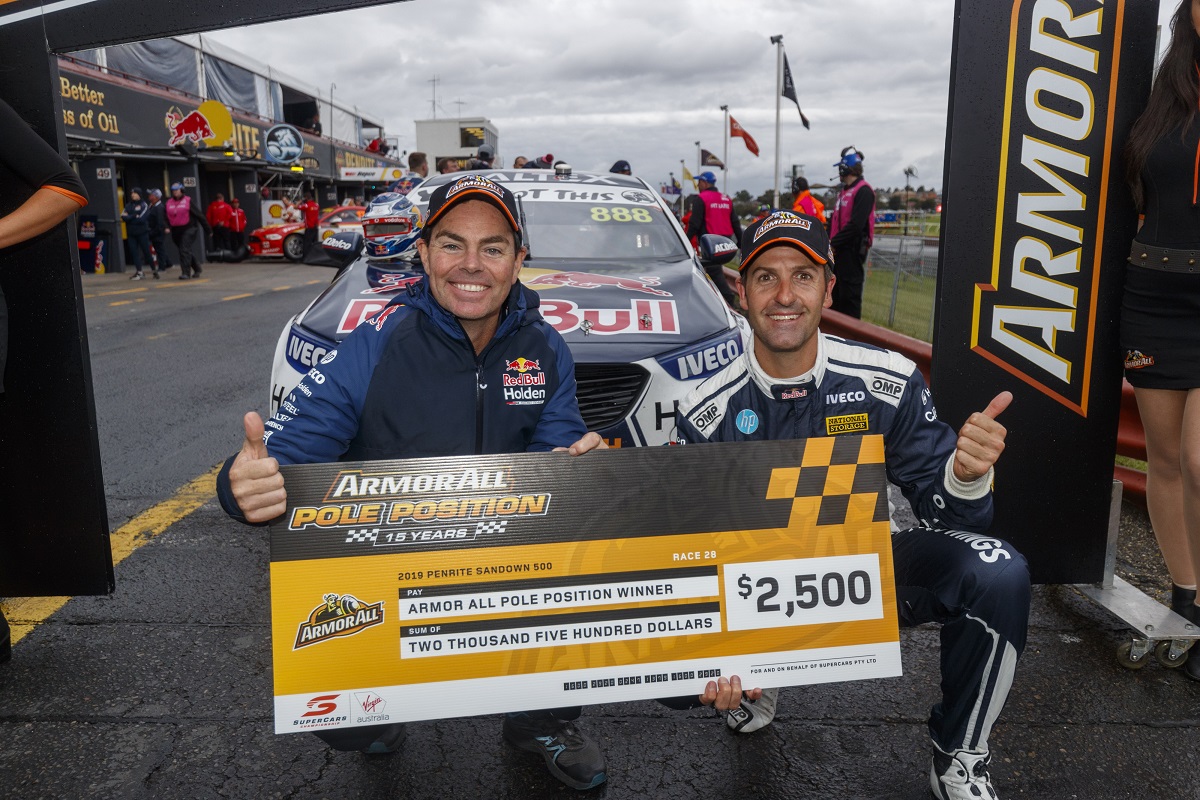 The drivers with more wins than any others in the history of Supercars, Jamie Whincup and Craig Lowndes, have claimed pole position for tomorrow's Penrite Oil Sandown 500 after taming the wet conditions in Melbourne today.
Lowndes won the opening sprint race of the day between PIRTEK Enduro Cup co-drivers in tough conditions, before Whincup claimed his fourth Sandown pole position late today.
"We've been a little bit hit and miss in the wet this year, we've had some good performances and some ones that haven't been so nice," Whincup said.
"The car was good and poles have been few and far between this year, so we'll certainly take this one.
"It's always touch and go, but that's why the engineers gets the big bucks to make the right calls and today we made the right one."
Defending Virgin Australia Supercars Champion Scott McLaughlin was basically handed this year's crown when his nearest rival, Shane van Gisbergen, collided with youngster Anton De Pasquale on the opening corner.
The incident ended van Gisbergen's day, meaning McLaughlin opened up a wide enough gap on the points table to make it almost mathematically impossible for McLaughlin to be overtaken this year, provided he simply finishes tomorrow's 500km race.
Nissan's Andre Heimgartner was one of the standouts in the wet and will start from second in tomorrow's endurance race with co-driver Bryce Fullwood, while last year's ARMOR ALL Pole Position winners at Sandown, David Reynolds and Luke Youlden will start from third.
Heimgartner was thrilled to secure his first front row start of 2019.
"It's pretty awesome, I was a little bit worried at the start there, obviously this track is pretty bad in the wet and we managed to tune it up anticipating that it'd be wet like that," Heimgartner said.
"It was really good, just managed to keep McLaughlin behind me and managed to keep the tyres on the thing and second place, really happy.
"Pretty confident that we got the car where we need it, but who knows, it's dry one minute, raining the next.
"Good start, hopefully Bryce will start the race tomorrow I think and we'll see where we end up, but really happy."
Will Davison was quickest of the Mustang's this afternoon and will start in 4th while McLaughlin was conservative in the wet so will start from 5th position as he tries to lock up the Championship tomorrow. McLaughlin's Shell V-Power teammate Fabian Coulthard will start from sixth.
After today's race van Gisbergen admitted he made a mistake in the clash with De Pasquale was his fault, despite race officials penalising De Pasquale for the incident.
De Pasquale recovered to record the fastest lap of the day in the Penrite Racing Commodore.
One of the drives of the day belonged to youngster Brodie Kostecki in the ZB Commodore he built with cousin Jake. Kostecki chose the right tyres and pushed his way through the field in tricky conditions. After starting 21st he ended the day in 8th position in just his fourth race at the top level.