Kyle Larson Wins The 34th annual Lucas Oil Chili Bowl Nationals presented by General Tire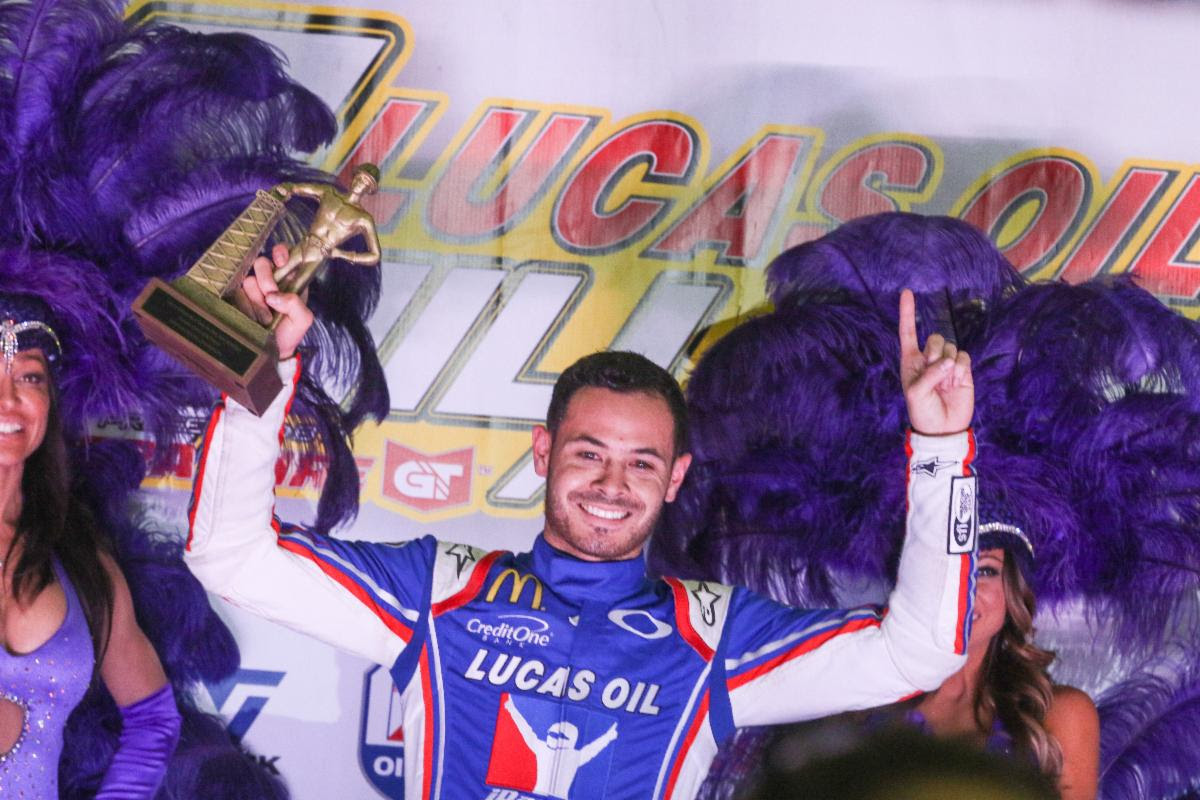 Bryan Hulbert – TULSA, Okla. (January 18, 2020) "I'm sorry NASCAR, I'm sorry Daytona, but this is the biggest effing race I've ever won. I hope to win Daytona in a few weeks, but this is badass!"
That said it all as Kyle Larson found redemption from a last-lap loss one year ago as the Elk Grove, California native finally captured the Golden Driller in the 34th annual Lucas Oil Chili Bowl Nationals presented by General Tire.
Larson, in his 13th Chili Bowl attempt, and ninth A-Feature appearance, trailed the opening 38 laps as Christopher Bell took the lead from the pole.
Chasing into traffic early, the Lucas Oil No. 01 would close to just under a second before being gapped by over two seconds as the pair sliced through the back of the field.
Caution on Lap 34, the restart saw Larson keeping pace with Bell. Throwing the slide job into the first turn, Kyle wasn't quick enough as Bell raced by on the cushion. Slowed again three laps later, Larson again kept pace with the pair battling back and forth for the lead.
With momentum to his advantage, Larson dove the bottom of the first and second turn on Lap 39. Sliding across the nose of the Tucker-Boat No. 84x, Bell tried to turn under Kyle, but the drag race into the third turn saw Larson slam the door on Bell to take the race lead.
Holding off the charge through two more cautions, the final laps saw Bell close in, but would not have enough time as Larson crossed 0.801 seconds ahead of the 2019 race winner. Making his first championship feature event, Monday prelim winner Cannon McIntosh put the Keith Kunz Motorsports No. 71k on the podium in his first full weekend with the team.
Working the hub of the Tulsa Expo Raceway, Logan Seavey wheeled the Kevin Swindell Motorsports No. 39 forward seventh positions to fourth with Rick Abreu completing the top five. Jonathan Beason crossed sixth with 2020 Chili Bowl Rookie of the Year, Michael "Buddy" Kofoid finishing seventh. Having to charge from the back of the field twice, Blake Hahn fought to eighth to become the night's Hard Charger. Ryan Bernal and Tucker Klaasmeyer completed the top five.
Saturday's races began with double O-Features. Several drivers made impressive runs through the Alphabet with Chris Cochran advancing six times from the N-Feature to the I-Feature. Cale Conley, Casey Shuman, Brayton Lynch, and Alex Sewell all advanced through five events. Overall, it was the Boost Oxygen No. 11 who advance the most positions with a net gain of 43.
The 2020 Lucas Oil Chili Bowl Nationals presented by General Tire saw an overall field of 343 drivers from 40 states and six countries. The Worldwide Technologies Raceway Flip Count ended at 77, setting a new record for the Chili Bowl Nationals. All drivers were unharmed.