Cindric wins the 18th Annual Pennzoil 150 at the Brickyard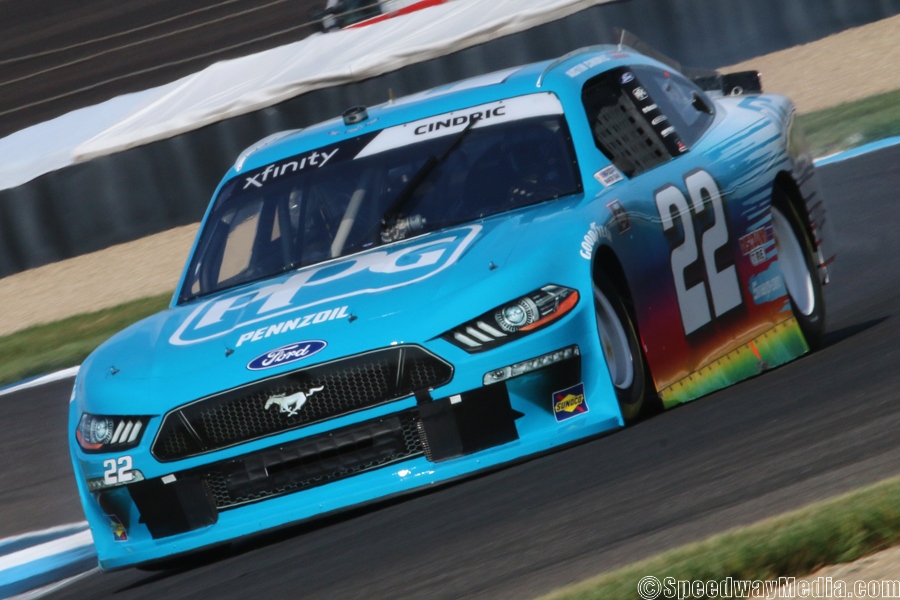 Austin Cindric won Satruday's Pennzoil 150 at the Brickyard. This was Cindric's fifth victory of the season and the 13th of his career while singing "Back Home Again in Indiana" during the victory lap. "I didn't even know I knew the words that well or could remember them that well. Hopefully I didn't make Jim Neighbors roll over in his grave. I was here the last time he sang the song and it gives me goosebumps every time." Cindric said.
Cindric led 29 of the 62 laps on the 14-turn, 2.439-mile road course and the final 17 laps in his No. 22 PPG Ford. Cindric was able to "kiss the bricks" for the first time at Indy. "Today was a first, absolutely. That is what winners do and I am just a fan whenever I was watching him race. It has been cool to be a part of that and see some of that, but you see a lot more losers here than you do winners." Cindric said.
Cindric remains the series leader in the driver standings by 82 points ahead of AJ Allmendinger.
"First of all, I've got to thank Roger Penske for every opportunity I've had in my career, every opportunity he's given you race fans to enjoy this beautiful weekend. I'm so proud of be part of this Penske family and thanks to PPG, Ford and everybody that has put so much into my career." Cindric said.
Polesitter Allmendinger won stage 2 and finished in second place for the second consecutive week at a road course track. Allmendinger's Kaulig Racing teammate Justin Haley won Stage 1 and finished in third.
Chase Elliott substituted for Michael Annett in the JR Motorsports No. 1 Chevrolet finished in fourth place despite only having a few hours notice of the opportunity. "I was actually still asleep this morning when I got the call." Elliott said.
Noah Gragson, finished fifth, Austin Dillon sixth, Myatt Snider seventh, Riley Herbst eighth, Harrison Burton ninth, and road racing star Andy Lally rounded out the top-10.
Race Results
Indianapolis Motor Speedway Road Course
18th Annual Pennzoil 150 at the Brickyard
| | | | | | | | | | | |
| --- | --- | --- | --- | --- | --- | --- | --- | --- | --- | --- |
| Fin | Str | No | Driver | Team | Laps | S1Pos | S2Pos | S3Pos | Pts | Status |
| 1 | 2 | 22 | Austin Cindric | PPG Ford | 62 | 4 | 0 | 0 | 47 | Running |
| 2 | 1 | 16 | AJ Allmendinger | Hyperice Chevrolet | 62 | 0 | 1 | 0 | 45 | Running |
| 3 | 3 | 11 | Justin Haley | LeafFilter Gutter Protection Chevrolet | 62 | 1 | 2 | 0 | 53 | Running |
| 4 | 25 | 1 | Chase Elliott(i) | Allstate Peterbilt Group Chevrolet | 62 | 9 | 0 | 0 | 0 | Running |
| 5 | 7 | 9 | Noah Gragson | Bass Pro Shops/TrueTimber/BRCC Chevrolet | 62 | 6 | 3 | 0 | 45 | Running |
| 6 | 19 | 23 | Austin Dillon(i) | K&L Ready Mix Chevrolet | 62 | 0 | 0 | 0 | 0 | Running |
| 7 | 8 | 2 | Myatt Snider | Louisiana Hot Sauce Chevrolet | 62 | 0 | 0 | 0 | 30 | Running |
| 8 | 6 | 98 | Riley Herbst | Monster Energy Ford | 62 | 2 | 9 | 0 | 40 | Running |
| 9 | 11 | 20 | Harrison Burton | DEX Imaging Toyota | 62 | 0 | 0 | 0 | 28 | Running |
| 10 | 26 | 78 | Andy Lally | BJ McLeod Motorsports Chevrolet | 62 | 0 | 5 | 0 | 33 | Running |
| 11 | 4 | 7 | Justin Allgaier | BRANDT Chevrolet | 62 | 0 | 0 | 0 | 26 | Running |
| 12 | 13 | 18 | Daniel Hemric | Poppy Bank Toyota | 62 | 0 | 7 | 0 | 29 | Running |
| 13 | 21 | 36 | Alex Labbe | Globocam/Prolon Controls Chevrolet | 62 | 0 | 0 | 0 | 24 | Running |
| 14 | 20 | 51 | Jeremy Clements | Wings Etc Grill & Pub Chevrolet | 62 | 7 | 8 | 0 | 30 | Running |
| 15 | 31 | 92 | Josh Williams | Alloy Employer Services Chevrolet | 62 | 0 | 10 | 0 | 23 | Running |
| 16 | 27 | 47 | Kyle Weatherman | PORAC Chevrolet | 62 | 0 | 0 | 0 | 21 | Running |
| 17 | 33 | 4 | Landon Cassill | Voyager Chevrolet | 62 | 0 | 0 | 0 | 20 | Running |
| 18 | 34 | 5 | James Davison(i) | ERA Motorsport Toyota | 62 | 0 | 0 | 0 | 0 | Running |
| 19 | 5 | 54 | Ty Gibbs # | SportClips Haircuts Toyota | 62 | 10 | 4 | 0 | 26 | Running |
| 20 | 15 | 48 | Jade Buford # | Big Machine Spiked Coolers Chevrolet | 62 | 0 | 0 | 0 | 17 | Running |
| 21 | 32 | 44 | Tommy Joe Martins | Market Rebellion Chevrolet | 62 | 8 | 0 | 0 | 19 | Running |
| 22 | 36 | 17 | JJ Yeley | Nurtec ODT Chevrolet | 62 | 0 | 0 | 0 | 15 | Running |
| 23 | 23 | 10 | Jeb Burton | Alsco Uniforms Chevrolet | 62 | 3 | 6 | 0 | 27 | Running |
| 24 | 29 | 0 | Spencer Pumpelly | ForeverLawn Chevrolet | 60 | 0 | 0 | 0 | 13 | Ignition |
| 25 | 22 | 7 | Josh Bilicki(i) | CNC Swiss Inc. Chevrolet | 60 | 0 | 0 | 0 | 0 | Running |
| 26 | 18 | 31 | Sage Karam | Montage Mountain Chevrolet | 59 | 5 | 0 | 0 | 17 | Electrical |
| 27 | 24 | 8 | Sam Mayer # | Chevrolet | 44 | 0 | 0 | 0 | 10 | Accident |
| 28 | 9 | 24 | Will Rodgers | GoodRX/RaceToEndHepC Toyota | 37 | 0 | 0 | 0 | 9 | Brakes |
| 29 | 28 | 61 | Austin Hill(i) | AISIN Toyota | 27 | 0 | 0 | 0 | 0 | Steering Box |
| 30 | 30 | 26 | Kris Wright(i) | iHeart Radio Toyota | 23 | 0 | 0 | 0 | 0 | Accident |
| 31 | 17 | 2 | Brett Moffitt | Our Motorsports Chevrolet | 21 | 0 | 0 | 0 | 6 | Axle |
| 32 | 35 | 39 | Ryan Sieg | CMR Construction and Roofing/A-Game Ford | 14 | 0 | 0 | 0 | 5 | Suspension |
| 33 | 16 | 99 | Kevin Harvick(i) | Unibet Official Sportsbook Ford | 1 | 0 | 0 | 0 | 0 | Power Steering |
| 34 | 14 | 68 | Brandon Brown | BMS Chevrolet Chevrolet | 1 | 0 | 0 | 0 | 3 | Accident |
| 35 | 10 | 90 | Preston Pardus | Chincor Electric/Danus Chevrolet | 1 | 0 | 0 | 0 | 2 | Accident |
| 36 | 12 | 19 | Brandon Jones | Menards/Atlas Toyota | 0 | 0 | 0 | 0 | 1 | Accident |
NASCAR Xfinity Series point standings after the Indianapolis Motor Speedway Road Course
| | | | | | | | | | | |
| --- | --- | --- | --- | --- | --- | --- | --- | --- | --- | --- |
| Rank | Driver | No | Points | Ldr | Nxt | RaceWins | StageWins | PlayoffPts | GL | Starts |
| 1 | Austin Cindric | 22 | 896 | 0 | 0 | 5 | 8 | 33 | 0 | 21 |
| 2 | AJ Allmendinger | 16 | 814 | -82 | 82 | 2 | 7 | 17 | 0 | 21 |
| 3 | Daniel Hemric | 18 | 737 | -159 | 77 | 0 | 5 | 5 | 0 | 21 |
| 4 | Justin Allgaier | 7 | 719 | -177 | 18 | 2 | 1 | 11 | 0 | 21 |
| 5 | Harrison Burton | 20 | 682 | -214 | 37 | 0 | 2 | 2 | 0 | 21 |
| 6 | Justin Haley | 11 | 663 | -233 | 19 | 0 | 4 | 4 | 1 | 20 |
| 7 | Jeb Burton | 10 | 651 | -245 | 12 | 1 | 0 | 5 | -1 | 21 |
| 8 | Noah Gragson | 9 | 629 | -267 | 22 | 0 | 2 | 2 | 0 | 21 |
| 9 | Brandon Jones | 19 | 524 | -372 | 105 | 0 | 1 | 1 | 0 | 21 |
| 10 | Jeremy Clements | 51 | 519 | -377 | 5 | 0 | 0 | 0 | 0 | 21 |
| 11 | Riley Herbst | 98 | 489 | -407 | 30 | 0 | 0 | 0 | 1 | 21 |