Frost Works Late Shift To Win St. Petersburg Season Opener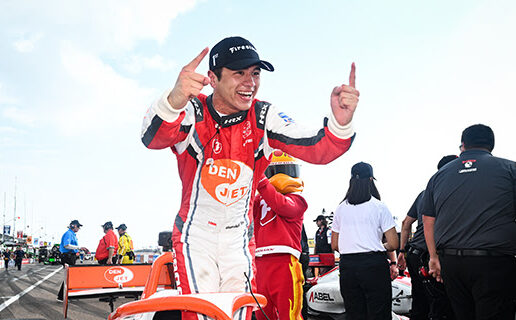 ST. PETERSBURG, Fla. (Sunday, March 5, 2023) – Danial Frost took the lead on a late restart and powered away to win the season-opening INDY NXT by Firestone Grand Prix of St. Petersburg on Sunday, earning his second career victory in INDYCAR's development series.
Frost, from Singapore, crossed the finish line in the No. 68 HMD Motorsports with DCR car 1.8038 seconds ahead of teammate and rookie Nolan Siegel in the No. 39 HMD Motorsports with DCR machine. Jacob Abel finished third in the No. 51 Abel Motorsports car.
"I couldn't believe it at the end," Frost said. "I was still driving until the checkered, and as soon as we passed the checkered, I was like, 'OK, we won!' So, it feels amazing."
Christian Rasmussen finished fourth in the No. 6 HMD Motorsports with DCR machine, while Hunter McElrea rounded out the top five in the No. 27 Smart Motors car fielded by Andretti Autosport.
Frost earned his first win since last May at the Indianapolis Motor Speedway road course by squeezing past leader Siegel on the first full lap after a restart on Lap 38. Siegel ran wide in Turn 2, and Frost took advantage to grab the lead.
"I kind of planned it out that everyone else was shooting in (Turn 1) and going wide, so I tried to take a different approach and go inside and get a switchback," Frost said. "It's been working for me all race, so I might as well do the same thing. It paid off, so No. 1 in the end. It's perfect."
Frost then pulled away over the last two laps. He started seventh, tying the record for the longest climb to victory in this race, as Felix Serralles also won from that spot on the starting grid in 2016.
The decisive move by Frost was one of 119 on-track passes in the frantic, 55-minute race on the 14-turn, 1.8-mile temporary street circuit that includes the downtown streets of St. Petersburg, Florida, and a runway at Albert Whitted Airport.
Abel and Siegel both laid claim to victory during the race but ended up settling for their respective first career podium finishes in INDY NXT by Firestone.
Siegel, from Palo Alto, California, took the lead on Lap 35 after a restart in which leader Abel and second-place Rasmussen slid wide in the inviting Turn 1, giving Siegel an opening for the top spot.
"I'm really proud of the effort," Siegel said. "Starting sixth, this is not an easy place to pass. We were hoping for as good of a recovery as we could get. Obviously, that win would have been the best recovery, but I think this is a really strong performance. We just missed out on it that tiny little bit on that last restart."
Abel, from Louisville, Kentucky, led a race-high 27 laps. He took the lead for the first time on Lap 8 when pole sitter and leader Louis Foster slid wide while fending off Rasmussen for the lead in Turn 1 on a restart. Much like Siegel's dash to the front, an alert Abel saw the opening and capitalized.
Foster, from England, made contact with the wall on the lap where he lost the lead and was forced to the pits for repairs of a broken left-rear toe link on his No. 26 Copart/USF Pro Championship car fielded by Andretti Autosport. He ended up 14th, running at the finish.
The next INDY NXT by Firestone race is the INDY NXT by Firestone Grand Prix of Alabama on Sunday, April 30 at Barber Motorsports Park in Birmingham, Alabama.
NDY NXT by Firestone GP of St. Petersburg Results
(7) Danial Frost, 40, Running
(6) Nolan Siegel, 40, Running
(2) Jacob Abel, 40, Running
(3) Christian Rasmussen, 40, Running
(12) Hunter McElrea, 40, Running
(17) Ernie Francis Jr., 40, Running
(10) Josh Green, 40, Running
(8) Reece Gold, 40, Running
(4) Rasmus Lindh, 40, Running
(5) Kyffin Simpson, 40, Running
(14) Colin Kaminsky, 40, Running
(19) Christian Bogle, 39, Running
(18) Jamie Chadwick, 39, Running
(1) Louis Foster, 38, Running
(9) Matteo Nannini, 34, Contact
(15) Josh Pierson, 26, Contact
(16) James Roe, 23, Mechanical
(13) Jagger Jones, 3, Contact
(11) Enaam Ahmed, 0, Contact
Race Statistics
Winner's average speed: 77.977 mph
Time of Race: 00:55:24.0489
Margin of victory: 1.8038 seconds
Cautions: 5 for 13 laps
Lead changes: 3 among 4 drivers
Lap Leaders
Foster, Louis 1 – 7
Abel, Jacob 8 – 34
Siegel, Nolan 35 – 38
Frost, Danial 39 – 40