Sammy Smith drives dominant car to NASCAR Xfinity win at Phoenix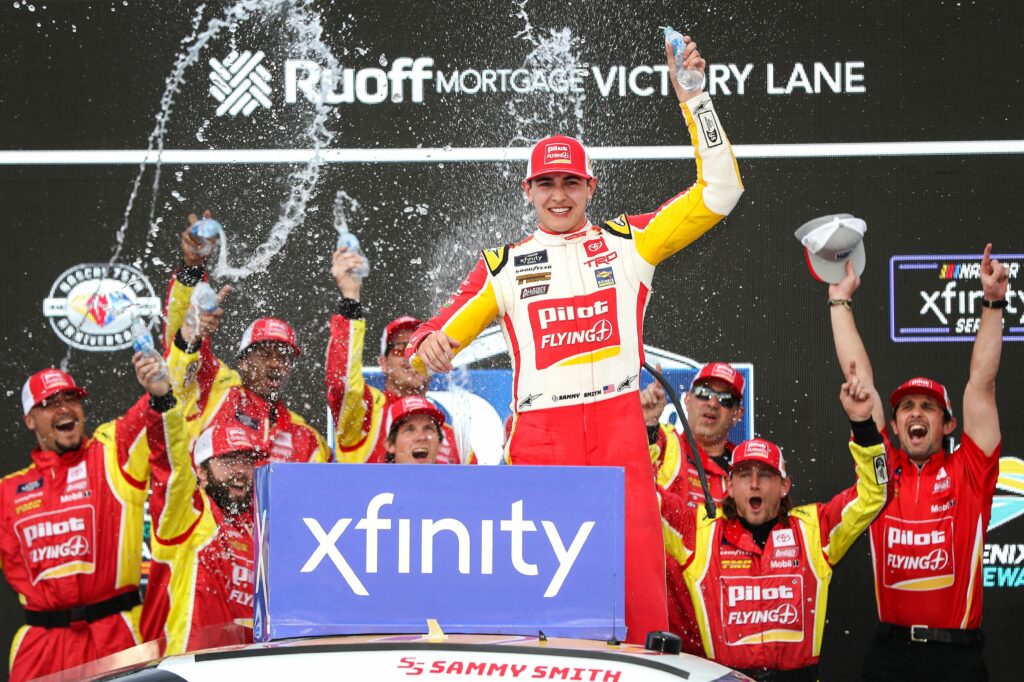 By Reid Spencer
NASCAR Wire Service
AVONDALE, Ariz.—High school senior Sammy Smith made the most of the fastest car in Saturday's United Rentals 200, becoming the youngest NASCAR Xfinity Series winner Phoenix Raceway at age 18.
In a race that featured 11 cautions for 69 laps, Smith held off teammate Ryan Truex after a restart with 15 of 200 laps left to give Joe Gibbs Racing its 16th victory at the 1.0-mile track.
Smith led a race-high 92 laps, including the last 52, taking the lead from Kyle Busch on Lap 149. To secure his first victory in the series in his 13th start, Smith had to survive restarts on Laps 157, 177 and 186.
"That was tough with all of those restarts—and going against some of the best," said Smith, who takes his high school classes online. "I just have to thank everybody on Pilot/Flying J, Toyota, JGR guys and everybody on this 18 team for giving me an awesome car. This is awesome.
"This is a dream come true, and I did know that at some point this was coming. It took a lot of hard work and a lot of great people around me. Without all of these guys, I wouldn't be here."
In a part-time role with JGR, Truex matched his career-best finish after restarting seventh on Lap 186.
"That was a good restart at the end," Truex said. "I thought I could at least try to make it exciting. Congrats to Sammy—he was the class of the field all day. His car was so good. He could really kind of do whatever he wanted.
"Sammy was just a little bit faster, but I'll try again next time."
Sheldon Creed ran a miraculous third after spinning and losing track position on Lap 148 to cause the ninth caution. Creed got help from Kaulig Racing teammates Busch and Chandler Smith, who tangled on the last lap while racing for fourth.
Smith got the better of the exchange, finishing fifth to Busch's ninth.
Busch and Chandler Smith weren't the only teammates who traded paint on Saturday. JR Motorsports' Josh Berry spun off the bumper of Sam Mayer on Lap 84 and fought back to finish eighth.
Justin Allgaier, who won the race's first two stages, crashed hard on Lap 178 after contact from JR Motorsports teammate Brandon Jones and Sam Hunt Racing's Kaz Grala. The accident eliminated Allgaier and set up Smith's triumphant run to the checkered flag.
Riley Herbst ran fourth. John Hunter Nemechek recovered from a restart penalty—dipping below the yellow line on the apron before the start/finish line—to come home sixth. Austin Hill was seventh, followed by Berry, Busch and Daniel Hemric.
Mayer finished 11th and pole winner Cole Custer 12th.
Hill leads the series standings by 30 points over second-place Nemechek.
NASCAR Xfinity Series Race – United Rentals 200
Phoenix Raceway
Avondale, Arizona
Saturday, March 11, 2023
(11) Sammy Smith #, Toyota, 200.
(12) Ryan Truex, Toyota, 200.
(5) Sheldon Creed, Chevrolet, 200.
(10) Riley Herbst, Ford, 200.
(6) Chandler Smith #, Chevrolet, 200.
(4) John Hunter Nemechek, Toyota, 200.
(8) Austin Hill, Chevrolet, 200.
(7) Josh Berry, Chevrolet, 200.
(38) Kyle Busch(i), Chevrolet, 200.
(3) Daniel Hemric, Chevrolet, 200.
(14) Sam Mayer, Chevrolet, 200.
(1) Cole Custer, Ford, 200.
(17) Brett Moffitt, Ford, 200.
(25) Anthony Alfredo, Chevrolet, 200.
(37) Parker Kligerman, Chevrolet, 200.
(9) Ryan Sieg, Ford, 200.
(18) Kyle Weatherman, Chevrolet, 200.
(15) Parker Retzlaff #, Chevrolet, 200.
(19) Ryan Ellis, Chevrolet, 200.
(27) Jeremy Clements, Chevrolet, 200.
(20) Josh Williams, Chevrolet, 200.
(16) Jeb Burton, Chevrolet, 200.
(21) Brandon Jones, Chevrolet, 200.
(36) Connor Mosack, Toyota, 200.
(22) Kyle Sieg, Ford, 200.
(33) Joey Gase, Toyota, 200.
(23) Leland Honeyman, Chevrolet, 200.
(32) Bayley Currey, Chevrolet, 200.
(28) Brennan Poole, Chevrolet, 200.
(34) Patrick Emerling, Chevrolet, 200.
(24) Joe Graf Jr, Ford, 200.
(30) Garrett Smithley, Chevrolet, 200.
(31) Jeffrey Earnhardt, Chevrolet, 200.
(13) Kaz Grala, Toyota, 199.
(35) Blaine Perkins #, Chevrolet, Suspension, 192.
(2) Justin Allgaier, Chevrolet, Accident, 178.
(26) Gray Gaulding, Ford, Accident, 137.
(29) Dawson Cram, Chevrolet, Fuel Pump, 99.
Average Speed of Race Winner: 82.079 mph.
Time of Race: 2 Hrs, 26 Mins, 12 Secs. Margin of Victory: 0.641 Seconds.
Caution Flags: 11 for 69 laps.
Lead Changes: 14 among 8 drivers.
Lap Leaders: C. Custer 1-37;J. Allgaier 38-49;C. Custer 50;S. Mayer 51-54;J. Nemechek 55-73;A. Hill 74-85;C. Smith # 86;J. Allgaier 87-94;A. Hill 95-100;K. Busch(i) 101-102;S. Smith # 103-142;C. Smith # 143;A. Hill 144-147;K. Busch(i) 148;S. Smith # 149-200.
Leaders Summary (Driver, Times Lead, Laps Led): Sammy Smith # 2 times for 92 laps; Cole Custer 2 times for 38 laps; Austin Hill 3 times for 22 laps; Justin Allgaier 2 times for 20 laps; John Hunter Nemechek 1 time for 19 laps; Sam Mayer 1 time for 4 laps; Kyle Busch(i) 2 times for 3 laps; Chandler Smith # 2 times for 2 laps.
Stage #1 Top Ten: 7,2,18,98,11,00,10,1,20,16
Stage #2 Top Ten: 7,21,11,18,10,78,1,98,26,2