Carson Hocevar Earns his First NASCAR Craftsman Truck Series Victory at Texas Motor Speedway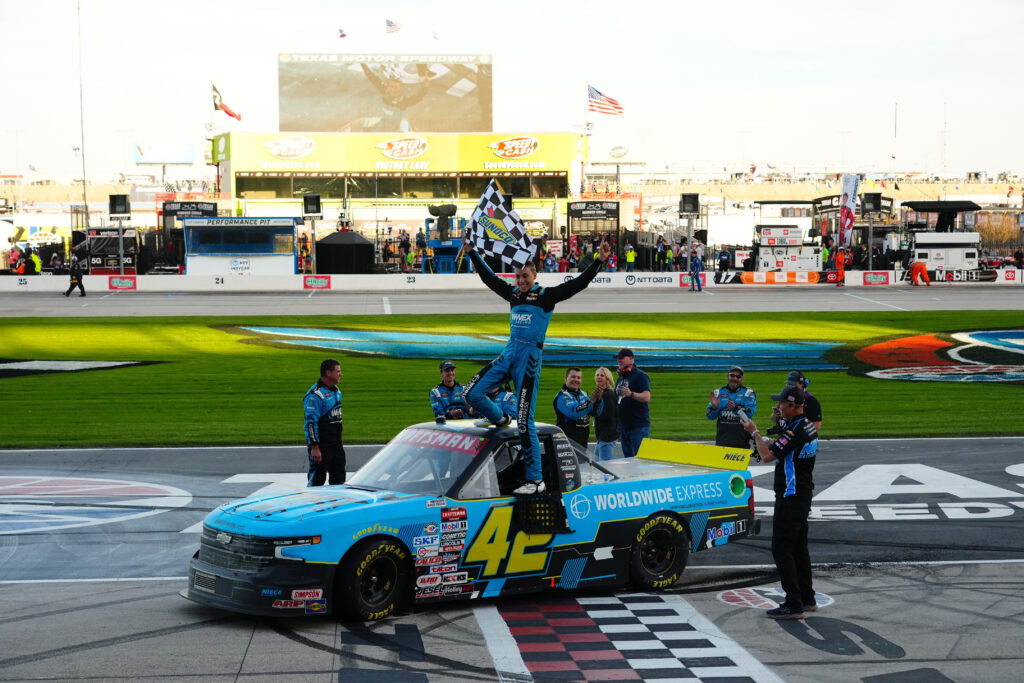 FORT WORTH, Texas (April 1, 2023) – Carson Hocevar earned his first NASCAR Craftsman Truck Series victory Saturday evening at Texas Motor Speedway in a wild overtime finish at the 1.5-mile track.
"I'm so thankful to everyone at Niece Motorsports for all of their hard work on this Worldwide Express Chevrolet," said Hocevar. "This is such a huge race for our team owner Al [Niece] and our partners at WWEX Racing.
To punch our ticket to the playoffs this early in the season is a huge deal, and it means a lot that so many of our partners were here to see it. I'm so appreciative to everyone that's supported me along the way. I feel like this win was a long time coming. We've lost a lot of races with the fastest truck, and today we were able to hang around and capitalize at the end."
The win comes in Hocevar's 59th NASCAR Craftsman Truck Series start. His previous best finish was second, coming at Charlotte Motor Speedway, Bristol Motor Speedway (dirt), Darlington Raceway and Kansas Speedway. It is the fifth win for Niece Motorsports in only its seventh full-time season.
"Our whole organization has been working so hard to elevate our program across the board," said Niece Motorsports General Manager Cody Efaw. "We have a lot of great people in place this season. We feel like as an organization we are the strongest we've ever been. Our expectation was to go out and compete for wins this year. I'm so happy to win in Texas for Al [Niece] and Worldwide Express."
Hocevar qualified the No. 42 Worldwide Express Chevrolet in fifth for the Speedycash.com 250. Hocevar was shuffled back on an early restart, and with track position at a premium he struggled to make his way through the pack for much of the race.
A strong restart late in the race propelled Hocevar and the No. 42 Chevrolet into the top-10. For the remainder of the caution-plagued race, Hocevar hung strong in the top-five.
A wild battle at the finish saw Hocevar take the lead as the caution-flag flew and ended the race. Hocevar led just one lap on the day.
The NASCAR Craftsman Truck Series will return to action on Saturday at the dirt track at Bristol Motor Speedway. Hocevar led 55 laps last season in that event, before finishing second.
The Weather Guard Truck Race on Dirt will air live on FS1, The Motor Racing Network (MRN) and SiriusXM NASCAR Radio on April 8 at 8 p.m. ET.
About Niece Motorsports:
Niece Motorsports is owned by United States Marine Corps Veteran Al Niece. In 2023, Niece Motorsports enters its eighth season in the NASCAR Craftsman Truck Series. Niece also owns Niece Equipment, which has for over 40 years provided clients with reliable products at competitive prices. Niece Equipment's reputation is built on service, integrity and dependability. The company provides water and fuel/lube trucks that are engineered with quality and durability in mind for the construction and mining industry. Follow the team on Facebook and Instagram @NieceMotorsports as well as Twitter @NieceMotorsport.
www.niecemotorsports.com
About Worldwide Express:
The WWEX group of brands, which comprises Worldwide Express, Unishippers and GlobalTranz, offers full-service logistics expertise to more than 115,000 customers across the country. With access to industry-leading small package, truckload, less-than-truckload and managed transportation solutions, its customers benefit from enhanced visibility and value for their supply chains. The company is the second-largest privately held freight brokerage and largest non-retail UPS Authorized Reseller® in the U.S., with an annual systemwide revenue nearing $5 billion through a network of company-owned, franchise and agent locations. A highly selective carrier portfolio, proprietary technology, unique data assets and business intelligence capabilities provide clients with unmatched options and flexibility to meet their shipping needs. The WWEX Racing initiative was borne of a desire to address the complex but underserved logistic needs of the performance motorsports industry, using the unique combination of capabilities offered by the three brands' combined 80+ years of insight. To learn more about the WWEX Racing program, visit www.wwexracing.com. For media inquiries, contact racing@wwex.com.