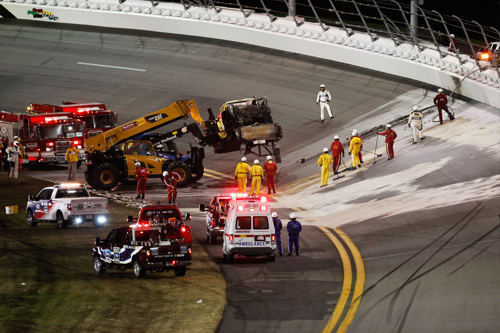 By Shaun Burke
I have seen a lot of weird stuff in my days following NASCAR.
To say the 2012 Daytona 500 was the most bizarre race I've ever seen would be an understatement. There was rain, fire, tide detergent and fork lifts in turn 3. At the same time, there was tweeting, bathroom breaks and interviews in the middle of the backstretch.
But in the end, Matt Kenseth was the one hosting the trophy proclaiming victory.
After torrential rains arrived at Daytona Beach just in time for the Daytona 500, the race was moved to Monday evening, prompting the twitter hashtag #NASCAR PrimeTime. For the first time in history, a NASCAR race would be run on a weeknight.
It was an opportunity for NASCAR to attract new fans, and boy did it ever. Based on my twitter timeline, I'd say there were many people who don't watch NASCAR or haven't watched it lately tuning in.
All was going well until lap 2. That's why five-time champion Jimmie Johnson got turned by Elliott Sadler, igniting a multi-car accident. Involved in the crash was Danica Patrick, meaning FOX had to quickly readjust their game plan.
The race went on, mostly uneventful until David Stremme blew his engine with around 150 laps remaining. While the cars were pacing under caution, Juan Pablo Montoya appeared to have had a mechanical failure and his car snapped left, crashing into a jet dryer. The impact immediately ignited 200gallons of jet fuel. The explosion was so severe, it actually burned Montoya's helmet.
While all this was happening, drivers Dave Blaney, Landon Cassill and Tony Raines sat first-through-third on the grid, as they were waiting until one lap to go to pit. For 2 hours and 5 minutes, it appeared that this might be the podium for the Daytona 500!
During the delay, Twitter began to heat up.
Fans began tweeting with each other jokes about what an adventure the 2012 running of the Daytona 500 had been. At that moment, Brad Keselowski (@keselowski) began tweeting from inside his car, parked on the backstretch at Daytona. TV quickly picked up on what was happening and began talking about it. When it was over, Keselowski picked up over 100,000 new twitter followers!
When the green flag came back out with just 40 laps to go,business began to pick up. The drivers expressed concern over track repairs.While there were a couple late race crashes that took out twitter favorite Keselowski among others, the track proved to be a non-issue.
After a late race crash triggered when Joey Logano and Ricky Stenhouse, Jr. made contact, Kenseth was able to hold off a two lap charge by Greg Biffle and Dale Earnhardt, Jr. securing his second Daytona 500 win. The win also marked the second win in a row by Ford and three of the last four in the Great American Race.
In 1979, the Daytona 500 was shown on live TV, flag-to-flag,for the first time ever. People still talk about that race. I believe in 30years, people will be talking about the first race ever run on a Monday night,and that is a good thing.