Danica Patrick Lowers Expectations, Embarks on Challenge of Bristol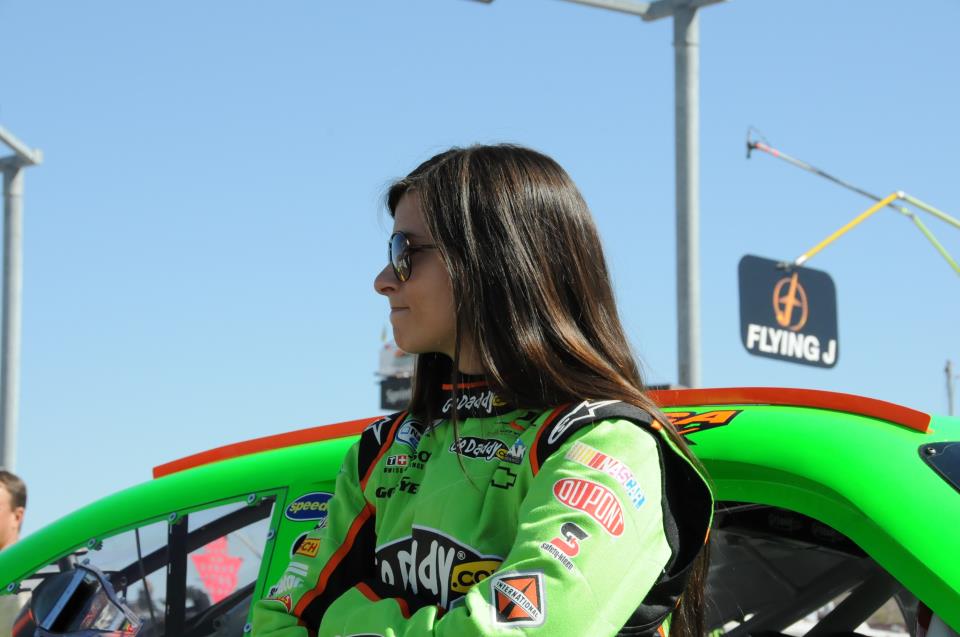 When the season started for Danica Patrick, everybody had high expectations as they thought that she'd be running up front every week, contending for the championship.
Three weeks into the season and reality is beginning to set in after some interesting races that she has faced. As a result, Patrick is resetting her expectations to what she feels meets the amount of experience that she has had in full bodied stock cars.
Last Friday, Patrick admitted that she set her expectations high because she wanted to perform well for everybody.
"I think that I gave myself a little bit of false expectation about running this year for the championship, and probably using those words 'for the championship'," she says. "It's my first-ever full year, and what I've done still doesn't add up to one year, and I didn't have anything before that at all in stock cars. I think I need to remind myself every now and again of really where the expectation level should be, and where mine should be."
She adds that she can't let the exposure and everything else that is being implied on give her that false hope, either.  The pressure is certainly being put on her, even from team co-owner Dale Earnhardt Jr.
During his media appearance on Friday, Earnhardt Jr. said that Patrick would be disappointed with anything less than a top-five finish this weekend.
"She knows how good she ran here last year and she wants to come in and try to win the race," he added. The reality is that she finished 12th after running just outside of the top 10 all day. Considering the first two races of the season, it was certainly a decent run and something build on going forward. But was she totally disappointed? Slightly, but not as much as Earnhardt Jr. had implied.
"Not an amazing day but definitely not a bad day," Patrick said after the race. "Just as a competitor and as someone in the points now, I would like to get some good results. But you have to keep going through the process, and if I keep learning, it'll come."
It certainly a better finish than the week before at Phoenix where she finished 22nd after being lapped early on in the race by the leaders.
Earnhardt Jr. was also asked about that and in response said, "She has to understand that sometimes there are just going to be off weekends and the car's not going to do well.  Phoenix is a bit of an anomaly because the tire that we use there or Indianapolis is not a short track tire really or not a tire that I would use there. It made for a very difficult car to drive and it made for a very narrow window as far as how close you could hit the setup."
Those within the sport know that this isn't going to be an easy road for Patrick to transition from IndyCar to NASCAR, as witnessed by the effort that Sam Hornish Jr. has put in and when Dario Franchitti tried. Brad Keselowski says that Patrick also has it harder than others in the past due to the ban that has been placed on testing.
"I think you could talk to Sam and he would tell you this has not been easy for him and now, he's over on the Nationwide side, too," Keselowski says. "You know, I think the biggest challenge she has is finding a way around that testing ban and getting experience. Everyone will tell you that race experience is the best experience. It is and it isn't because you don't really get a chance to learn on what you need to do to get more speed. You can learn on what you need to do to survive the race, that's great, but that's only 50 percent of it. You've got to be fast and talented as well. And so she's obviously behind before the weekend ever starts, as is every Nationwide rookie and there's challenges ahead for her."
Keselowski adds that he feels the odds of her doing well are stacked against her, but feels if she can overcome the challenges, she will earn her spot in the sport.
For that reason with the odds, her Sprint Cup Series car owner Tony Stewart is trying to prepare as much as he can for what the Sprint Cup Series can throw at a driver with what some are calling the toughest 10-race schedule.
"They kind of came to us and said what races doyou think would be good for her to learn at," Stewart explains. "You want to pick the places that are hard so that when you are running for points that you have that experience from the year before. At the end of the year, she may not really like me very much. I think by the time midway through 2013 she is going to understand why we picked those races."
Stewart adds that he chose to the tracks he did to give her experience and get time on tracks that may be challenging so she has that extra time to work at those tracks.
"If you look at the schedule, a lot of it is heavy loaded up on the last half of the year," he said. "The thought process behind that wasknowing that she was going to run the Nationwide car every week that she was going to get more time even though it's not a Cup car, she is still getting time in a heavy car.
"Some of these tracks she is going to get to go for the first time in the Nationwide car and then the second time around run both. Places like Darlington that you only go to once a year, some of those tracks are pretty important. Obviously, Bristol is one where it takes guys a long time sometimes to get good there. That's one that you go to and you have every expectation that that thing is not going to come back straight."
The next race for Patrick will be at Bristol Motor Speedway this weekend, which presents challenges all its own. Bristol is known for being the roughest short track due to how quickly things can happen and Patrick has already documented her struggles on the short track.
Co-owner Earnhardt Jr. says he doesn't see the challenge of Bristol being as tough on her as people are saying, though.
"The Nationwide cars get around there pretty good," he says. "They actually drive pretty good there and when I drove there last year, it was pretty easy to drive.  I don't think it's as tough a challenge as it might look from the outside."
Last year when she ran Bristol, she finished 33rd after starting 29th, but Earnhardt Jr. was impressed with her progress.
"I thought she did pretty good the first time she went," he says. "She ran up to speed and that's a very difficult track to adjust to and a very difficult track to learn."
Whether she is going to be able to find the success required to leave her mark in the sport is definitely a question that many will continue to ask as this year continues. But you can already know for sure that she has left her mark with her presence felt by everybody and she has a strong support system around her that believes she can do it.
"I have every ounce of confidence that she can throw that car around just as well as anyone else and lean on guys just as much as they will lean on her," Stewart says. "It's just learning when guys are going to do it and how they are going to do it."
Photo taken by: Sal Sigala Jr.