Bristol's Food City 500 Signals Beginning Of Spring Short Track Season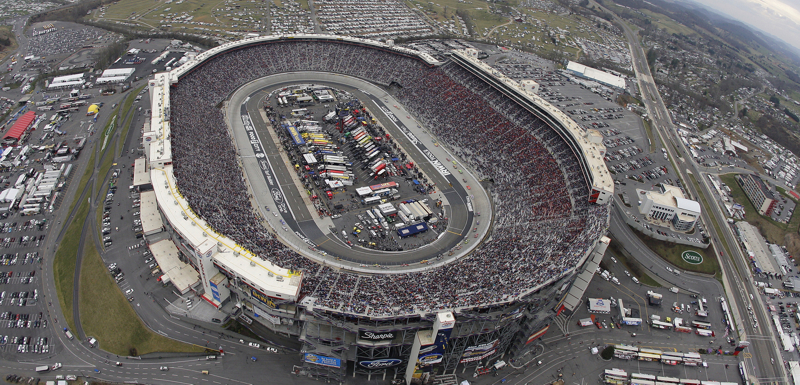 Chassis Knowledge, Determination Gave Rusty Wallace Tight Track Edge
DAYTONA BEACH, Fla. (March 14, 2012) — Spring's short track season opens this week at Bristol Motor Speedway, an up-close-and-personal type of hard-nosed racing that's been the foundation of NASCAR competition since the 1940s.
Bristol's Food City 500 is followed by the April 1 Goody's Fast Relief 500 at Martinsville Speedway and concludes April 28 with Richmond International Raceway's NASCAR Sprint Cup Series 400.
Short track racing is a fan favorite for a variety of reasons – not the least of which is that grandstand seats are as close as possible to the action on the track.
Action? As NASCAR Hall of Fame member Darrell Waltrip, a 12-time Bristol winner reflected during a recent SPEED broadcast, "If you have four wheels and most of the fenders on the car you'll probably have a pretty good day."
Frequently, the winner's car has looked worse than those of the teams he beat.
NASCAR's prolific short track winners have bagged wins in bunches, i.e., Waltrip's seven straight victories at Bristol between 1981 and 1984. Since 2001, Kurt and Kyle Busch have combined for nine Bristol wins. Jimmie Johnson and Denny Hamlin have won nine of the last 11 races in Martinsville.
The post-Waltrip gold standard on the short tracks, however, was the success of 1989 NASCAR Sprint Cup Series champion Rusty Wallace. Between 1986 and 2000, Wallace won 24 times at Bristol, Martinsville, North Wilkesboro (N.C.) Speedway and Richmond.
No other driver won as many times on tracks of a mile or less during those 15 years. Dale Earnhardt ranked second with 18 victories followed by Jeff Gordon's 10.
Driving the No. 2 Pontiacs and Fords of Penske Racing, Wallace was a short track terror with crew chiefs Buddy Parrott and later Robin Pemberton. Pemberton, who helmed 15 of Wallace's victories between 1995 and 2001, is NASCAR's vice president of competition and racing development.
Wallace, according to Pemberton, was the rare driver who actually worked on the race cars at the NASCAR Sprint Cup level. And that was fine with the crew chief, who found Wallace's skills and knowledge both on and off the track as complementary.
"Rusty and I worked really well together," said Pemberton. "We were relentless working [on the car's set up] to the bitter end to get the most out of the car. We were often the best on the [stop] watch but he wouldn't quit working on the car. He'd say, 'I just think I need one more little thing.'
"People poked fun at us but he wanted to be the first one on the track and the last off. He had a feel he was looking for … what he needed for his driving style. He just knew what he had to have."
It also helped that Roger Penske was willing to spend what it took to be the best on the short tracks, compared to many teams that brought their oldest equipment knowing that it would be torn up by the end of the race. Pemberton had the luxury of building a new car just for Bristol. "You were one up on them right off the bat," he said. "He [Penske] was never going to tell us no if you said it would make it go fast. But you had to perform."
Wallace, now an ESPN commentator, retired after winning a championship and 55 races – tied for eighth with Jimmie Johnson on NASCAR Sprint Cup's all-time list.
"It was all about getting the car to handle," said Wallace. "Chassis is king. I wanted to get my car to maneuver. It didn't have to be the fastest car but I wanted it to be able to do what I needed to drive underneath someone."
Wallace viewed his pit crew as family. Crew chiefs Parrott, Pemberton and Larry Carter – trusted his judgment. "They knew it was up to Rusty to give them the right feedback and I'd tell them. When I got lost, we'd work through it as a team," said Wallace.
Pemberton, who spent seven-plus years with Penske after stints with Jack Roush and Felix Sabates, ranks Wallace and Bobby Allison as the best car-savvy drivers with whom he worked.  "They could feel all four corners of the car," he said.
So was Wallace the best of that era? Pemberton says yes – even after inserting Earnhardt and Gordon into the equation. "Earnhardt was aggressive, a real hard-nosed racer but from a finesse stand-point, I don't know anyone who was better than Rusty."
Looking back in time during an interview, Wallace – a youthful-appearing age 55, two years older than the still-active Mark Martin – might have a lap or two left.
"If ESPN was to say it was okay for Rusty Wallace to go back on a short track, especially if it was Bristol, give me two weeks to start exercising and I'd be there in a heartbeat," said Wallace.