Kasey Kahne Rocks The Rock, Winning Good Sam Road Assistance 200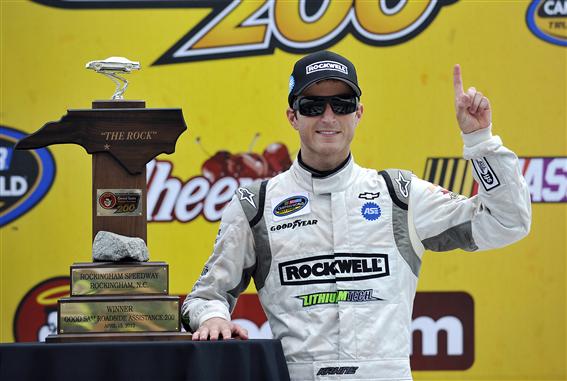 This Sunday meant the return for the NASCAR Camping World Truck Series to a familiar track – Rockingham Speedway. At the end of the race, it was a familiar face in victory lane. Kasey Kahne would lead 46 laps on his way to scoring his fourth truck win in five starts.
Kahne won the event after starting at the back due to having Brad Sweet qualify the truck while he ran the NASCAR Sprint Cup Series event at Texas Motor Speedway last night. He finished in the top 10 last night.
"I knew I'd have a good truck; Brad Sweet qualified fifth," Kahne says. "All the guys at Turner Motorsports put a couple good days in and got this truck fast."
With 46 laps to go, Kahne passed Matt Crafton for the lead and didn't look back as he led the field off pit road with 26 laps to go after a caution for debris. The win marked the first Camping World Truck Series victory for Turner Motorsports.
"Thanks to Steve Turner for giving myself an opportunity to do this," Kahne continues. "It's a big win for everybody at Turner Motorsports."
Turner Motorsports teammate James Buescher finished second for his second top 10 finish of 2012.
"We definitely had a good truck all weekend," Buescher says. "We unloaded well and everybody did a great job building this Chevy. How about Turner Motorsports? 1-2 at the end, we were 1-2-3 coming off pit road till (Nelson) Piquet (Jr.) sped. We were a top five truck all day, second place truck at the end. I could see him slowly going away but if anybody has to win but myself, let it be my teammate Kasey."
ThorSport Racing's Matt Crafton finished third after leading 40 laps while teammate Johnny Sauter finished fourth.
"It's great to be able to put things back in the drivers and let them make something happen," Sauter says. "Everybody on his truck worked hard and we were able to run up there in the top five."
Timothy Peters would round out the top five, followed by Joey Coulter in sixth. Nelson Piquet Jr. would finish seventh after leading the most laps (107).
"It happens," Piquet Jr. says. "I'm still new here and learning things. I had to race my way up through there and it shows the learning curve that I was able to do that without wrecking the truck."
He would make a late charge through the field after speeding on the final pit stop with 26 laps to go.
"When the tires fall off, you have to race these trucks," Piquet continues. "For the whole race, you're on the edge and it makes for a great race. I love this race track. I wish we had more of these."
Ty Dillon would be the highest finishing rookie in eighth, followed by Parker Kligerman, Justin Lofton, Jeb Burton and Ron Hornaday. David Starr was the last driver that finished on the lead lap in 13th.
Early race favourite Jason Leftler would run into engine trouble on lap 19 after qualifying fourth.
"The engine started vibrating about a half a lap before that," Leftler says. "Looked down, no oil pressure. Then it just broke. Think we broke a crank. These Dollar General guys gave me a good truck. It's just a bummer."
John King, would led the points coming into Rockingham, finished 33rd after getting into the wall on lap five to bring out the first caution of the event. As a result, Peters leads the points, six points over Lofton and seven points over Dillon.