Kurt Busch Scores First Nationwide Series Victory for Kyle Busch Motorsports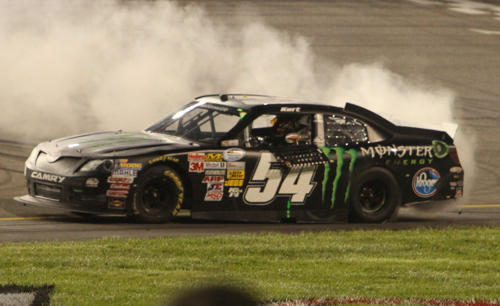 With 27 laps to go, Brad Keselowski peeled down pit road, handing the lead over to Kurt Busch. Busch looked to have the win in his sights, before Denny Hamlin began to close in his rear view mirror.
For the final two laps, Busch and Hamlin ran side-by-side, before making slight contact coming off of the final corner.
Across the finish line, it was Busch slightly ahead of Hamlin to win the Virginia 529 College Savings 250 while Hamlin came across sideways.
"I slipped up going into three coming to the white flag," Busch says. "I thought back to an IROC race where I lost the race running the inside. I knew I had to hold him down. It's great to race that close, rub fenders and yet still be able to finish the race one-two."
This marks Busch's fourth Nationwide Series career victory in 15 starts and his first of the 2012 season. It also marks the first win for Kyle Busch Motorsports in the Nationwide Series.
"It was an amazing run for us tonight to be in this position with how we've run," Busch says. "To get this first win for Kyle Busch Motorsports and for my little brother, it's a great feeling. Rick Ren and the guys have worked hard. I've won for Roush and Penske, but it's just a different special feeling when it's for your brother."
Kyle Busch made the decision to move his team up to the Nationwide Series this season after the success they had in the Sprint Cup Series. The first five races this season, it's been a struggle as they had only had one top 10, which was an eighth last weekend at Fontana by Kyle.
"To have Kurt do it, doesn't bother me one bit," Kyle says. "It's just an awesome feeling for myself, for (wife) Samantha, for grandma, for my dad. This is really cool. All of these guys at Kyle Busch Motorsports – great job. This is the most emotional I have been for a win. This is cool.
"It's great watching Kurt run side-by-side with Denny. He ran us clean. I don't know how many races Joe Gibbs Racing has won there, but this is the first one for Kyle Busch Motorsports, this is amazing. This is cool. I'm not sure how we're going to run past this, but this is the night. We're going to celebrate indeed."
The second place finish for Denny Hamlin marked his third top 10 finish in 2012. Hamlin had to make his way back to the front after missing pit road during a lap 115 pit stop and pitting late on the last pit sequence.
"I don't know what I could have done," Hamlin says. "I could've washed, moved him out of the groove. But you know, Kyle is a teammate and Rick Ren and those guys have worked hard. I wanted it to be clean. That was a great race."
Pole sitter Kevin Harvick finished third for his 17th top 10 in 22 races at Richmond. He led a race high 158 laps.
"We would fall off too fast and I kind of hinted towards that when Dale Jarrett was talking to me earlier," Harvick says. "I'd have to slow down to make it roll the center and then when the center would go, I'd have to use the apron. We didn't hit on it tonight, but we'll keep working on it."
Last year's series champion Ricky Stenhouse Jr. finished fourth.
"We were on both sides of it there," he says. "Our car was good on some parts of the run, not every part. we need to merge it together and get it running the whole run. We'll look over some notes and I think we've had some better cars here. To battle back to a top five is a good points day."
Sam Hornish Jr. rounded out the top five while current points leader Elliott Sadler finished sixth. Ryan Blaney, who was making his first ever series start, finished seventh.
"We lacked on the initial green flag runs after we made green flag pit stops and got back in dirty air," Blaney says. "After 40 laps, we could start mowing guys down. We'll go on to Darlington and see what we get from them."
Michael Annett finished eight, followed by Austin Dillon and Kasey Kahne.
Meanwhile, two-wheel star Travis Pastrana finished 22nd in his first ever start after starting 25th.
"Passing (Brad) Keselowski was the highlight; probably getting beat by both the girls was the low-light," Pastrana says. "Actually, it was great racing Danica (Patrick). I think the low-light was actually the pit road penalty. I think we could've run in the top 20 before that problem. I know I shot myself in the foot last year, but we're getting there, hopefully we'll be running in the top 10 by the end of this year and top fives next year."
Danica Patrick, who is running her first full season in Nationwide, finished just ahead Pastrana in 21st and thought he did a good job.
"Well first off, Travis did a really great job," she says. "For me, I think I had higher hopes as we were top 10 in practice. I was hoping that we'd have a better finish, but in the race, we were just really loose. Earned my pay today, everybody hanged in there and wished I could've got a better finish, but we'll learn."
As the series heads to Talladega for the next race of the season, Sadler leads Stenhouse Jr. by two points.