Fifth Third Bank to partner with Roush Fenway Racing and Matt Kenseth for Sprint Cup Series Sponsorship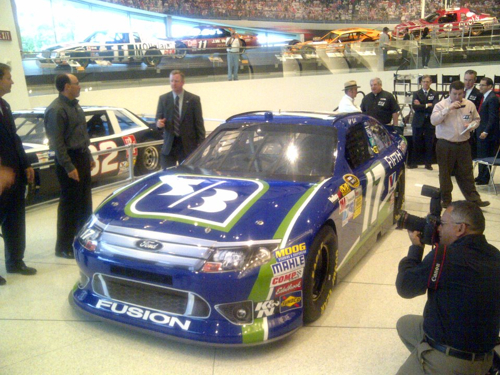 Cincinnati – Fifth Third Bancorp (Nasdaq: FITB) today announced a multi-year marketing partnership with Roush Fenway Racing, beginning this season with four races as the primary sponsor of Matt Kenseth's No. 17 Ford Fusion in the NASCAR Sprint Cup Series. A similar number of races for the following years will be announced at a later date.
Fifth Third will be the primary sponsor of Kenseth's Ford at four Sprint Cup Series races in 2012including: -Sprint All Star Race in Charlotte, NC on May 19 – Quaker State 400 in Sparta, KY on June 30 – Crown Royal's "Your Hero's Name Here" race in Indianapolis, IN on July 29 – Pure Michigan 400 in Brooklyn, MI on August 19
"Fifth Third Bank is excited to partner with Roush Fenway Racing and Matt Kenseth on this Sprint Cup Series sponsorship,"said Greg Carmichael, executive vice president and chief operating officer of Fifth Third Bancorp. "Our organizations share many common values including a focus on teamwork and a desire to challenge the status quo to be the best at what we do. We are looking forward to working with the Roush Fenway Racing organization, and Matt Kenseth, to help drive our business and build the Fifth Third Bank brand."
The partnership between Fifth Third Bank and Roush Fenway Racing was announced today at the NASCAR Hall of Fame in Charlotte where the paint scheme for the Fifth Third Ford Fusion was also unveiled.
"Fifth Third Bank is a leader when it comes to banking and I'm thrilled to be driving the Fifth Third Bank Ford Fusion starting with the Sprint All Star Race," said Roush Fenway Racing driver, and winner of the 2012 Daytona 500, Matt Kenseth. "I'm looking forward to introducing Fifth Third Bank to all our loyal NASCAR fans."
Headquartered in Concord, NC, Roush Fenway Racing is the winningest team in NASCAR history having won five championships in NASCAR's top three divisions and more than 400 races in drag racing, sports car and stockcar racing.
"Roush Fenway Racing is excited to partner with Fifth Third Bank and help drive their business through a primary sponsorship of Matt Kenseth's team. They are a well respected,innovative financial services organization with a long and rich history that shares our company's passion for excellence and commitment to winning," said Jack Roush, owner and founder of Roush Fenway Racing.
About Roush FenwayRacing: Roush Fenway Racing is the winningest team in NASCAR history, fielding multiple teams in the Sprint Cup and Nationwide Series with championship drivers Carl Edwards, Matt Kenseth, Greg Biffle, Ricky Stenhouse Jr., and Trevor Bayne.Celebrating 25 winning years in 2012, Roush Fenway is the leader in NASCAR marketing solutions, pioneering its exclusive Roush Fenway OnTrack sponsorship measurement services, motorsport's first team-focused TV show and its award-winning social marketing channel RickyvsTrevor.com. Visit www.RoushFenway.com, circle on Google+ at +Roush  Fenway Racing, become a fan on Facebook at www.facebook.com/roushfenway and follow on Twitter at @roushfenway. For sponsorship inquiries call John Bauersfeld at 704.720.4621.
About Fifth Third Bancorp: Fifth Third Bancorp is a diversified financial services company headquartered in Cincinnati, Ohio. The Company has $117 billion in assets and operates 15affiliates with 1,318 full-service Banking Centers, including 105 Bank Mart®locations open seven days a week inside select grocery stores and 2,394 ATMs in Ohio, Kentucky, Indiana, Michigan, Illinois, Florida, Tennessee, West Virginia,Pennsylvania, Missouri, Georgia and North Carolina. Fifth Third operates four main businesses: Commercial Banking, Branch Banking, Consumer Lending, an Investment Advisors. Fifth Third also has a 39% interest in Vantiv Holding, LLC, formerly Fifth Third Processing Solutions, LLC. Fifth Third is among the largest money managers in the Midwest and, as of March 31, 2012, had $296 billion in assets under care, of which it managed $26 billion for individuals, corporations and not-for-profit organizations. Investor information and press releases can be viewed at www.53.com.Fifth Third's common stock is traded on the NASDAQ® National Global Select Market under the symbol "FITB."  Fifth Third Bank.  Member FDIC.