CHEVY NSCS AT CHARLOTTE ONE — Post Qualifying Notes & Johnson Transcript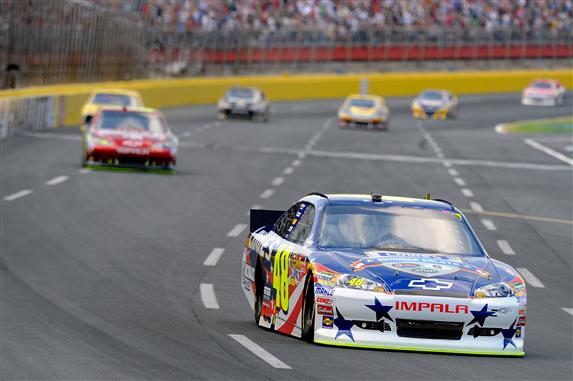 JOHNSON LEADS TEAM CHEVY IN QUALIFYING
Earns third place starting spot for Sunday's Coca-Cola 600
CONCORD, NC – May 24, 2012 – On the heels of winning last week's NASCAR Sprint All-Star race, Jimmie Johnson powered his No. 48 Lowe's Patriotic Chevrolet to a third place qualifying time for Sunday's Coca-Cola 600 NASCAR Sprint Cup race at Charlotte Motor Speedway. Johnson will start NASCAR's longest race of the season on the inside second row behind pole winner, Aric Almirola (Ford). Marcos Ambrose (Ford) will start second.
Johnson's teammate, Kasey Kahne will start seventh in his No. 5 Quaker State Chevrolet; Paul Menard, No. 27 Menards/Serta Chevrolet starts 9th, Regan Smith, No. 78 Furniture Row Chevy rolls off 10th, No. 88 Dale Earnhardt Jr., No. 88 National Guard – An American Salute/Diet Mountain Dew Chevrolet qualified 12th; giving Team Chevy five of the first 12 starting spots.
Other Team Chevy drivers are:  Kevin Harvick, No. 29 Budweiser Folds of Honor Chevy starts 14th, Ryan Newman, No. 39 U.S. Army Chevy qualified 16th, three-time and defending NASCAR Sprint Cup champion, Tony Stewart, will roll off 21st in his No. 14 Office Depot/Mobil 1 Chevy, Jeff Burton, No. 31 Wheaties Chevy starts 22nd, and Jeff Gordon, No. 24 Drive to End Hunger Chevrolet starts 23rd.
The total of 17 Chevrolets to qualify for the 43-car field also include Juan Pablo Montoya, No. 42 Target Chevrolet starts 29th, Jamie McMurray, No. 1 Bass Pro Shops Chevy starts 31st  and Danica Patrick will start 40th in her GoDaddy.com Chevy.
The Coca-Cola 600 starts Sunday afternoon at 6:00 P.M. and will air live on FOX.
POST QUALIFYING PRESS CONFERENCE TRANSCRIPT:
JIMMIE JOHNSON, NO. 48 LOWE'S PATRIOTIC CHEVROLET – QUALIFIED THIRD
TALK ABOUT YOUR RUN OUT THERE: "Just real proud of where our equipment is going. I have been able always race better than I qualify. Our qualifying effort this year has been improving week in and week out. I can't express enough how important that is on pit road and late in the race. It just opens up so many options for you on two versus four tires. Good in's and out's to your pit stalls. I'm very proud of the effort today. I wish we were a little faster but those RPM (Richard Petty Motorsports) guys seem to have a little chunk of speed on the field all day long. Really that No. 9 car from what we saw in practice. I'm happy for those guys, it's a smaller team that is working hard and I know it's a big day for them. I wish it was us, but we will come back and learn a little more Saturday and go racing."
WE KNOW THE 600 IS A LONG RACE WITH TRANSITION FROM DAY TO NIGHT, HOW MUCH OF AN ADVANTAGE IS IT TO BE UP FRONT TO GIVE YOU THAT LEEWAY TO MAYBE BE OFF A LITTLE BIT IN THE DAY AND BE ABLE TO CATCH UP IN THE NIGHT AND GIVE YOU THAT CUSHION ON THE GUYS BEFORE YOU GO A LAP DOWN IF YOU ARE OFF EARLY. "It definitely helps on that front. With this race and the surface like it is it is easy to lose track position. Guys will just take right (side tires), gamble on fuel so track position is always important. Pit road pick is always important. I want to be smart and if I can work on my car in traffic a little bit in practice just because at some point there is going to be that deal where you lose track position. It is so important. If you can't fight your way through there and pick up some spots then you are a sitting duck. We will enjoy the clean air at the start but all night long I will be waiting for that time, hopefully it doesn't happen, but 600 miles it seems to."
AFTER THE ALL-STAR WIN YOU GUYS SAID YOU MIGHT TRY TO BRING BACK SOME NEW STUFF THAT YOU LEARNED, ARE YOU TRYING ANYTHING DIFFERENT? THIS IS A DIFFERENT CAR THAN YOU WON THE ALL-STAR RACE WITH CORRECT? "Yes, this is a different car. The guys got the All-Star car finished up late this afternoon. It could be our back-up here. We just couldn't get it turned around in time. I guess we got the car back Tuesday afternoon. With us checking in and needing to be here Thursday, there wasn't enough time, if it was a Friday, normal Friday qualifying session we could have. But this car was different it took a different set-up from a qualifying stand point. A little bit different from springs and shocks if you look at the data on the computer it took a different set-up for sure. The lines were much different. I realize I might be saying more than I should so I'm trying to back up a little bit. The cars are different and I'm glad we got that experience today on the track to understand that. When we come back for race trim on Saturday we have some ideas to build into the car."
IS THERE ANY PART OF YOU THAT THINKS IT'S COOL THAT RICHARD PETTY HAS BOTH CARS ON THE FRONT ROW FOR ONE OF THE BIGGEST MOTORSPORTS DAYS OF THE YEAR?
"Yeah, I do. I really wish it was the No. 48 on the front row, but the Petty family and what they have meant to NASCAR the years they have been in the sport, I'm just happy for those guys. There are a lot of guys on that team that I'm friends with. Aric (Almirola) was at super sub when Jeff (Gordon) and I were worried about not being at races. I had an opportunity to work with him, test with him, we put him into some very difficult situations in practice and the guy showed speed and it helped him get his ride at JR Motorsports. Then it has led to this. With all that said, very happy for Aric, great guy and great talent. Tonight will be big for him."
TEAM CHEVY DRIVER QUALIFYING NOTES & QUOTES:
JIMMIE JOHNSON, NO. 48 LOWE'S PATRIOTIC CHEVROLET – QUALIFIED 3RD
HOW WAS YOUR LAP?
"It was 90 percent right, there. (Turns) 3 and 4 felt really, really amazing. (Turns) 1 and 2 were a little bit off, but we had some issues over there in practice and we're kind of adjusting to it. You just never know really what that grip level is going to be. I went in there committed; I just didn't have the grip that I hoped to have once I landed.
"But we have a great race car. I'm just very proud of everybody on this Lowe's Chevrolet. The cars have been very fast and really great couple of weeks for us and we hope to keep things rolling."
PAUL MENARD, NO. 27 MENARDS/SERTA CHEVROLET – QUALIFIED 9TH
ON HIS QUALIFYING RUN
"The track is cool. It's a lot cooler right now than what we practiced and we obviously picked up quite a bit of time, but then so has everybody. It felt like I got through (Turns) 1 and 2 really good and I drove it in probably too hard into (Turn) 3 and then got loose, kind of in the center, which is unusual. So, I kind of messed up and I left a little bit of time there. But we have a really good car but we've just done qualifying runs today. So we don't really know much about race practice until Saturday, so we learned a lot from last week though, so we'll be okay."
KASEY KAHNE, NO. 5 QUAKER STATE CHEVROLET – QUALIFIED  7TH
IS EVERYTHING LEVEL FROM HERE ON OUT?
"Yep, I think everything is level from here out. If you go faster, you're better. Our Quaker State Chevrolet was awesome right there. I under drove the car and wasn't committed enough I don't think. But everything is perfect. I just kind of have that Turn 3 wall in my mind from last week, and I really didn't want to give up another great race car.  So I took my time. We still had a great lap but I definitely left some out there."
DALE EARNHARDT JR., NO 88 NATIONAL GUARD~AN AMERICAN SALUTE/DIET MOUNTAIN DEW CHEVROLET – QUALIFIED 12TH
HOW WAS THE LAP?
"It was really good through (Turns) 1 and 2; and then a little tight in (Turns) 3 and 4. The car is pretty good. I might have over drove it in (Turn) 3 a little bit. I'm pretty happy though. We've got a pretty good race car.
MORE IMPORTANTLY, HOW IS THE CAR FOR SUNDAY'S RACE?
"We didn't really make any race run on practice today, so we'll do that on Saturday. But this is the same car we ran last week. It feels pretty fast. It feels comfortable."
RYAN NEWMAN, NO. 39 U.S. ARMY CHEVROLET – QUALIFIED 16TH
ON QUALIFYING:
"I wish we were better. I wish we could have gotten that pole for the U.S. Army soldiers on Memorial Day weekend, but I'm just proud to get the U.S. Army Chevrolet up front some place. We're not bad. We just need to be better. Hopefully in race trim we'll have a better car yet."
JEFF GORDON, NO. 24 DRIVE TO END HUNGER CHEVROLET – QUALIFIED 23RD:
ON HIS LAP
"We've been struggling with the same thing throughout practice. We're just too tight in the middle of 9Turns) 3 and 4. We made some adjustments hoping that with the temperature it would also help bring things to us, but it just didn't. We are just not getting through the middle of (Turns) 3 and 4 and so I feel like from where we went out, we needed to be a the top of the board right now to have a shot at a good qualifying effort. So, we're going to be pretty far back."
DANICA PATRICK, NO. 10 GODADDY.COM CHEVROLET – QUALIFIED 40th
Tell us about your lap: "I was just a little loose. I was really loose getting up to speed and loose on the first timed lap. That is kind of where it's at. I don't know if maybe my line wasn't perfect for those conditions or what I needed to do or what. It just definitely felt loose, looser than in practice. That is alright. Zippy (Greg Zipadelli) said 'sorry we loosened you up'. I said, ' that's fine it's not like I crashed.' Good news is we are in the 600, we just have to regroup and go out there and do a good job on Sunday night."
JEFF BURTON, NO. 31 WHEATIES CHEVROLET – QUALIFIED 22nd
How was your lap? "Obviously, we needed to be better than that. We struggled in practice. We were more comfortable in the car last week than this week so far. We just need some speed, a little bit of drive ability. I didn't do the best job driving I gave up a little bit in turns three and four. I got all there was to get in turns one and two, but I didn't get enough in turns three and four."
TONY STEWART, NO. 14 OFFICE DEPOT/MOBIL 1 CHEVROLET – QUALIFIED 21st
How was your lap? "It was okay. I mean we have been fighting a little loose. We got better we are still just trying to get that last little bit tightened up. I think, from where we went out here, looking at the guys that went out around us, it is a pretty decent lap from where we went out."
REGAN SMITH, NO. 78 FURNITURE ROW RACING CHEVROLET – QUALIFIED 10th
AWFULLY GOOD LAP, ON THE POLE SO FAR, TELL US ABOUT YOUR LAP: "Yeah, it's early still but certainly a lot of good cars to go. I don't anticipate that holding up, but with that being said it was a really good lap for the Furniture Row Chevy. I'm proud of these guys, they have been working hard. This is a brand new race car so everybody back in the shop did a good job with it. It has some speed so that is the first part. I'm looking forward to Sunday night it is one of my favorite races of the year. We will see what we've got for them come Sunday."
KEVIN HARVICK, NO. 29 BUDWEISER FOLDS OF HONOR CHEVROLET – QUALIFIED 14th
How was your lap? "It was really, really loose the first lap. We had a terrible first lap then just kind of backed off the second lap and ran faster. They are doing a good job when you can make a mistake like that and still have a decent qualifying lap. That is a good thing. That will pay off not being in the back to start this race."
About Chevrolet
Founded in 1911 in Detroit, Chevrolet is now one of the world's largest car brands, doing business in more than 140 countries and selling more than 4 million cars and trucks a year. Chevrolet provides customers with fuel-efficient vehicles that feature spirited performance, expressive design and high quality. More information on Chevrolet models can be found at www.chevrolet.com.