Aric Almirola earns first pole for Coca-Cola 600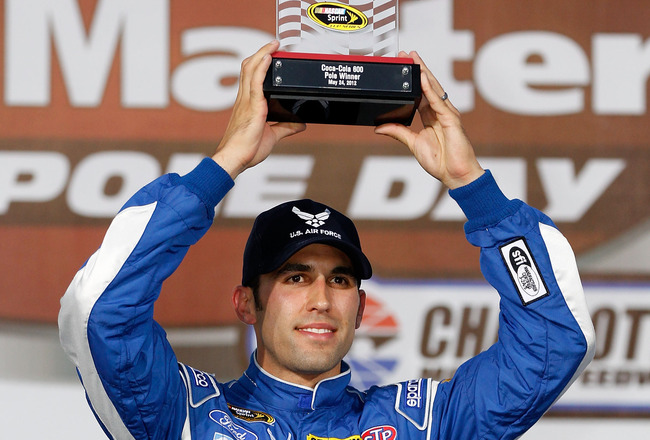 By Nathan Butler  – NathanButler@OnPitRoad.com
CONCORD, N.C. – As most would come to expect, this weekend marks one of the biggest auto racing weekends of the year, and one of the most famous names in motorsports will watch his cars start from the front row.
Richard Petty Motorsports driver, Aric Almirola, will start from the pole position alongside his teammate, Marcos Ambrose, in NASCAR's longest event of the year – the Coca-Cola 600 on Sunday at Charlotte Motor Speedway.
Almirola, who turned a fast lap of 192.940 mph, was able to maintain the pole position after Ambrose turned his fast lap of 192.940 mph on the 1.5-mile oval.
Thursday's pole marked the first in Almirola's career in 47 NASCAR Sprint Cup Series starts.
For historical purposes, the last time the No. 43 car was on the pole for the Memorial Day race at Charlotte was in 1966.
"I'm driving the 43 car—probably the most iconic car in the history of our sport. … It's a huge honor to be able to put the 43 car back on top of the board," Almirola said. "To see it over there in victory lane and have our pictures taken (for the pole) is really cool. I know it's only qualifying. We want to be able to do that after a race but that's a start."
The last time a Richard Petty Motorsports car sat on the pole was in November 2010 at Texas with Elliott Sadler.
"It really makes me feel good—our guys have been working hard for a long time and they finally got some recognition," Petty said. "Everything came together.
"It was just kind of a deal from my standpoint that it shows what these guys have been doing has been right. … It is a confidence builder."
Ambrose, who has yet to win a pole in his career, wasn't disappointed after his front-row performance on Thursday.
"What a great day for Richard Petty and Richard Petty Motorsports," Ambrose said. "We're a two-car independent team trying to take it to the super teams.
"If you get beat by anyone, I guess you want to be beaten by your teammate."
Greg Biffle, Clint Bowyer, Mark Martin, Kasey Kahne, Denny Hamlin, Paul Menard and Regan Smith rounded out the top-10.
Dale Earnhardt Jr. will start 12th, while Danica Patrick will start 40th.
Kurt Busch crashed in qualifying and did not complete his lap. Because his team is in the top 35 in owner points, he will be in the race and start 42nd.
Starting Lineup – Coca-Cola 600:
1. Aric Almirola
2. Marcos Ambrose
3. Jimmie Johnson
4. Greg Biffle
5. Clint Bowyer
6. Mark Martin
7. Kasey Kahne
8. Denny Hamlin
9. Paul Menard
10. Regan Smith
11. A J Allmendinger
12. Dale Earnhardt Jr.
13. Trevor Bayne
14. Kevin Harvick
15. Martin Truex Jr.
16. Ryan Newman
17. Kyle Busch
18. Landon Cassill
19. Joey Logano
20. Matt Kenseth
21. Tony Stewart
22. Jeff Burton
23. Jeff Gordon
24. Brad Keselowski
25. Casey Mears
26. Bobby Labonte
27. Cole Whitt
28. Carl Edwards
29. Juan Pablo Montoya
30. David Ragan
31. Jamie McMurray
32. Michael McDowell
33. Josh Wise
34. Stephen Leicht
35. David Stremme
36. Dave Blaney
37. Travis Kvapil
38. Scott Speed
39. David Gilliland
40. Danica Patrick
41. T.J. Bell
42. Kurt Busch
43. Joe Nemechek