Kasey Kahne muscles his way to a Coca-Cola 600 victory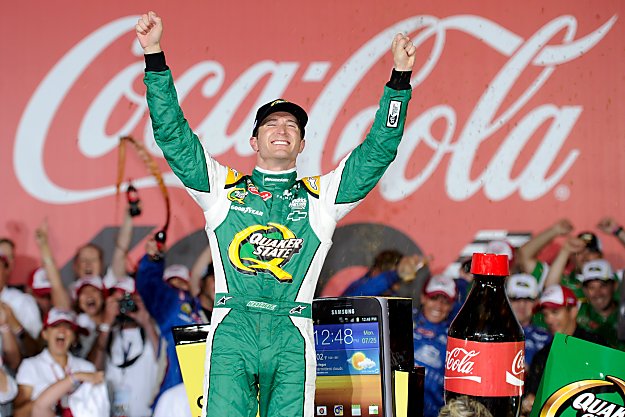 By Nathan Butler – NathanButler@OnPitRoad.com
CONCORD, N.C. — As most fans would like to expect, the new Kasey Kahne muscled his way into victory lane in the Coca-Cola 600 on Sunday night, taking NASCAR's longest, and most enduring race for the third time for his first win with Hendrick Motorsports.
Kahne, who has had a disappointing start to his 2012 season debut with Hendrick Motorsports, crossed the finish line nearly 5-seconds ahead of Denny Hamlin. Kyle Busch was third and series points leader Greg Biffle fourth.
"It's just so great to win for Mr. Hendrick," Kahne said.
"It feels good to get a win for Hendrick Motorsports. It's something I've been looking forward to, for a year and a half, to drive for Hendrick Motorsports, to be teammates with Jimmie, Dale and Jeff. To put it all together tonight and get the win, it feels good."
On Sunday, Kahne became the 16th Hendrick driver to take the checkered flag.
Sunday's victory was also Kahne's 13th career win and first since last November in Phoenix.
As if anyone questioned whether or not Hendrick Motorsports is back on top, Dale Earnhardt Jr. finished sixth, and Gordon seventh in just his third top 10 finish of the season.
Five-time series champion Jimmie Johnson was 11th. Johnson was in contention until the final pit stop when he left his stall with his gas can still attached. NASCAR docked him with a stop-and-go penalty to end his chances.
Danica Patrick, the first woman to drive in the Coca-Cola 600 since Janet Guthrie in 1976, finished five laps down in 30th. However, it was her best finish in three career Sprint Cup races.
"I'm just not great at making the best out of a car that's not perfect and those long runs really show that," said Patrick. "But that's just the nature of where I'm at on the learning curve at this point in time.
I would have like to have been a little faster overall, but I think there were some times in there when it was decent. It was kind of like Darlington [where] there was a certain run or two that felt really good and everything else, you just kind of like let's work on this and let's work on that."
Patrick's next Sprint Cup race will be at Bristol Motor Speedway on Aug. 25.
For much of this race, it looked as if Biffle had the car to beat. He led 204 laps to dominate early as the race began in the hot, bright sunshine. Once the night cooled off the track, Biffle couldn't even hold a candle to Kahne.
"Kasey's car was just better at night," said Biffle. "We have to go back to the drawing board a little bit. We need a little bit more grip, a little bit more turn when the sun goes down. That's what we need."
Earnhardt had hoped to avenge last year's heartbreaking loss when he ran out of fuel 700 feet from the finish line while leading. Earnhardt came as close to second and was drag-racing Hamlin for the lead on the final restart. Earnhardt, too, couldn't keep up with his teammate and his winless drought grew to 141 races.
"We had plenty of opportunities," Earnhardt said. "We made some good adjustments and got the car to fun pretty competitive at the end. We had a little trouble on a pit stop tat cost us a spot in the No. 2 (Keselowski) car under that last green flag run. We had a lug [nut] or something come off on the the left front. But we had a real good speed when it counted in the end. Not as much as the five (No. 5, Kasey Kahne) obviously, but we showed it when we stayed out there with them boys and run in the top three there."
After both Richard Petty Motorsports drivers, started on the front row, polesitter Aric Almirola quickly fell back and finished 16th. Marcos Ambrose, who started second, broke a wheel hub and ended up 32nd.
There were a total of five cautions for 23 laps. The race also featured 31 lead changes among 11 different drivers.
The 53rd running of the Coca-Cola 600 was the quickest-to-date at 3 hours, 51 minutes and 14 seconds. The previous quickest was the 1995 Coca-Cola 600 which ran for 3 hours, 56 minutes and 55 seconds.
The NASCAR Sprint Cup Series travels to Dover next weekend, for the running of the FedEx 400 benefiting Autism Speaks.
Coca-Cola 600 Unofficial Results:
1. Kasey Kahne
2. Denny Hamlin
3. Kyle Busch
4. Greg Biffle
5. Brad Keselowski
6. Dale Earnhardt Jr.
7. Jeff Gordon
8. Kevin Harvick
9. Carl Edwards
10. Matt Kenseth
11. Jimmie Johnson
12. Martin Truex Jr.
13. Clint Bowyer
14. Ryan Newman
15. Paul Menard
16. Aric Almirola
17. Regan Smith
18. Landon Cassill
19. Jeff Burton
20. Juan Pablo Montoya
21. Jamie McMurray
22. Casey Mears
23. Joey Logano
24. Trevor Bayne
25. Tony Stewart
26. David Gilliland
27. Kurt Busch
28. Bobby Labonte
29. Travis Kvapil
30. Danica Patrick
31. T.J. Bell
32. Marcos Ambrose
33. A.J. Allmendinger
34. Mark Martin
35. David Ragan
36. Michael McDowell
37. Scott Speed
38. David Stremme
39. Stephen Leicht
40. Dave Blaney
41. Joe Nemechek
42. Cole Whitt
43. Josh Wise
You can follow Nathan Butler on Twitter: @Nathan_Butler92