Jimmie Johnson Lays Down Dominating Performance on Miles The Monster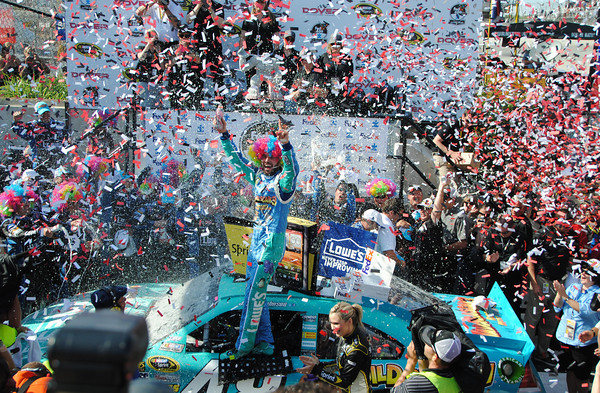 After wondering where the No. 48 team had been the first couple months of 2012, the competition certainly knows where they are again as Jimmie Johnson won the Fedex 400 benefiting Autism Speaks at Dover International Speedway.
"When you lead the most laps, sometimes it can backfire on a dominant car," Johnson says. "It was a brand new race car so I'm just proud of the effort."
It was Johnson's 57th victory in 376 races and tied Bobby Allison and Richard Petty for the most career wins at Dover.
"The car was really good," Chad Knaus, Johnson's crew chief, says. "Jimmie's the man here. He understands this race track and enjoys coming here," Knaus continued. "We enjoy it as well."
It marked his third victory in four weeks, if you count the All-Star race. It also marked Hendrick Motorsports' fifth in a row if you can count both the All-Star Showdown and All-Star race.
In victory lane, Johnson rocked the Madagascar wig as the team was promoting Madagascar 3 this past weekend.
"I'm just proud of this hair," Johnson said. "It brought some speed to the team."
Kevin Harvick finished runner-up after challenging Johnson on a late restart for his 18th top 10 at the Monster Mile.
"The 48 just had us covered today," Harvick says. "But all in all our Jimmy John's guys did a good job."
Harvick had to make his way back up through the field after sliding through his pit stall on a pit stop.
"I made a mistake on pit road, but we had a car capable of making up positions and drive back through the pack," Harvick continues. "We were able to keep up with the race track and that was the key to get in position to at least give ourselves a chance."
Matt Kenseth finished third after running solidly in the top 10 most of the day.
"We honestly struggled," Kenseth says. "But I'm happy to come home third in a car that didn't drive the way we wanted it."
Dale Earnhardt Jr. came home in fourth for his 11th top 10 of 2012 while Clint Bowyer rounded out the top five.
The Monster lived up to it's nickname with a crash on lap nine that involved 13 cars. Regan Smith,  Tony Stewart, Juan Pablo Montoya, and Landon Cassill got the most damage in  the wreck that brought out the red flag for 19 min 54 seconds.
"I actually didn't even feel him (Tony Stewart) touch me," Cassill says. "I was just passed by the No. 1 (Jamie McMurray) and I was trying to dime in the corner a little bit more. He (Stewart) was just barely there."
"I know I got in the back of the 14 and spun him," Smith says. "There's a lot of wrecked race cars here and none of us like that, especially on Lap 9."
"As far back as we were, I didn't have the luxury of being patient," Stewart says. "It's just a crappy weekend all around."
There's also another incident during the day when Carl Edwards blew a tire and hit the wall on lap 165.
Both Busch drivers had problems during the race also as they both blew their motors, putting them out of the race.
"It's real unfortunate," Kyle Busch says. "We had a good car, we were running up front there. We were biding our time trying to see if we couldn't keep up with the race track. I hate it that we give a post-race interview this way rather than finishing."
The Busch brothers weren't the only drivers having engine failures, as David Reuitmann and Jeff Burton also blew their motors.
"First of all we had a good car today," Burton says. "That's the good thing. We broke an engine here, but the monkey is on us right now and it will get off one day," Burton continued. "I've never quit anything in my life and I'm not going to quit this."
Greg Biffle, who finished 11th, now leads teammate Kenseth by one point.