Johnny Sauter gets redemption at Texas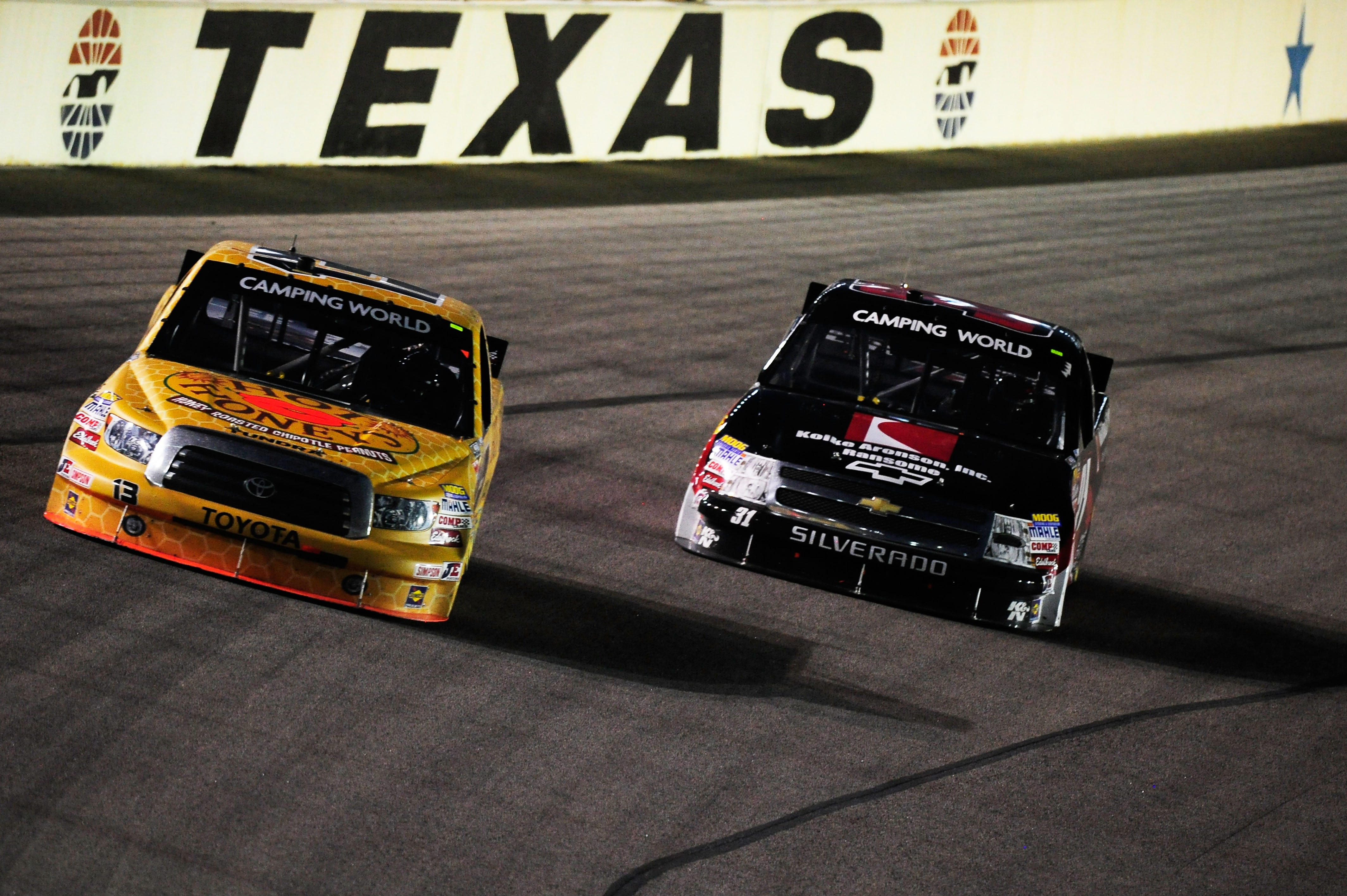 By Brian Wiggins –
Johnny Sauter crossed the finish line first on lap 167 last year at Texas Motor Speedway, but he didn't get the checkered flag. Instead, he got the black flag after a lane violation on the final restart of the night handed the win to Ron Hornaday Jr.
Sauter then gave his famous, "God bless America," line after being relegated to a 22nd place finish after having the dominant truck during the race.
Friday night in Texas however was a different story for Sauter.
After starting the race 20th due to qualifying being rained out, Sauter raced his way up through the pack on numerous occasions to get the victory for the fifth time in his Camping World Truck Series career and his first of the 2012 season.
"This is unbelievable," said Sauter to SPEED reporters in victory lane. "The year that we've had, just the bad luck. To come in here in the fashion that we had…"
Sauter's bad luck appeared as though it was destined to continue Friday night at Texas after nearly being caught up in an early wreck on top of issues on pit stops that forced him down the running order each time he hit pit road.
On the final restart of the night, Sauter was lined-up side-by-side with Thor Sport Racing teammate, Matt Crafton with 24 laps to go.
Running door-to-door for a number of laps, Sauter was able to pull ahead of Crafton entering turn three with 21 laps to go.
"The outside groove was the preferred groove on the restart," said Sauter. "Can't thank Joe Sheer and all these guys enough. I mean, this is big.
"A wise man once told me, 'Do all to the honor and glory of God,' and that's why we're here today."
While Sauter's 2012 may be getting on the right track, the championship battle for the Truck Series has been split wide open.
Points leader Justin Lofton looked to have one of the top trucks on the night. Starting on the pole and leading laps early in the going, it looked to be another solid night for the California native.
While pitting for what appeared to their final pit stop of the race, the caution came out for the Bryan Silas truck, pinning Lofton one lap down.
Lofton was able to salvage his night and points lead by finishing the race 9th while maintaining a five point lead over Timothy Peters who was plagued by overheating issues early in the race, placing him outside the top-ten in the finishing order for the first time in 2012.
Next up for the Camping World Truck Series is Kentucky Speedway on June,28.
WinStar World Casino 400K Unofficial Results: 
1- Johnny Sauter
2- Matt Crafton
3- Joey Coulter
4- Brendan Gaughan
5- Nelson Piquet Jr.
6- Jason Leffler
7- Ty Dillon
8- Cale Gale
9- Justin Lofton
10- Parker Kligerman
11- Timothy Peters
12- Ron Hornaday Jr.
13- David Starr
14- Miguel Paludo
15- James Buescher
16- Ross Chastain
17- Jason White
18- Dakoda Armstrong
19- Ryan Sieg
20- Brandon Miller
21- Max Gresham
22- Norm Benning
23- B.J. McLeod
24- Scott Stenzel
25- Bryan Silas
26- Brent Raymer
27- John Wes Townley
28- Paulie Harraka
29- Rick Crawford
30- Todd Bodine
31- Johnny Chapman
32- Jennifer Jo Cobb
33- Mike Harmon
34- Chris Lafferty
35- Brandon Knupp