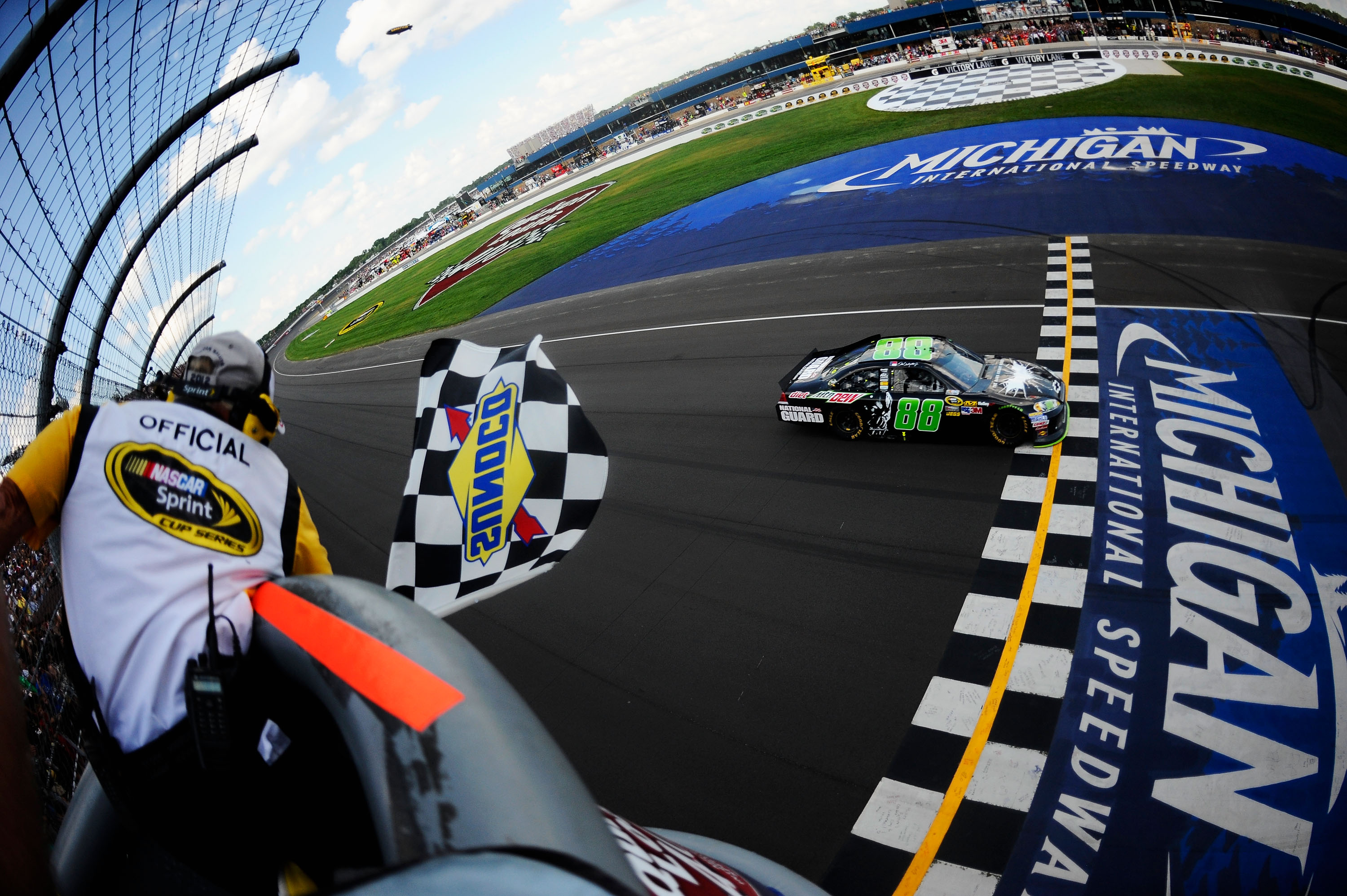 By Mark Schafer
It took four years and 143 races, but Dale Earnhardt Jr finally got the 19th win of his career.
After his last win came right here at Michigan International Speedway, on a fuel mileage gamble, but this time fuel was the least of his worries. Much of the weekend, the worry was tire wear.
With the repaving of the two and a half mile track in the off-season, the track was fast all weekend, maybe even too fast for the tires. After a test session on Friday, it was decided that new tires needed to be brought into the track, for the safety of the drivers.
"That's a great race," Earnhardt Jr. said after the race to TNT reporters after the race. "We just had a really good car. Pretty amazing."
Junior who has long been the fan favorite, hadn't won a race in four years, would have to hold on to the race through a late restart and a challenge from Tony Stewart if he wanted to break his long win-less streak.
"Last 15 laps were the longest ever," Earnhardt Jr said in victory lane.
It was a very dominant day for Junior. He led the last 30 laps, but with 15 to go he started to pull away from second place Stewart.
Although he was pulling away in the final laps, he still wasn't sure if Stewart has holding back a little. Junior admitted after the race to Speed Channel's Victory Lane that he was holding back a little too.
"I was trying to hold on to a little extra in case [Stewart] was holding a little extra," Junior said. "I thought he was going to come up there and steal one from me."
Stewart, the defending series champion wouldn't steal one though, as Junior kept pulling away in the last 15 laps, and would win by a margin of almost six seconds, the cherry on top of an already dominating day.
It wasn't until lap 70 that Junior found the lead for the final time, and that came after his crew, the same crew that some say cost him wins in the past, put a spring rubber in the car, after that, no one had anything on the No. 88. Junior led a total of 95 of the 200 laps today.
For Junior this win, which came on an anniversary of his last win, it was a race win, not just for him and his team, but for the fans.
"To do it for my fans, they stuck behind me for all those years," Earnhardt Jr said in victory lane. " This one is for them, I appreciate all the support I couldn't have made it back to victory lane without them."
Even though the fans had a good day, because of Junior's win, the Joe Gibbs Racing trio didn't. For the third week in a row, Kyle Busch had to pull into the garage for engine issues.
Then a wreck involving Kasey Kahne, David Gilliland and Joey Logano, last weeks winner, took out the second Gibbs Toyota of the day. Then, Denny Hamlin, who had won the last two June Michigan races, spun and would have to retire from the race after his racecar started on fire.
Despite the win, Junior still trails Matt Kenseth in the points.
Rounding out the top-five were Kenseth in third, Greg Biffle in fourth and Jimmie Johnson in fifth.
For Junior nation and Dale Earnhardt Jr they can finally stop having to answer the question "when are you going to win next?" This win brings confidence to the fans, but also Junior.
"I knew I could get back to victory lane, I knew that I was with the right people," Earnhardt Jr. said. "We just had to keep working. Now we can go to racetracks in the future as winners."
Quicken Loans 400 results:
Dale Earnhardt Jr.
Tony Stewart
Matt Kenseth
Greg Biffle
Jimmie Johnson
Jeff Gordon
Clint Bowyer
Juan Pablo Montoya
Marcos Ambrose
Kevin Harvick
Carl Edwards
Martin Truex Jr.
Brad Keselowski
Jamie McMurray
Ryan Newman
Bobby Labonte
Aric Almirola
Landon Cassill
A.J. Allmendinger
Casey Mears
Jeff Burton
Paul Menard
David Ragan
Austin Dillon
Dave Blaney
Travis Kvapil
David Gilliland
Regan Smith
Mark Martin
Kurt Busch
Ken Schrader
Kyle Busch
Kasey Kahne
Denny Hamlin
Joey Logano
Tony Raines
J.J. Yeley
Michael McDowell
Mike Bliss
Joe Nemechek
Scott Riggs
Josh Wise
Trevor Bayne