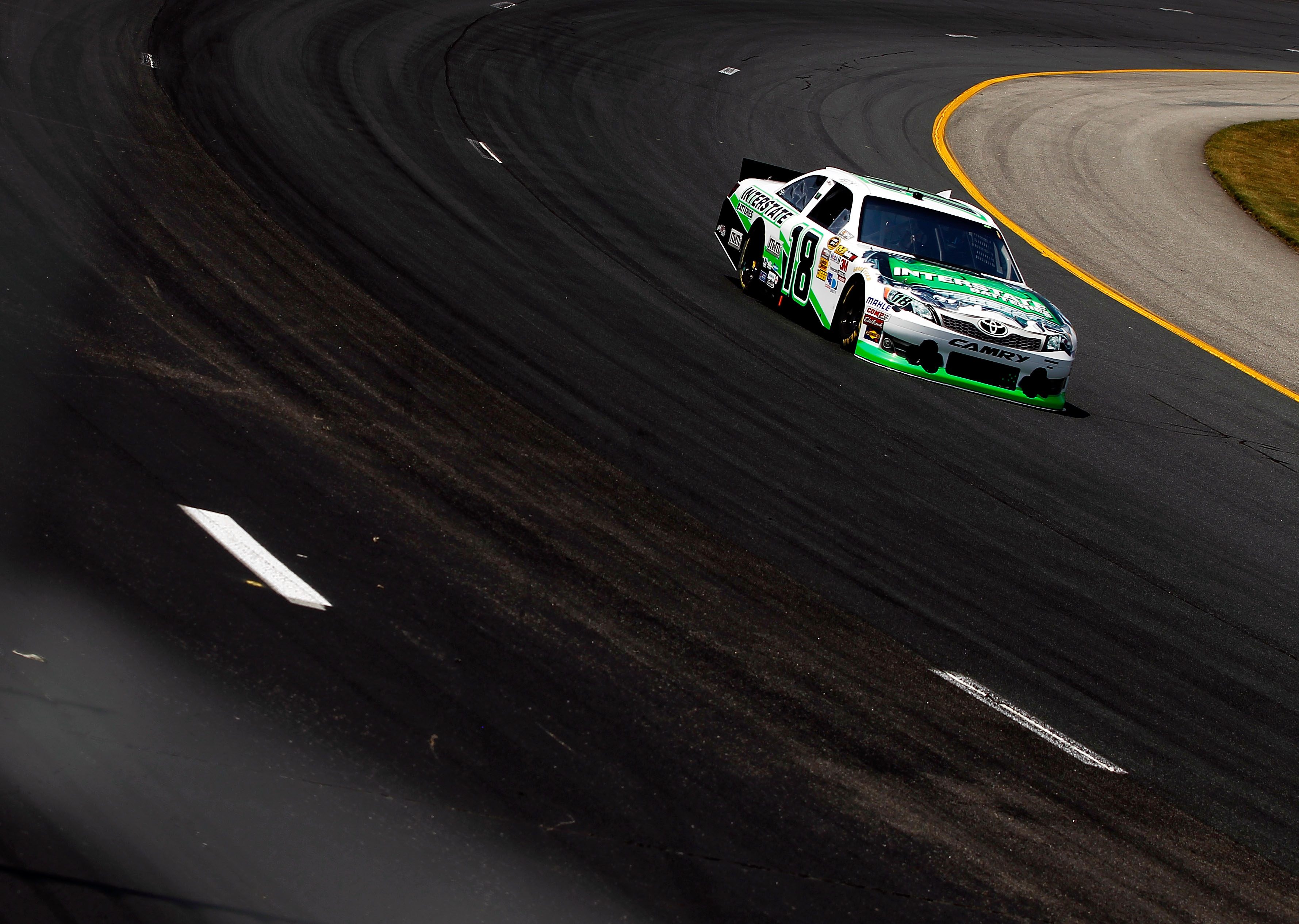 Kyle Busch has won a pole for the first time in 2012 by taking the top spot for Sunday's LENOX Industrial Tools 301 at New Hampshire Motor Speedway.
Being the final car to qualify, Busch ran a lap of 133.417 mph, nearly slapped the wall, and took the pole for this first time since Watkins Glen in August, 2011.
"This is certainly nice to get a pole out of the way," said Busch. "We unloaded with a really fast race car right off the truck. Dave(Rogers, crew chief) and the guys went and reworking everything over the winter time trying to come up with a new package for here. This time around seems to be really good for us."
Friday's pole marks the first time the Las Vegas native will start on the pole for a Sprint Cup Series race at NHMS.
"I don't think we touched it," Busch said regarding his near-miss with the turn four wall during his qualifying lap. "If anything it was really, really close.
"I just knew I got in the throttle really early in (turns) three and four trying to make speed, but the car slipped right at the last second.
"There's no mark on the car, so all's good there."
Along with Busch on the pole, Toyota's make up four of the top-five cars (Denny Hamlin third, Martin Truex Jr. fourth, Clint Bowyer fifth).
While the top-five spots on the grid are heavy with Toyota power, the rest of the top-10 is made up of Chevrolet's powered by Hendrick Motorsports.
With Kasey Kahne starting second, Ryan Newman(defending race winner) sixth, Jimmie Johnson seventh, Jeff Gordon eighth, Dale Earnhardt Jr. ninth, and Tony Stewart  starting tenth.
Amiss the super-start power of the top-10 starters, Kelly Bires will make his first career Sprint Cup start Sunday after qualifying forty-second for the Go Green Racing organization.
With 44-cars attempting to make the starting field, one car missed the show. Mike Bliss was the lonely car to be sent home after hitting the turn-two wall on his first qualifying lap.
LENOX Industrial Tools 301 Starting Lineup: 
1: Kyle Busch
2: Kasey Kahne
3: Denny Hamlin
4: Martin Truex Jr.
5: Clint Bowyer
6: Ryan Newman
7: Jimmie Johnson
8: Jeff Gordon
9: Dale Earnhardt Jr.
10: Tony Stewart
11: Greg Biffle
12: Kevin Harvick
13: Paul Menard
14: Kurt Busch
15: Brian Vickers
16: Joey Logano
17: Regan Smith
18: Bobby Labonte
19: David Ragan
20: Marcos Ambrose
21: Carl Edwards
22: Brad Keselowski
23: Aric Almirola
24: Sam Hornish Jr.
25: Jeff Burton
26: David Reutimann
27: Matt Kenseth
28: Jamie McMurray
29: Landon Cassill
30: Travis Kvapil
31: Juan Pablo Montoya
32: Josh Wise
33: Casey Mears
34: Joe Nemechek
35: Dave Blaney
36: Michael McDowell
37: Ken Schrader
38: J.J. Yeley
39: David Gilliland
40: David Stremme
41: Scott Riggs
42: Kelly Bires
43: Stephen Leicht