New England 200 preview from New Hampshire Motor Speedway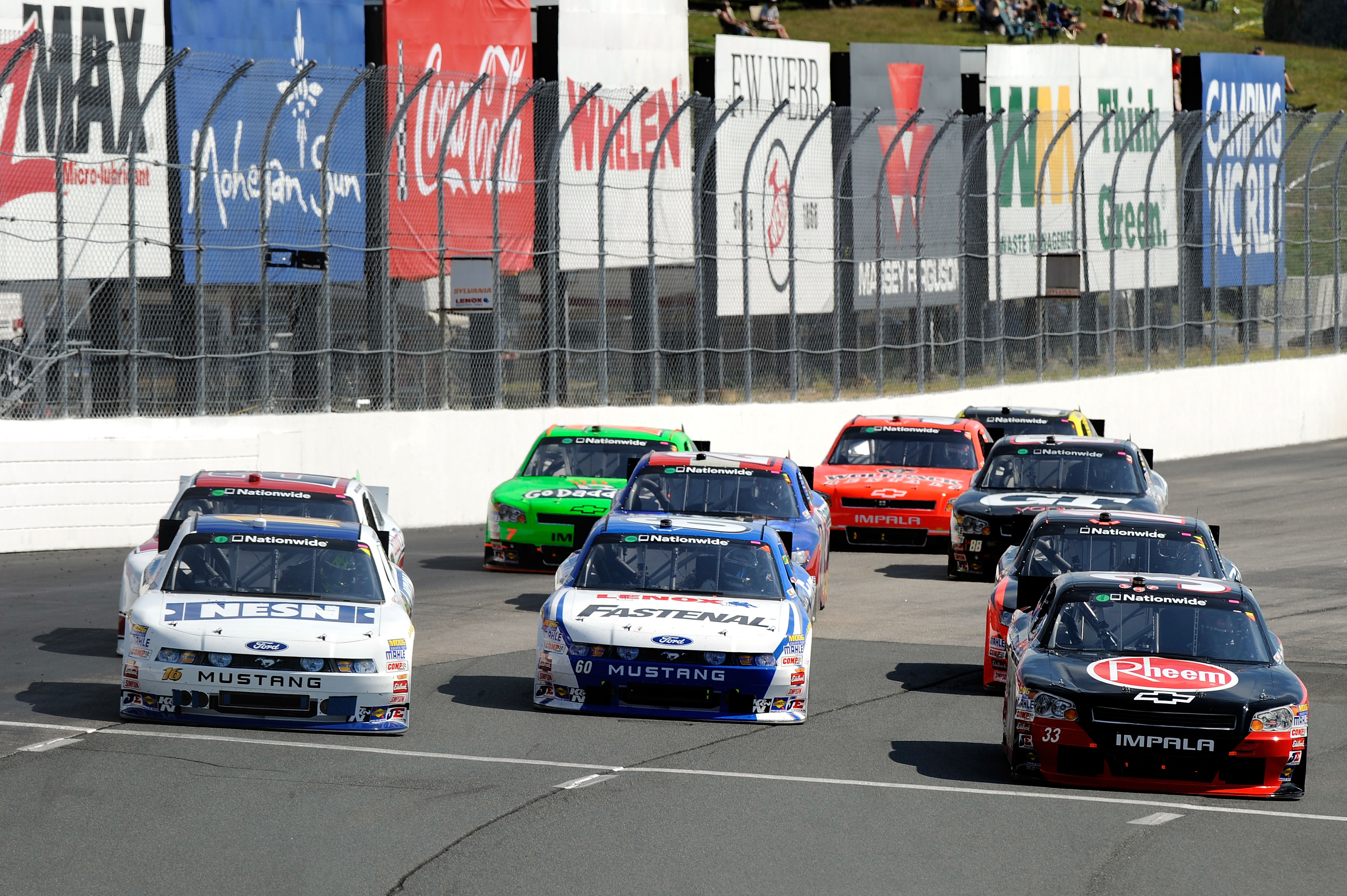 Kyle Busch has been a virtual lock at New Hampshire Motor Speedway for the last three events, recording three straight wins.
This year he'll come back with a new team looking for his first win of the year in the NASCAR Nationwide Series.
The team that he will be driving for, is the team that he owns, Kyle Busch Motorsports, has won already this year, when his brother, Kurt drove the No. 54 Toyota to victory at Richmond.
But since then, there have been a lot of top-fives, but zero wins for the young KBM.
When it comes to NHMS, though Busch can get the job done, and he has. Last year he only led the final 32 miles and laps, but don't expect him to start from the top and dominate the race.
His best starting position coming from fourth in 2010.
But don't give the win to Busch right away. He has been dominant in the past at New Hampshire, but it takes one little thing to ruin streaks.
Also with the level of drivers in the Nationwide Series, this year, it's proven that drivers can go on streaks, but they haven't been able to continue them.
One driver that is currently on a streak, although a heavily penalized streak, is Austin Dillon.
Dillon dominated Kentucky two weeks ago, winning the pole and the race. In fact, Dillon led all but 8 of the laps of Kentucky and those eight laps were either under caution or when he was in the pits.
But the story started after he took the checkered flag. His racecar was found to be too low in post race inspection. The win stayed with Dillon and his Richard Childress team, but he was docked six championship points and his crew chief Danny Stockman was placed on probation.
Last weekend at Daytona, Dillon was fast again. He qualified for the pole, but after qualifying his car was found to be illegal and his pole run was taken away. Dillon rallied back from his 42nd starting position to finish in the top-five.
It was announced on Tuesday, that Dillon's crew chief and car chief were both suspended from NASCAR competition until July 25th.
Dillon has been on a streak lately, but it's hard to continue streaks when a driver is at a track with a new car and crew chief.
Last year it was Roush-Fenway Racing Fords that led most of the race before falling behind late.
Ricky Stenhouse Jr. was the most dominant car in the Nationwide Series earlier this season, when he had the points lead and won two races in a span of just a few weeks, but after Iowa in May his team had struggled.
Last week was a strong run for Stenhouse when he finished second, and coming back to a track that he did well at last year could re-boost the team into their Late April/early May form.
New England 200 entry list: 
Mike Wallace
Elliott Sadler
Austin Dillon
Danny Efland
Ricky Stenhouse Jr.
Danica Patrick
Matt Frahm
Jeff Green
Brian scott
Sam Hornish Jr.
Eric McClure
Blake Koch
Ryan Truex
Tayler Malsam
Brad Keselowski
Jamie Dick
Amber Cope
Jamie McMurray
Justin Allgaier
Kevin Harvick
Kasey Kahne
Josh Richards
Erik Darnell
Timmy Hill
Josh Wise
Michael Annett
Mike Bliss
Chase Miller
Stephen Leicht
T.J. Bell
Jeremy Clements
Joey Gase
Kyle Busch
Johanna Long
Matthew Carter
Mike Harmon
Scott Riggs
Jason Bowles
Kevin Lepage
Joe Nemechek
Cole Whitt
Morgan Shepherd
Travis Pastrana