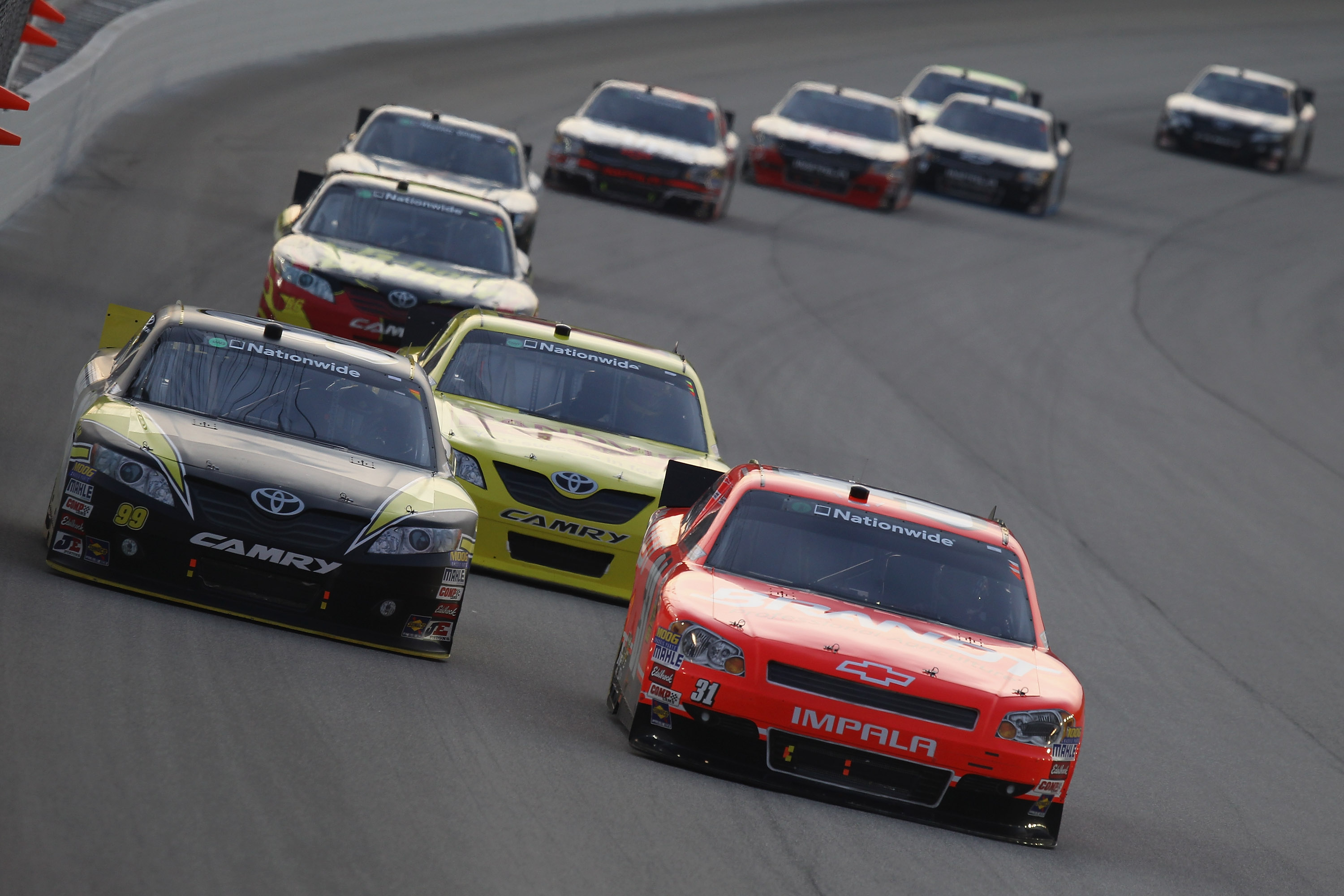 For just the second time this year, the NASCAR Nationwide Series will race in a spot usually reserved for the stars of the Cup Series.
As the cars descend upon Chicagoland Speedway in Joilet, Ill, they will for the second and last time this season race on Sunday afternoon, while the Cup series takes a break for the final time this season. The last time the Nationwide series raced on a Sunday was on May 20, when the series visited Iowa Speedway.
That race was won by last year's champion, Ricky Stenhouse Jr., but since then Stenhouse has struggled a bit. Although his team has gotten back on track in the last two weeks, the Roush-Fenway team could be one to watch at the mile and a half track.
The reason for that is because earlier this season, when the season was first getting started and it came to the mile and a half tracks of Las Vegas and Texas Motor Speedways, it was Stenhouse that found himself in victory lane.
But of course winning at a certain type of track doesn't guarantee wins at those type of tracks again, and the proof in that is Stenhouse's team. Since gathering those two wins, Stenhouse hasn't won at a mile and a half since the season since Texas.
Some of that was due to bad luck, like a small piece breaking his car in Charlotte. At Kentucky, the other mile and a half track that the Nationwide series visited, Stenhouse was able to get an eighth place finish.
The winner of the last mile and a half track was Austin Dillon.
Dillon and his team has been in a bit of trouble since that win, with two back to back violations that has kept him from the points lead. Although Kentucky and Chicagoland are two completely different tracks, Dillon and the entire Richard Childress Racing  crew has been strong lately.
Dillon will have to serve another week without his crew chief, Danny Stockman, for one more week because of the penalties that were occurred at Kentucky and Daytona.
Elliott Sadler, Dillon's teammate, hasn't had to serve without his crew chief, and has put together solid runs as of late. The last three weeks Sadler has recorded three top-tens.
Another driver that has recorded three top-tens in the last three weeks is last year's race winner, Justin Allgaier.
The streak of consecutive top-tens for Allgaier is actually at four races. Last year when he won this event, it was thanks in part to a lot of fuel saving from him and pit strategy by his team.
Turner Motorsports, the team that Allgaier drives for has two wins already this year, but neither of those wins has come from Allgaiers team or at a mile and a half track.
Chicagoland could be anyone's track, with several different teams and manufactures looking for a win in the second city.
STP 300 entry list:
Mike Wallace
Elliott Sadler
Austin Dillon
Danny Efland
Ricky Stenhouse Jr.
Danica Patrick
Tim Andrews
Kenny Wallace
Jeff Green
Brian Scott
Sam Hornish Jr.
Eric McClure
Carl Long
Tanner Berryhill
Ryan Truex
Tayler Malsam
Parker Kligerman
Jamie Dick
Casey Roderick
James Buescher
Justin Allgaier
Brendan Gaughan
Brad Sweet
Josh Richards
Erik Darnell
Timmy Hill
Matt Dibenedetto
Michael Annett
Mike Bliss
Chase Miller
Stephen Leicht
T.J. Bell
Jeremy Clements
Tim Schendel
Kyle Busch
Johanna Long
Matthew Carter
Mike Harmon
Charles Lewandoski
Jason Bowles
Joe Nemechek
Cole Whitt
Morgan Shepherd
Travis Pastrana