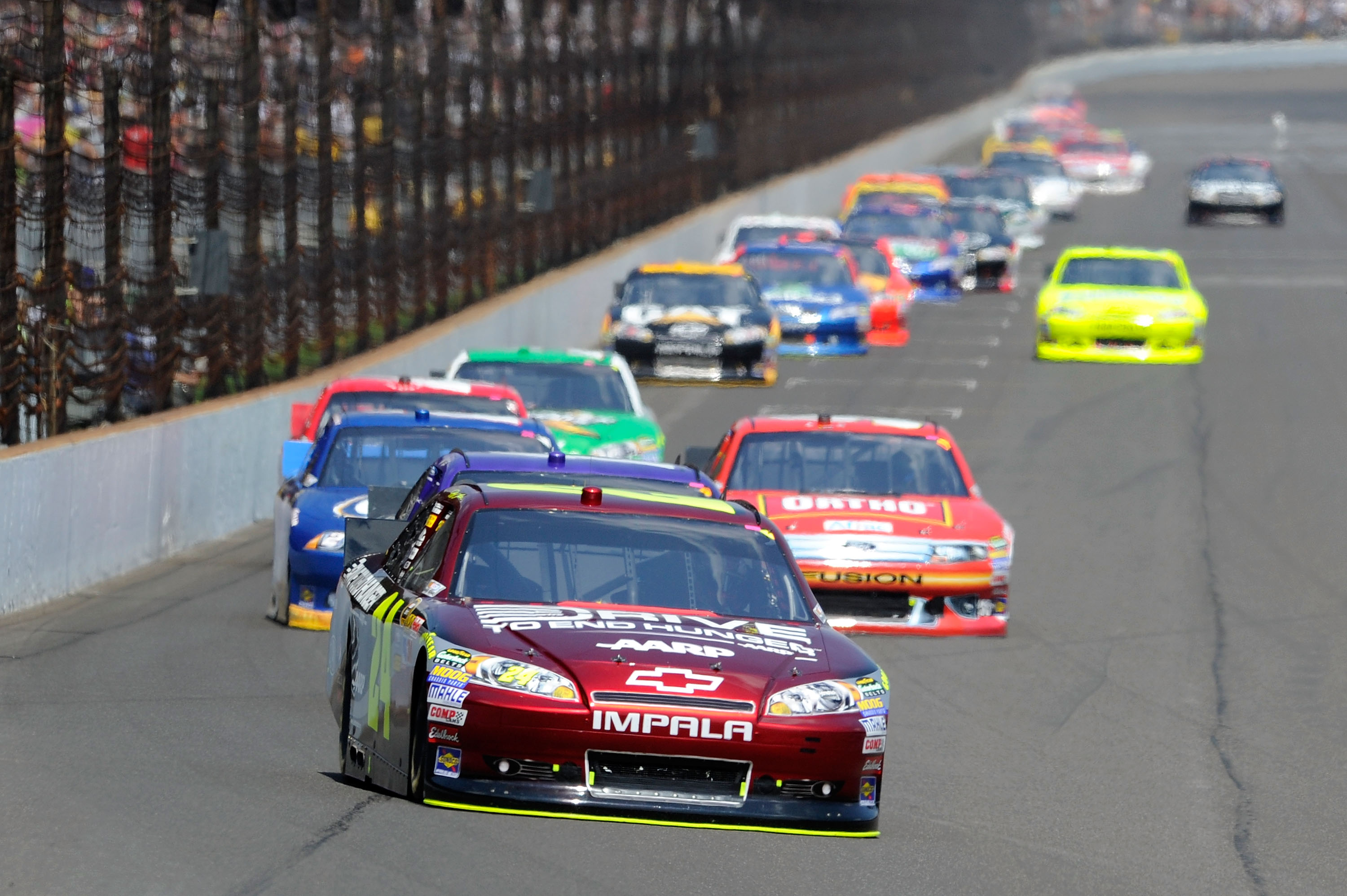 After a rare off-week, the Sprint Cup Series returns to action with their mid-summer classic with the Curtiss Shaver 400 at the Brickyard.
Well, you can just call it "The Brickyard 400".
Sunday's race at the Indianapolis Motor Speedway marks the nineteenth time NASCAR has held a race at the famed track since 1994.
Over the year's, the race has propelled numerous drivers to winning the season-ending championship, sighting it as a "boost" in momentum heading down the summer stretch of races.
When you look at the list of winners at Indianapolis for NASCAR, it's a who's-who list of drivers and it's no surprise many of them either were past champions of the sport when they won the race, or a champion-to-be.
From the early Brickyard winners of; Jeff Gordon, Dale Earnhardt and Dale Jarret, to the newest winners of; Tony Stewart and Jimmie Johnson, Indianapolis is a place of champions.
With the emphasis of "champions", the drivers in the position to contend for the title this year may be the ones to look out for on Sunday.
For point's leader Matt Kenseth, Indianapolis has been a consistent, but not stellar track for the 2003 Cup champion.
In 12 previous starts, Kenseth's best finish at The Brickayard is a second on two occasions(2003 and 2006). An average finish of 14.2 makes him a threat to win Sunday, simply because he's consistent.
Dale Earnhardt Jr. on the other hand has had no luck when it comes to The Brickyard.
Since making his debut at the Speedway in 2000, Earnhardt Jr. has only accumulated two top-10 finishes with an average finish outside the top-20.
When it comes to Greg Biffle at Indianapolis, his and Kenseth's stats could mirror one another.
With five top-10's in nine starts at The Brickyard, Biffle has been consistent at the track with a third place finish being his best back in 2010.
However, in those nine starts, "The Biff" has finished anywhere from third to thirty-fifth.
Everyone knows that Jimmie Johnson is a three-time Brickyard champion. What they may not realize is how feast-or-famine this team has been at the track since their first start in 2002.
In ten career starts, Johnson only has four top-10 finishes. Remarkably, outside of his wins at the track, Johnson's best Brickyard finish is a ninth in his rookie year.
Many would think since Denny Hamlin is a master at Pocono Raceway that he would be one of the top contenders at Indianapolis.
Unlike Pocono, Hamlin has yet to visit victory lane at Indianapolis. With an average finish around the eighteenth position, Hamlin's two top-10's in six starts at the track don't make him sure beat come Sunday.
While Pocono may be wonderful for Hamlin, it's pretty much the exact opposite for Kevin Harvick.
Which may explain why that in 11 career Indianapolis starts, Harvick has a win back in 2003 as well as seven top-10's in those starts.
Even when Harvick's season isn't stellar by any stretch, he seems to always be a factor at Indianapolis.
Who could think of Harvick at Indianapolis and not think back to his battle with Tony Stewart in 2007, in which Stewart took his second Brickyard win.
In 13 career starts at the famed track for Stewart, he has nine top-10 finishes. Not to mention, Stewart also has the best average finish at the track in the past seven races.
Even though Jeff Gordon isn't in championship contention this season, it's impossible to mention NASCAR heading to IMS without mentioning his name.
The all-time wins leader at The Brickyard, Gordon has been racing at the track since NASCAR started visiting the venue back in 1994. In fact, he was the inaugural winner of the race.
Last year, Gordon had one of the fastest cars in the closing stages of the race, barely losing out to Paul Menard. If Gordon wants to make the Chase, winning Sunday is almost a must.
Watching a race at Indianapolis is like novel. Not always the most compelling at times, put as the plot thickens, the magic of the speedway  comes to life.
Crown Royal Presents the Curtiss Shaver 400 at the Brickyard Entry List: 
#1 Jamie McMurray (Bass Pro Shops)
#2 Brad Keselowski (Miller Lite)
#5 Kasey Kahne (Farmers Insurance)
#9 Marcos Ambrose (DeWalt)
#10 David Reutimann (Tommy Baldwin Racing)
#11 Denny Hamlin (FedEx Express)
#13 Casey Mears (Geico)
#14 Tony Stewart (Mobile 1 / Office Depot)
#15 Clint Bowyer (5-Hour Energy)
#16 Greg Biffle (3M)
#17 Matt Kenseth (5th 3rd Bank)
#18 Kyle Busch (M&M's)
#19 Mike Bliss (Humphrey Smith Racing)
#20 Joey Logano (Dollar General)
#21 Trevor Bayne (Motorcraft / Quick Lane Tire & Auto Center)
#22 Sam Hornish Jr. (Shell-Pennzoil)
#23 Scott Riggs (North Texas Pipe)
#24 Jeff Gordon (Drive to End Hunger)
#26 Josh Wise (Taco Bell)
#27 Paul Menard (Menards – Nibco)
#29 Kevin Harvick (Jimmy Johns)
#30 David Stremme (Inception Motorsports)
#31 Jeff Burton (Rain-X)
#32 Ken Schrader (TBA)
#33 Stephen Leicht (LittleJoesAuto.com)
#34 David Ragan (Scorpion Truck Bed Liners)
#36 Dave Blaney (Seal Wrap)
#38 David Gilliland (Big Machine Records)
#39 Ryan Newman (Quicken Loans)
#42 Juan Pablo Montoya (Target)
#43 Aric Almirola (Eckrich)
#48 Jimmie Johnson (Lowe's / Kobalt Tools)
#49 TBA (TBA)
#51 Kurt Busch (Phoenix Construction)
#55 Mark Martin (Aaron's)
#56 Martin Truex Jr. (NAPA Auto Parts)
#78 Regan Smith (Furniture Row – Farm American)
#79 Mike Skinner (BBI / Team Kyle)
#83 Landon Cassill (Burger King / Dr Pepper)
#87 Joe Nemechek (AM FM Energy)
#88 Dale Earnhardt Jr. (AMP Energy / National Guard)
#91 Reed Sorenson (TBD)
#93 Travis Kvapil (Burger King / Dr Pepper)
#95 Scott Speed (Leavine Family Racing)
#98 Michael McDowell (K-Love / Curb Records)
#99 Carl Edwards (Fastenal)