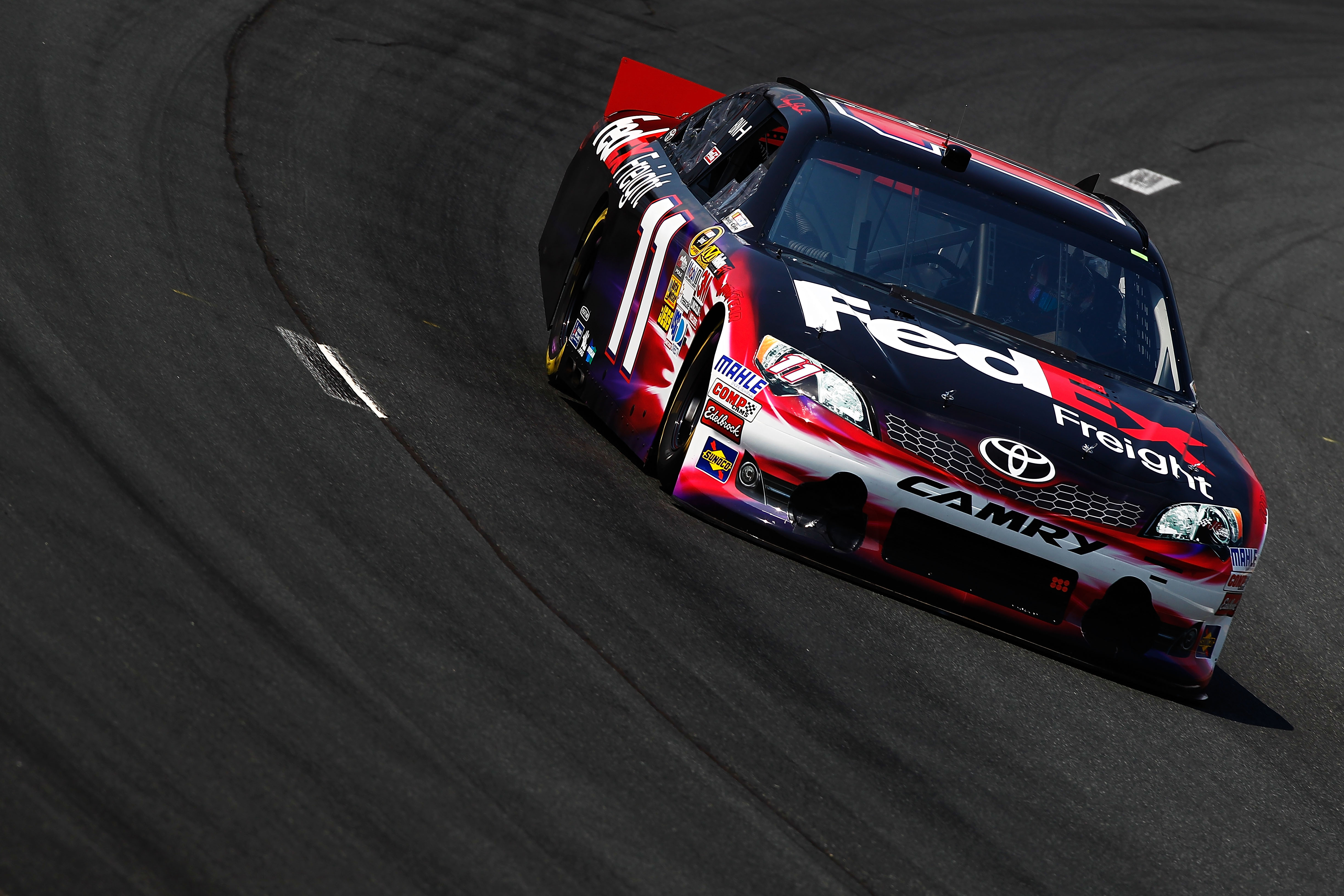 Denny Hamlin didn't have the greatest first practice when he and his team came to Indianapolis Motor Speedway for the annual NASCAR weekend at the track.
Because of that, the time that he went out to qualify was in the middle of the pack of 46 cars that came to Indianapolis to try and make the show. It wasn't the best time to go out on track, but as it turned out, when you have a fast car, it doesn't matter when you go out.
Hamlin layed down his fastest lap at  49.244 seconds/182.763 mph which was a time that was almost two tenths of a better than the next closest driver.
"Darin [Grubb, Hamlin's crew chief] has this program going in the right direction," Hamlin said to ESPN reporters after qualifying wrapped up.
After Hamlin went out roughly half way through the Sprint Cup Series qualifying session all of the other cars couldn't match his time.
For Hamlin, getting the pole at Indianapolis is special for his team and he feels that he has a car that could be tough to beat on Sunday for the race.
"A great day," Hamlin said. "As a team we are really close to this racetrack. A great qualifying effort, I feel like we have a great car for tomorrow."
The next closest driver to Hamlin was the Ford of Carl Edwards.
Edwards split the teammates of Hamlin and Joey Logano for the second starting spot, but both of those speeds were well off the speed of the pole sitter, Hamlin.
Hamlin made it a point to say that the reason for his teams recent success, after some mid-season struggles is Grubb.
"He's done a great job with this race team," Hamlin said.
Three drivers, Michael McDowell, Reed Sorenson and Joe Nemechek all failed to make Sunday's race.
Curtiss Shaver 400 starting line-up: 
Denny Hamlin
Carl Edwards
Joey Logano
Aric Almirola
Greg Biffle
Jimmie Johnson
Kyle Busch
Paul Menard
Jeff Gordon
Matt Kenseth
Ryan Newman
Juan Pablo Montoya
Kurt Busch
Regan Smith
Kasey Kahne
Jamie McMurray
Martin Truex Jr.
Trevor Bayne
Mark Martin
Dale Earnhardt Jr.
Jeff Burton
Brad Keselowski
Marcos Ambrose
Sam Hornish Jr.
Casey Mears
David Stremme
Kevin Harvick
Tony Stewart
Bobby Labonte
Travis Kvapil
David Gilliland
Dave Blaney
Clint Bowyer
Scott Speed
Josh Wise
David Ragan
Stephen Leicht
Landon Cassill
Mike Skinner
Scott Riggs
J.J. Yeley
Ken Schrader
Mike Bliss