Coulter breaks through at Pocono for first win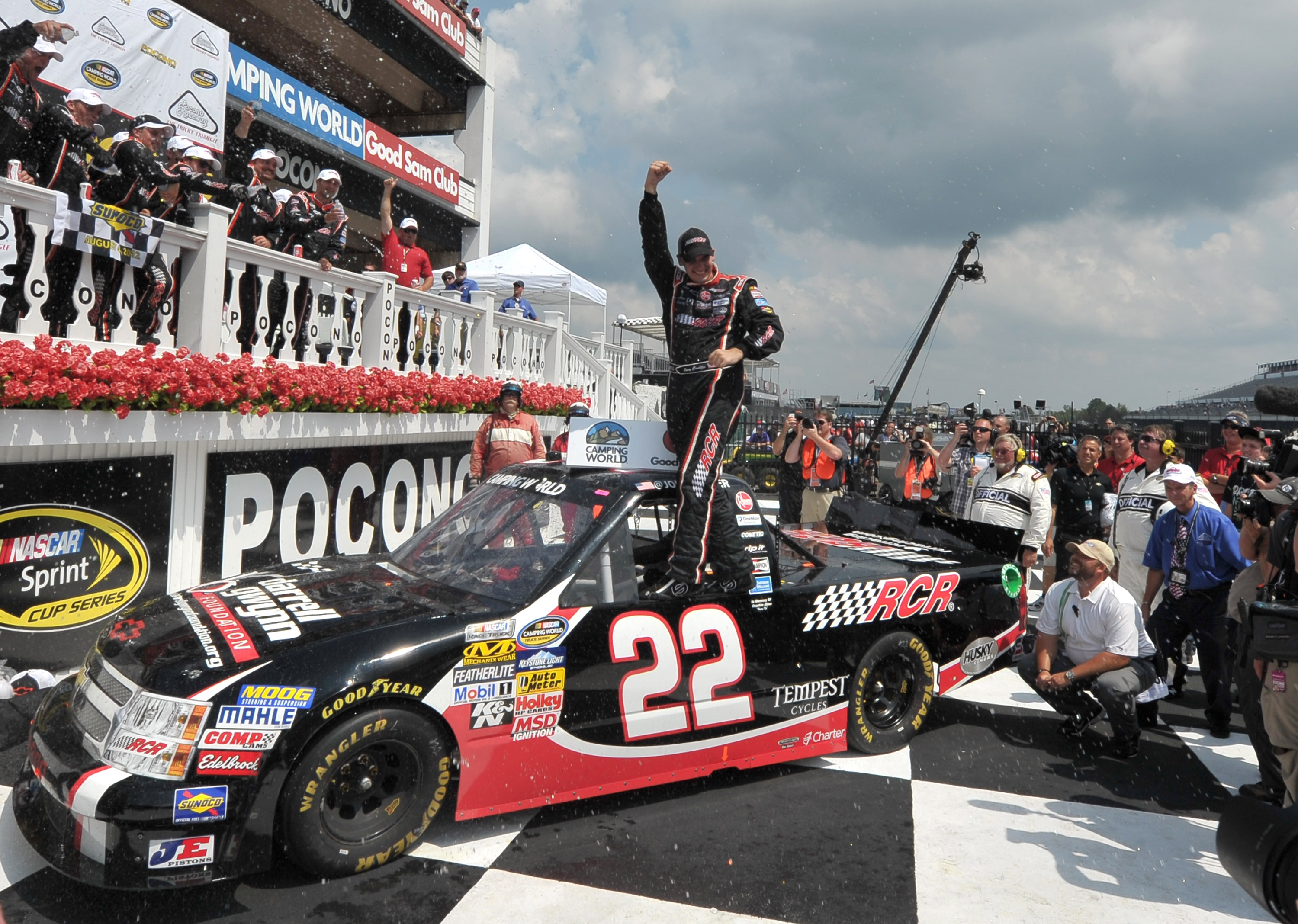 For the better part of a year, Joey Coulter has been in contention for winning races in the Truck Series.
After taking the rookie of the year crown in one of the most highly contested crop of rookies in recent years, expectations for Coulter and his Richard Childress Racing team in 2012.
Coulter's year started off with a bang, but not the way he envisioned it when he went flying into the catch-fence in the season opening race at Daytona,Fla.
As of late, Coulter and team started to find success with recent top-five and top-10 finishes and climbing to eighth in the standing's before Saturday's race at Pocono Raceway.
Leading only six of the of the 50 laps, Coulter was able to take the lead on a late-race restart to grab his first career Truck Series victory.
"The whole time I've been racing stock cars I've seemed to struggle with restarts," said the Coulter in victory lane.
"I've probably put more time into that than just about anything.
"It's just awesome to close the deal. We've been so close. And it's just awesome to finally put one together for these guys."
For Coulter's team, Richard Childress Racing, Saturday's trip to victory lane is the first since Austin Dillon won at Chicagoland Speedway in September, 2011.
"Joey has had a really, really fast truck the past two seasons but has had some misfortune that has kept him out of the winner's circle," said Coulter's truck owner, Richard Childress.
"I'm really happy for his family, they're at every race pulling for him."
During the closing stages of the race, the battle for the 2012 Truck Series championship tightened up after points leader Timothy Peters was involved in a crash while running inside the top-five.
Despite the wreck, Peters remains the points leader heading into the next race at Michigan International Speedway on August,18.
"We had a bad day, but we made the best of it," said Peters. "We didn't fall out, so that's a good thing. We knew it was coming. We just hope this is only one-of-one."
Peters holds an eight point lead over Ty Dillon. The top-six drivers in the standings are all within 35 points of the lead heading to Michigan in two weeks.
Pocono Mountains 125 Unofficial Results: 
1: Joey Coulter
2: James Buescher
3: Nelson Piquet Jr.
4: Matt Crafton
5: Denny Hamlin
6: Ty Dillon
7: Parker Kligerman
8: John Wes Townley
9: Justin Lofton
10: Ross Chastain
11: Jason White
12: Dakoda Armstrong
13: Miguel Paludo
14: Cale Gale
15: Tim George Jr.
16: C.E. Faulk
17: Bryan Silas
18: Chris Fontaine
19: Ron Hornaday Jr.
20: Norm Benning
21: Kyle Martel
22: Timothy Peters
23: Wes Burton
24: Paulie Harraka
25: Sean Corr
26: Todd Bodine
27: Johnny Sauter
28: Dennis Setzer
29: Ryan Sieg
30: Brandon Knupp
31: Jeff Agnew
32: Scott Riggs
33: Adam Edwards
34: Chris Jones
35: Chris Lafferty
36: Jennifer Jo Cobb