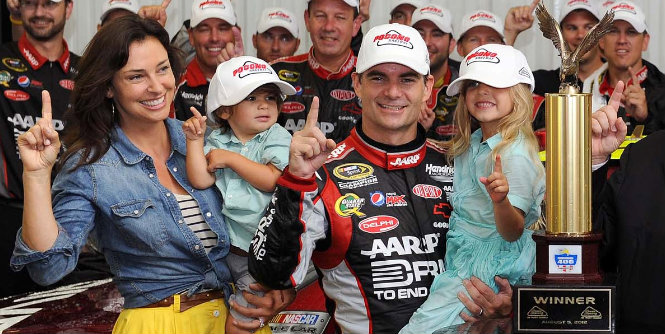 The fact of the matter is, racing is unpredictable. That fact was once again put on display at Pocono Raceway on Sunday.
Heading into the race, many thought the race would come down to three drivers; Kyle Busch, Dale Earnhardt Jr. and Jimmie Johnson.
Those drivers—and rain—were the easy bets.
But, you know what they say about the easy things.
Early in the race,things began to change when Busch blew a left-rear brake rotor entering turn one, just one lap away from the competition caution.
Earnhardt Jr. and Johnson then took their stint of making the Pocono Raceway their personal playground. That was until Earnhardt Jr. suffered a broken transmission after a round of green flag pit stops.
That left the lead, and what looked to be the race, to Johnson as the race approached halfway with rain drawing closer by the minute.
Blowing a left front tire, Kurt Busch brought out the caution flag, setting up what wound up being the final restart of the race.
When the green flag came out, Johnson was in the lead with Matt Kenseth pressuring him from the outside heading into turn one. From there, the No.48 of Johnson got loose, sliding up the track into the No.17 of Kenseth, collecting Greg Biffle and Denny Hamlin in the process.
Avoiding the wreck, Jeff Gordon came out of turn one holding the race lead as the skies above Pocono Raceway began to darken.
The rain picked up, cars came down pit road, and Gordon was declared the winner of the 98-lap Pennsylvania 400 at Pocono Raceway.
"For all the things that have gone wrong for us this year, I still can't believe what just happened," said Gordon in a make-shift victory lane.
"I think this is the one that makes up for all the ones that have gotten away. I'm so proud of this team, they gave me a great race car today.
"To start twenty-seventh and only have one caution, to work your way up there like that is pretty awesome."
After his sixth win at Pocono , Gordon is now the all-time wins leader at the Pennsylvania track.
Sunday's rain-shortened race was the first victory of 2012 for Gordon, a season which has seen more downs than up's.
"I got a great restart, and I got into that inside lane ahead of Kasey. I saw the 48 get sideways and somehow I came out the other end of it leading.
"I know you don't want to win them quite like this, but we've earned it with all the things we've done this year. We've been in position to win races, and we were in the right position at the right time.
"Our cars have been good, our team has been good, just needed some things to go our way."
Gordon's win boosts his chances of making the Chase, sitting thirteenth on the points, but more importantly, the No.2 wildcard position for the Chase.
"This is that little boost we need to go through those next five races. Don't count us out. This is a great moment.  We'll take it anyway we can get it right now."
"You can't ever give up, it doesn't matter where you're at. Just got to try to go out there and win races."
Despite early troubles in the race, Earnhardt Jr. will leave Pocono with the points lead as he holds a five point advantage heading into Watkins Glen next Sunday.
Pennsylvania 400 Unofficial Results: 
1: Jeff Gordon
2: Kasey Kahne
3: Martin Truex Jr.
4: Brad Keselowski
5: Tony Stewart
6: Ryan Newman
7: Carl Edwards
8: Clint Bowyer
9: Regan Smith
10: Marcos Ambrose
11: Paul Menard
12: Mark Martin
13: Joey Logano
14: Jimmie Johnson
15: Greg Biffle
16: Kevin Harvick
17: Jamie McMurray
18: Aric Almirola
19: Sam Hornish Jr.
20:Juan Pablo Montoya
21: David Gilliland
22: Jeff Burton
23: Matt Kenseth
24: David Reutimann
25: Travis Kvapil
26: Landon Cassill
27: Bobby Labonte
28: David Ragan
29: Denny Hamlin
30: Kurt Busch
31: Jason White
32: Dale Earnhardt Jr.
33: Kyle Busch
34: David Stremme
35: Casey Mears
36: Joe Nemechek
37: Josh Wise
38: Tony Raines
39: Mike Bliss
40: JJ Yeley
41: Mike Skinner
42: Reed Sorenson
43: Scott Riggs