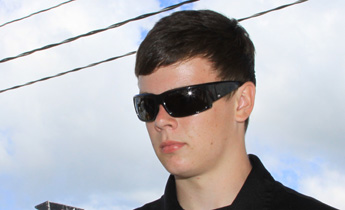 At the end of both practice sessions at Berlin Raceway, it was 16-year-old Erik Jones topping the charts. He'd lap the 0.438 mile oval in 17.235 seconds in the first practice, followed by a 17.183 seconds in the second practice.
Jones made his ARCA debut earlier this year at the age of 15 and has impressed with two top fives and three top 10s in five starts. Berlin is where the Byron, Michigan native cut his teeth so its no surprise to see him at the top of the charts.
Last race's winner Chad Hackenbracht was second in the final practice at a lap of 17.284 seconds, 0.049 seconds off of Jones. The win for Hackenbracht marked his first ARCA Racing Series win in 42 ARCA starts.
Hendrick Motorsports development driver Chase Elliott was third at 17.459 seconds. In his three previous ARCA starts, he has three top 10s.
Alex Bowman and Frank Kimmel rounded out the top five. Points leader Brennan Poole was sixth, followed by Michael Simko, Matt Lofton, Brian Campbell and Tom Hessert.
In the first practice, it'd be Jones, followed by Hackenbracht, Clint King, Poole and Elliott. Mason Mingus was sixth, followed by Lofton, Nelson Canache, Chris Buescher and Kimmel.
Menards Pole Qualifying presented by Ansell will start at 5, with live timing and scoring coverage at ARCARacing.com. The Berlin ARCA 200 presented by Hantz Group will start at 8:30 with the same live timing and scoring coverage. Charlie Krall and Tim Clagg will host a live pre-race show at 8 before delivering an online audio call of the race at ARCARacing.com.
ractice Results
Practice 1
2012 ARCA Racing Series presented by Menards Event #15
 
 
Berlin Raceway, Marne Michigan, 8-11-12
 
 
 
Berlin ARCA 200 presented by Hantz Group
 
 
 
 
 
 
 
 
 
August 11, 2012 / 2:45 PM
 
 
 
 
 
 
 
 
 
POS
NO
DRIVER/HOMETOWN
TEAM & CAR
TIME
SPEED
1
55
Erik Jones/Byron MI
Paragon Corvette Reproductions-CG Financial Chevy
17.235
91.488
2
58
Chad Hackenbracht/New Philadelphia OH
CGH Motorsports Chevrolet
17.284
91.229
3
9
Chase Elliott/Dawsonville GA
Aaron's Dream Machine-Hendrickcars.com Chevrolet
17.459
90.314
4
22
Alex Bowman/Tucson AZ
St. Jude Children's Research Hospital Dodge
17.469
90.263
5
44
Frank Kimmel/Clarksville IN
Ansell-Menards Toyota
17.473
90.242
6
25
Brennan Poole/The Woodlands TX
Adcetera.com-Midas-Venturini Motorsports Chevrolet
17.478
90.216
7
35
Michael Simko/Clarkston MI
Venturini Motorsports Chevrolet
17.478
90.216
8
16
Matt Lofton/Roxboro NC
Strutmasters.com Chevrolet
17.522
89.990
9
68
Brian Campbell/Wyoming MI
Hantz Group Chevrolet
17.526
89.969
10
52
Tom Hessert/Cherry Hill NJ
Federated Auto Parts Chevrolet
17.565
89.769
11
6
Mason Mitchell/W. Des Moines IA
J&S Ag Services-Make A Wish Chevrolet
17.608
89.550
12
32
Mason Mingus/Brentwood TN
811 Call Before You Dig Chevrolet
17.612
89.530
13
29
Brian Keselowski/Rochester Hills MI
Diversified Documents Dodge
17.654
89.317
14
04
Darren Hagen/Indianapolis IN
Carter 2 Motorsports Dodge
17.677
89.201
15
15
Clint King/Denton NC
Speedrack Products Group Toyota
17.712
89.024
16
17
Chris Buescher/Prosper TX
Roulo Brothers Racing Ford
17.713
89.019
17
66
Nelson Canache/Caracas Venezuela
Venezuela Tourism Toyota
17.715
89.009
18
23
Spencer Gallagher/Las Vegas NV
Allegiant Air Chevrolet
17.806
88.554
19
40
Justin Lloyd/Raleigh NC
Carter 2 Motorsports Dodge
18.068
87.270
20
10
Ricky Ehrgott/Brandon FL
Fast Track Driving School Blue Collar Chevrolet
18.279
86.263
21
02
Josh Williams/Port Charlotte FL
Southwest Florida Cable Construction Ford
18.433
85.542
22
34
Darrell Basham/Henryville IN
Darrell Basham Racing Chevrolet
18.489
85.283
23
2
Ron Cox/Soddy Daisy TN
Hixson Construction Chevrolet
18.915
83.362
24
99
Mike Young/Toledo OH
Roulo Brothers Racing Ford
19.025
82.880
25
48
James Hylton/Inman SC
Radon.com Ford
19.510
80.820
26
0
James Swanson/San Antonio TX
Wayne Peterson Racing Ford
19.601
80.445
27
3
Tim Walter/Valparaiso IN
MPBToday.com/racersfoot Dodge
19.628
80.334
28
06
Tommy O'Leary/Cygnet OH
GreatRailing.com Ford
20.232
77.936
---
Practice 2 
2012 ARCA Racing Series presented by Menards Event #15
 
 
Berlin Raceway, Marne Michigan, 8-11-12
 
 
 
Berlin ARCA 200 presented by Hantz Group
 
 
 
 
 
 
 
 
 
August 11, 2012 / 4:07 PM
 
 
 
 
 
 
 
 
 
POS
NO
DRIVER/HOMETOWN
TEAM & CAR
TIME
SPEED
1
55
Erik Jones/Byron MI
Paragon Corvette Reproductions-CG Financial Chevy
17.183
91.765
2
58
Chad Hackenbracht/New Philadelphia OH
CGH Motorsports Chevrolet
17.264
91.335
3
15
Clint King/Denton NC
Speedrack Products Group Toyota
17.272
91.292
4
25
Brennan Poole/The Woodlands TX
Adcetera.com-Midas-Venturini Motorsports Chevrolet
17.322
91.029
5
9
Chase Elliott/Dawsonville GA
Aaron's Dream Machine-Hendrickcars.com Chevrolet
17.355
90.856
6
32
Mason Mingus/Brentwood TN
811 Call Before You Dig Chevrolet
17.360
90.829
7
16
Matt Lofton/Roxboro NC
Strutmasters.com Chevrolet
17.368
90.788
8
66
Nelson Canache/Caracas Venezuela
Venezuela Tourism Toyota
17.409
90.574
9
17
Chris Buescher/Prosper TX
Roulo Brothers Racing Ford
17.440
90.413
10
44
Frank Kimmel/Clarksville IN
Ansell-Menards Toyota
17.484
90.185
11
68
Brian Campbell/Wyoming MI
Hantz Group Chevrolet
17.487
90.170
12
35
Michael Simko/Clarkston MI
Venturini Motorsports Chevrolet
17.492
90.144
13
22
Alex Bowman/Tucson AZ
St. Jude Children's Research Hospital Dodge
17.579
89.698
14
40
Justin Lloyd/Raleigh NC
Carter 2 Motorsports Dodge
17.588
89.652
15
6
Mason Mitchell/W. Des Moines IA
J&S Ag Services-Make A Wish Chevrolet
17.623
89.474
16
04
Darren Hagen/Indianapolis IN
Carter 2 Motorsports Dodge
17.644
89.367
17
10
Ricky Ehrgott/Brandon FL
Fast Track Driving School Blue Collar Chevrolet
17.788
88.644
18
02
Josh Williams/Port Charlotte FL
Southwest Florida Cable Construction Ford
17.871
88.232
19
29
Brian Keselowski/Rochester Hills MI
Diversified Documents Dodge
17.999
87.605
20
2
Ron Cox/Soddy Daisy TN
Hixson Construction Chevrolet
18.177
86.747
21
23
Spencer Gallagher/Las Vegas NV
Allegiant Air Chevrolet
18.277
86.272
22
69
Will Kimmel/Sellersburg IN
Tilted Kilt Ford
18.515
85.163
23
99
Mike Young/Toledo OH
Roulo Brothers Racing Ford
18.575
84.888
24
34
Darrell Basham/Henryville IN
Darrell Basham Racing Chevrolet
18.732
84.177
25
52
Tom Hessert/Cherry Hill NJ
Federated Auto Parts Chevrolet
18.840
83.694
26
0
James Swanson/San Antonio TX
Wayne Peterson Racing Ford
19.651
80.240
27
06
Tommy O'Leary/Cygnet OH
GreatRailing.com Ford
19.695
80.061