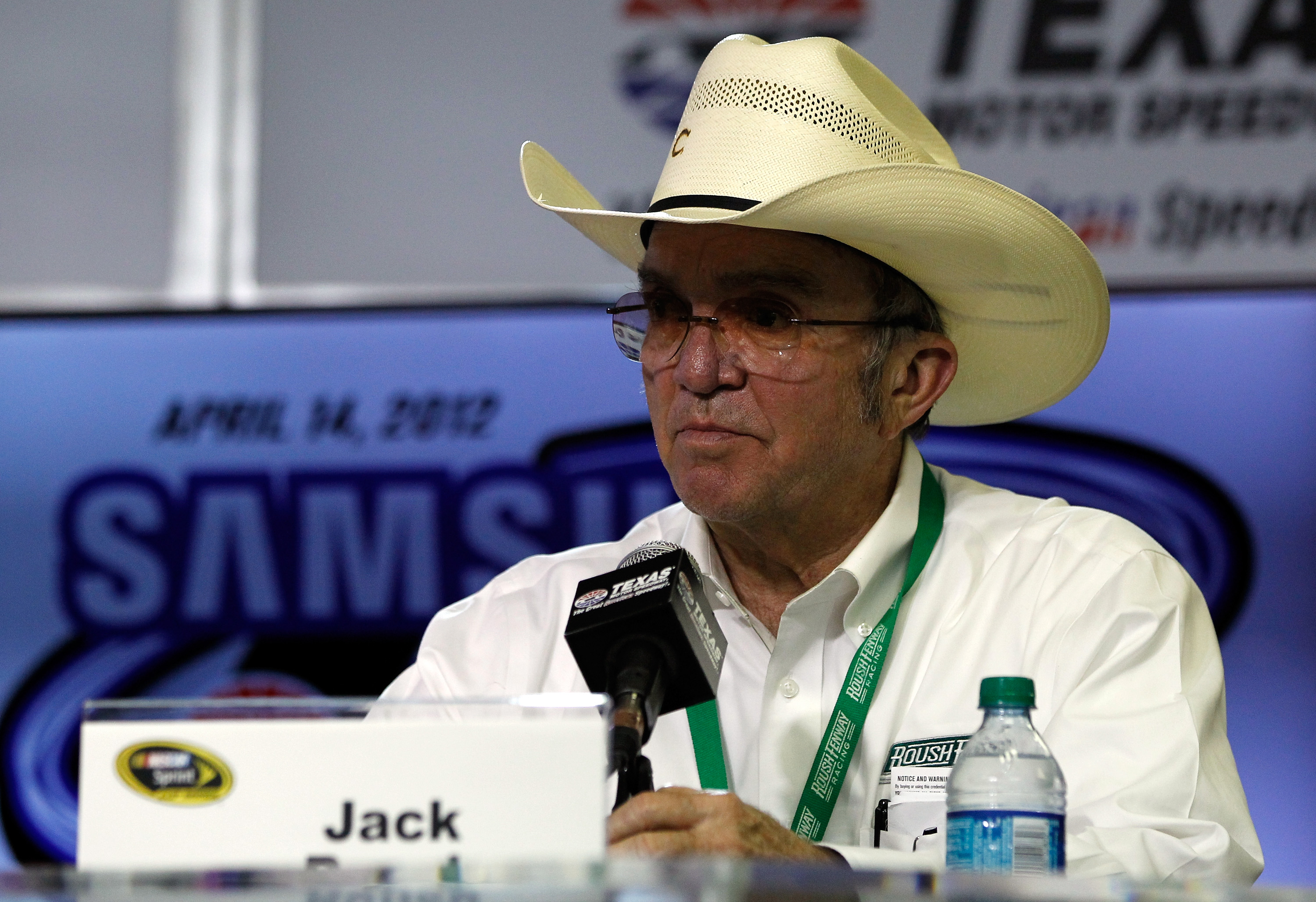 BROOKLYN, Mich.— Following Sunday's Pure Michigan 400 at Michigan International Speedway, winning car owner Jack Roush shed some light on an interesting development from the Hendrick Motosports team that has the Sprint Cup garage puzzled.
"When the 24 car put a left rear tire through the battery at Darlington that was kind of a wake-up call for some of us," said Roush post-race in the media center.
"It took us awhile to figure out what they were doing but we have been working at it and have assurance from NASCAR that it is okay and within the rules and not the reason that we were able to win today.
"It certainly is hard to win if you don't have a competitive aero package and chassis mechanical grip package."
The "trick" that is the topic of discussion among fans and teams alike has to deal with an irregularity in the rear-ends of the Hendrick cars which causes them to move back-and-forth which generates more side-force in the cars which ultimately allows the cars to handle better so they can run faster through the corners.
Roush's driver, Greg Biffle who won Sunday's race at MIS pointed out that the issue with the Hendrick cars developed after NASCAR made a change to the side-skirts on the cars prior to the All-Star race at Charlotte Motor Speedway.
However, the most noticeable of these tricks was preformed at Indianapolis Motor Speedway by five-time Sprint Cup champion, Jimmie Johnson. A race in which he won in seemingly dominant fashion.
"It completely changed the way we raced these cars," said Biffle. "We took our notebook, even just what we raced here last time, and threw it away.
"It's all rear-suspension related. There's a lot more to it than what these guys just think are going on with the rear end. But, it's more just getting a rear suspension package and sealing the right side down.
"Every team is doing it. There is a lot more to it I think. I have been reading some stuff about it and it isn't any one thing that we have figured out as a team to get our cars down out of the air and sealed up on the right side and going around the corner better."
Since the change in the side-skirts, there have been numerous occasions where drivers and teams have made comments about the way the Hendrick cars looked while on the track, with one of the first coming when Dale Earnhardt Jr. broke his four-year losing streak at MIS in June.
But maybe the strangest thing seen thus far has been with the Johnson car.
During the Brickyard 400 at Indianapolis, Johnson was seen turning on and turning off switches all around the 2.5-mile track en route to victory.
That trend continued into the following week at Pocono Raceway with Johnson and the switches, even on the final restart of the race in which Johnson crashed into the Roush car of Matt Kenseth.
"We try to get our cars down on the race track and everybody does it but it takes a whole different package. It takes different sway bars and different springs and angels on all the stuff," continued Biffle.
"It took a tremendous amount. Some guys were kind of racing like that already and we weren't as an organization. We tried a little and hit on it a little. I ran a car like that at Kansas in the second Chase race a few years ago and ran third. We were softer in the back and down a little bit then. We weren't able to really perfect it.
"When the side skirts got cut up we were committed and had to go work on them and figure it out. Some guys just got it figured out faster than us."
With the new car for 2013 coming into play at Daytona in February, there may not be much gained with this new find as no one truly knows how this will develop in the future.
Over the years, there certainly hasn't been any love lost between Roush and Hendrick. Seems like that is only continuing in 2012.