UNOH 200 at Bristol Motor Speedway preview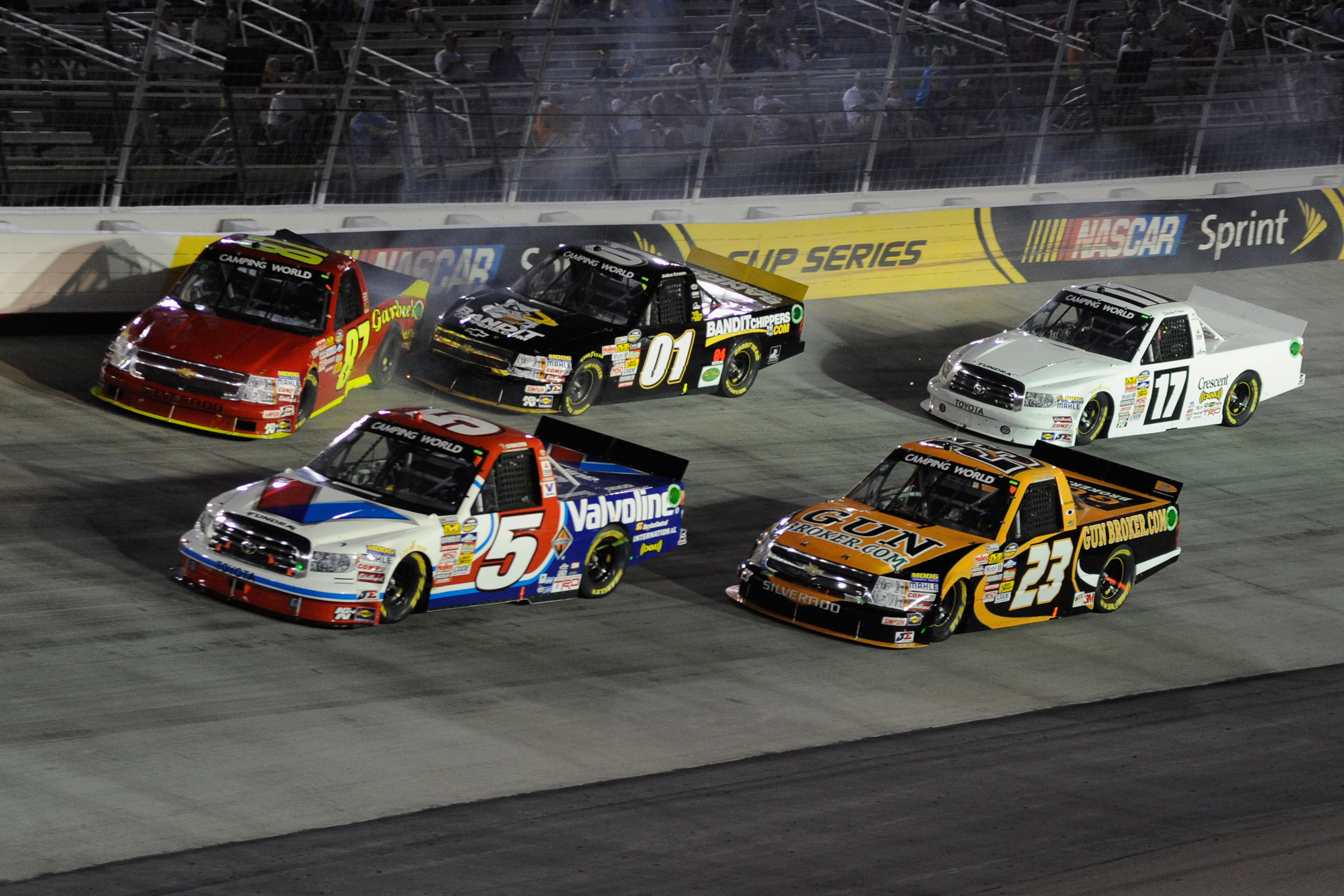 Short track action a Wednesday in NASCAR can only mean one thing; The Camping World Truck Series is heading to the Bristol Motor Speedway for the UNOH 200.
In past years, the Truck Series has provided some of the best racing of the enter August stop to Bristol. However, this year is a bit of an unknown given the revamped track surface.
As many know by now, following the March Sprint Cup race at the track, it was decided that track workers would try to re-create the "old Bristol" before the August weekend. What this would wind up consisting of was workers grinding off the top-groove of the race track, a part of the track which had been useful since the track's reconstruction in 2007.
With that being said, Wednesday night's race is as much of a toss-up if there ever was one.
And that's not just because of the unknowns with the track. The two dominating drivers at BMS over recent year's aren't in the field for the race.
That's right; Neither Kyle Busch or Kevin Harvick will race in Wednesday night's event. Instead, Brendan Gaughan will be piloting the No.2 truck that Harvick drove one year ago to the win and Brian Scott will pilot the No.18 for Busch's team.
While drivers who have run well at BMS recently should still had a slight upper-hand for the race, the track may favor the more savvy veterans of the Series like Todd Bodine and Ron Hornaday Jr.
But, if you're a person who likes the sleeper picks, go with Jason White. BMS is by far his most successful track on the tour, coming within mere laps of winning a few years back.
However, this may be Brad Keselowski's race to lose.
With this race setting the tone possibly for the entire weekend and the foreseen future of BMS, this could be the can't-miss race of the season for the trucks.
Past UNOH 200 Winners:
1995: Joe Ruttman
1996: Rick Carelli
1997: Ron Hornaday Jr.
1998: Ron Hornaday Jr.
1999: Jack Sprague
2003: Travis Kvapil
2004: Carl Edwards
2005: Mike Skinner
2006: Mark Martin
2007: Johnny Benson
2008: Kyle Busch
2009: Kyle Busch
2010: Kyle Busch
2011: Kevin Harvick
UNOH 200 Fast Facts: 
Four of the 14 races at BMS have been won by the driver starting on the pole.
Most Wins: 3 – Kyle Busch
Most Poles: 2 – Ron Hornaday Jr., Mike Skinner
Most Lead Changes: 7 – 6/5/99
Fewest Lead Changes: 0 – 6/21/97
Most Laps Led by a Race Winner: 200 – 6/21/97
Fewest Laps Led by a Race Winner: 2 – 8/20/03
Most Wins by a Manufacturer: 6 – Chevrolet
UNOH 200 Entry List: 
#0 T.J. Bell (Driven2Honor.org)
#01 Jake Crum (Bandit Chippers)
#2 Brendan Gaughan (South Point Hotel & Casino)
#02 Tyler Young (Rando)
#3 Ty Dillon (Bass Pro Shops/Tracker Boats
#6 Justin Lofton (Millennium Private Jet/Lofton Cattle)
#7 Parker Kligerman (Red Horse Racing)
#07 Jeff Agnew (Team 7 Motorsports)
#08 Ross Chastain (Melon 1)
#9 Ron Hornaday Jr. (Anderson's Pure Maple Syrup)
#09 John Wes Townley (Toyota Care)
#10 Jennifer Jo Cobb (Driven2Honor.org)
#11 Todd Bodine (Toyota Care)
#13 Johnny Sauter (Hot Honeys/Curb Records)
#17 Timothy Peters (Red Horse Racing)
#18 Brian Scott (Dollar General)
#19 Ryan Blaney (Cooper Standard)
#22 Joey Coulter (Steak Umm)
#23 Jason White (Gunbroker.com)
#27 B.J. McLeod (TBA)
#29 Brad Keselowski (Reese Tow Power)
#30 Nelson Piquet Jr. (Drink "B")
#31 James Buescher (Exide)
#32 Miguel Paludo (Duroline)
#33 Cale Gale (Rheem)
#36 Grant Enfinger (TBA)
#38 Chris Jones (RSS Racing)
#39 Ryan Sieg (RSS Racing)
#57 Norm Benning (Norm Benning Racing)
#68 Clay Greenfield (Titan Tool/Star Road-Guard)
#75 Caleb Holman (Food Country/Wise Snacks/Pizza Plus)
#81 David Starr (Chasco-Zachry)
#84 Chris Fontaine (Glenden Enterprises)
#86 Blake Koch (Titan Tool/Star Road-Guard)
#88 Matt Crafton (Menards)
#92 Chad McCumbee (FleetHQ.com/BTS Tire & Wheel/QMI)
#93 Dennis Setzer (RSS Racing)
#98 Dakoda Armstrong (EverFi.com)
#99 Bryan Silas (Rockingham Speedway)