Ty Dillon slides to first truck win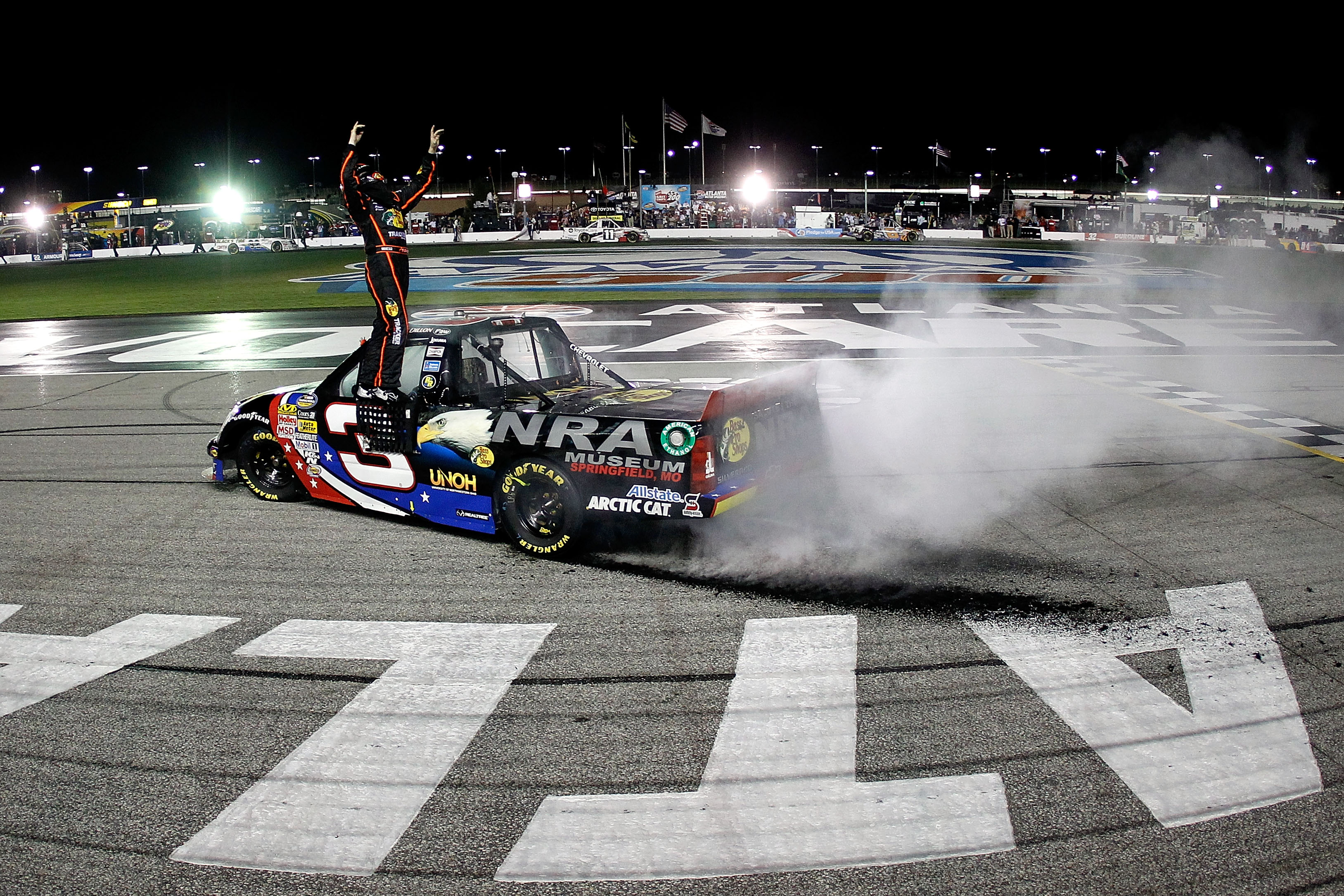 After the disappointment on the final restart at Bristol a week ago which resulted in the worst career finish for Ty Dillon in the Truck Series, he and his No.3 team bounced back by winning the pole for Friday night's race at Atlanta Motor Speedway.
From the drop of the green flag, the Dillon's truck proved to be one of the strongest in the field, taking the lead from Kyle Busch for the first time on lap 10.
After the race's first caution, Dillon was passed for the lead on restart after his crew kept him in the lead off pit road.
Even when he wasn't in the lead, Dillon was able to keep the leaders in sight, ready to strike at any moment.
During the race's long green-flag run, Dillon's crew had an issue on what looked to be the final pit stop of the race, causing him to cycle back in the fourth position before being able to race his way up to third.
Through all this, Busch was sailing away to possibly his fifth win in the Truck Series at Atlanta Motor Speedway.
But, a caution for debris with under 30 laps to go created one last round of pit stops.
Much as they did the entire night, Dillon's crew pulled off a solid stop, getting their driver off pit road with the lead ahead of Busch.
Getting the jump on the restart, Busch grew his lead to over one second over Dillon with 10 laps remaining.
Slowly chipping away at the lead, Dillon was turning lap times faster than the leader, Busch, but looked to be running out of time.
As handling issues factored in for the No.18, Dillon used momentum off the fourth turn to take the lead in turn two with six laps to go.
Driving away from the struggling Busch, Dillon claimed his first career NASCAR Camping World Truck Series win in the Jeff Foxworthy's Grit Chips 200 at the Atlanta Motor Speedway.
"It's amazing. My guys are awesome, can't say enough about them. Amazing night," said an overjoyed Dillon in victory lane after receiving congratulations for his brother, Austin, and grandfather/truck owner, Richard Childress.
"Gotta thank the Lord. If that last caution didn't come out we wouldn't have made it on fuel again."
Dillon lead the race on five different occasions for a total of 40 laps, none more so gratifying than the last six en route to the checkered flag.
"I'm so happy. For how hard we've worked, it's our rookie year and we're battling for this championship, our team doesn't give up.
"Man, I'm just so happy and so excited. I finally won a NASCAR race. It's been my whole life and to finally do it means so much."
With the win, Dillon sits third in the point standings, nine points behind leader Timothy Peters and three points behind second place James Buescher.
Next up for the Truck Series is a return trip to the Iowa (Newton) Speedway on September 15th.
Jeff Foxworthy's Grit Chips 200 Unofficial Results
1: Ty Dillon
2: Kyle Busch
3: James Buescher
4: Parker Kligerman
5: Aric Almirola
6: Kyle Larson
7: Joey Coulter
8: Nelson Piquet Jr.
9: Matt Crafton
10: Kurt Busch
11: Ryan Blaney
12: Johnny Sauter
13; Timothy Peters
14: Justin Lofton
15: Cale Gale
16: Miguel Paludo
17: Ryan Sieg
18: David Starr
19: John Wes Townley
20: Ross Chastain
21: Todd Bodine
22: Max Gresham
23: Dakoda Armstrong
24: Bryan Silas
25: Chad McCumbee
26: Chris Fontaine
27: Caleb Holman
28: Tim George Jr.
29: Jason White
30: Ron Hornaday Jr.
31: Chris Jones
32: Johnny Chapman
33: Scott Riggs
34: Stephen Leicht
35: Blake Koch
36: Dennis Setzer