Race day preview: AdvoCare 500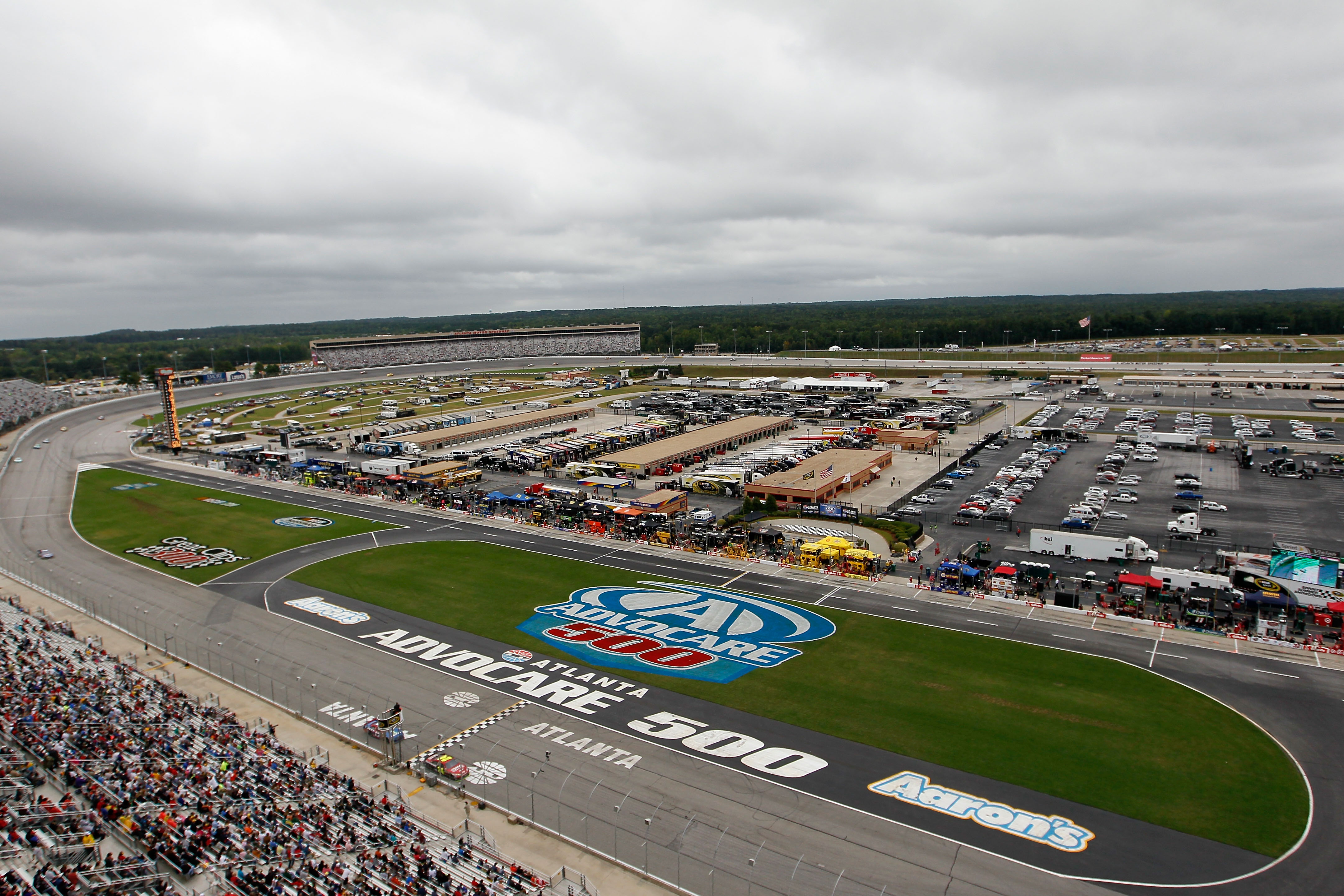 Friday, August 31,2012
Opening Practice: Sprint Cup Series teams opened the weekend from Atlanta Motor Speedway with a lengthy practice session to set the order for qualifying later in the day.
From the opening moments of practice, Martin Truex Jr. set the fastest lap, topping the speed charts at over 185 mph around the 1.5-mile speedway. Truex Jr. would only turn three laps in the practice, but it was enough to take the session and grab the final spot for qualifying.
The practice session was also huge for drivers needing a win to make a run at the wildcard birth next weekend in Richmond,VA.
Kyle Busch (2nd), Carl Edwards (9th), Ryan Newman (18th), and Marcos Ambrose (20th) were all trying to find the all important balance between speed and handling on the fast and slick Atlanta surface.
Although the potential wildcard drivers needed to make the first practice session count, it was the drivers who already have their positions in the Chase all but secured taking tops in the session.
Top-10 in opening Sprint Cup practice: 
1: Martin Truex Jr.
2: Kyle Busch
3: Tony Stewart
4: Brad Keselowski
5: Kasey Kahne
6: Clint Bowyer
7: Matt Kenseth
8: Greg Biffle
9: Carl Edwards
10: Aric Almirola
Qualifying: After one practice session, it was time to qualify for Sunday night's AdvoCare 500.
With track conditions rapidly changing due to intermittent cloud cover over the Atlanta Motor Speedway, it allowed drivers who went towards the beginning and middle of the qualifying order to have slight advantage over drivers who qualified towards the end while the track was beginning to bake in the sun.
Although, that didn't matter much for Tony Stewart as he was able to take his first pole of the 2012 season and the 14th pole of his 14-year Sprint Cup Series career.
"I guess it's proof that all those nights that we show up at Eldora (Ohio) late and have to get in the car with no practice and have to run around the top pays off," said Stewart after his qualifying lap.
"That lap is 100 percent due to Ryan Newman. He walked back down and helped us before we went out and said, 'There's a ton of grip up there (high side of the track), you just gotta do it'.
"I was having a hard time convincing myself what I was going to be. He goes, 'Definetly run it on the out lap in (turns) three and four, and from there to the start finish line you can make your decision.'
"It's about two-and-one-half seconds to the start finish line. If it weren't for him we wouldn't be on the pole probably."
Failing to qualify for the AdvoCare 500 were; Michael McDowell, Josh Wise, Stephen Leicht, and Mike Bliss.
Saturday, September 1, 2012
Second Sprint Cup practice: While Friday's practice session was primarily focused on getting a good starting spot for Sunday's 500-mile race, the two practice sessions on Saturday from Atlanta were solely for dialing in the handling for the drivers.
For Joey Logano however, that wasn't the case as he was forced to sit out the practice sessions on Saturday due to illness.
In Logano's place in the No.20 car for the two Saturday sessions was Michael McDowell.
On track, the Roush Fenway Racing teammates of Greg Biffle and Matt Kenseth were the two drivers pacing the session, setting fast laps over 180 mph, with Biffle eclipsing the 181 mph mark.
Behind them was Dale Earnhardt Jr. who despite a quick time in practice was unhappy with the way his Chevrolet handled around Atlanta Motor Speedway.
Coming off his win at Bristol Motor Speedway one week ago, Denny Hamlin paced the way in the 10-lap average department with an average speed of 175.234 mph.
Top-10 in the second Sprint Cup practice: 
1: Greg Biffle
2: Matt Kenseth
3: Dale Earnhardt Jr.
4: Martin Truex Jr.
5: Clint Bowyer
6: Jeff Gordon
7: Denny Hamlin
8: Kyle Busch
9: Jimmie Johnson
10: Brad Keselowski
Final Sprint Cup practice: With the closet race-time conditions teams would work in prior to Sunday night's race, the final 50 minutes of practice were crucial to dial in the winning setup.
Much like the second practice, the Roush Fenway cars of Biffle and Kenseth were quick, with Kenseth setting the fast time in the session.
Needing a solid run heading into next weekend's race at Richmond, Kyle Busch found the wall towards the beginning of the practice session, forcing his team to make repairs on his Toyota.
No backup car was needed for the No.18.
Much like Busch, Jeff Gordon, who is the defending race winner for this weekend's race, needs a win to get into the Chase. Saturday evening did nothing but improve his chances at the as he set the second fastest overall lap as well as the fastest 10-lap average speed of all drivers.
Top-10 in final Sprint Cup practice: 
1: Matt Kenseth
2: Jeff Gordon
3: Denny Hamlin
4: Kyle Busch
5: Greg Biffle
6: Brad Keselowski
7: Tony Stewart
8: Martin Truex Jr.
9: Mark Martin
10: Juan Pablo Montoya
Fantasy Racing Lineup: 
"A" Driver: Denny Hamlin
"B" Drivers: Greg Biffle, Martin Truex Jr.
"C" Driver: Sam Hornish Jr.
AdvoCare 500 Starting Lineup: 
1: Tony Stewart
2: Greg Biffle
3: Kyle Busch
4: Matt Keneth
5: Jeff Gordon
6: Mark Martin
7: Denny Hamlin
8: Jimmie Johnson
9: Joey Logano
10: Marcos Ambrose
11: Kasey Kahne
12: Carl Edwards
13: Aric Almirola
14: David Ragan
15: Sam Hornish Jr.
16: Kurt Busch
17: Paul Menard
18: Ryan Newman
19: Casey Mears
20: Jamie McMurray
21: Brad Keselowski
22: Dave Blaney
23: Danica Patrick
24: Kevin Harvick
25: Bobby Labonte
26: Jeff Burton
27: Regan Smith
28: Martin Truex Jr.
29: David Gilliland
30: Clint Bowyer
31: David Stremme
32: Trevor Bayne
33: Juan Pablo Montoya
34: Jason Leffler
35: Dale Earnhardt Jr.
36: Scott Speed
37: Joe Nemechek
38: Reed Sorenson
39: Scott Riggs
40: JJ Yeley
41: Landon Cassill
42: Travis Kvapil
43: TJ Bell