Joey Logano to Penske Racing in 2013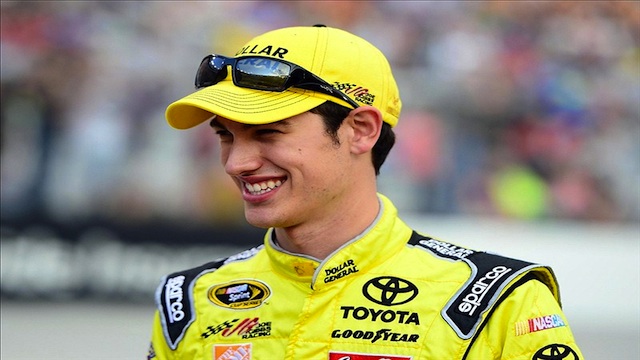 With the news of Matt Kenseth taking over the No.20 Toyota for Joe Gibbs Racing being made official earlier on Tuesday, Penske Racing wasted no time making the announcement that Joey Logano would drive the No.22 for Penske Racing beginning in 2013.
Logano, 22, has agreed to a multi-year deal with the Penske organization with Shell/Pennzoil as the sponsors.
"I am very excited to join Penske Racing and begin the next phase of my career," said Logano in a press release issued by Penske Racing.
""I am looking forward to the opportunity as it will be an honor to drive for Roger Penske and race for wins and championships.
" I am also proud to represent Shell-Pennzoil as they are a respected global brand that does a great job of activating in the sport on and off the track."
Logano currently sits 18th in Sprint Cup points with one win in 2012 at Pocono (Penn.) Raceway in June. Along with his win in the Cup Series, Logano has amassed six wins in the Nationwide Series this season in 15 starts for JGR.
""Joey Logano is a very talented driver who has already achieved a lot of success at a young age," said Tim Cindric, President of Penske Racing.
"Joey is a great fit for our organization and we look forward to building on his success as he takes his place behind the wheel of the No. 22 Shell-Pennzoil Ford."
The No.22 seat has been a revolving door of sorts since 2011 when Kurt Busch drove the car to a Chase birth and two victories before mutually parting ways with the Penske organization after the season.
For the 2012 season, Penske hired A.J. Allmendinger on a one year contract to replace Busch in the No.22.
After a failed drug test, Allmendinger was indefinitely suspended by NASCAR which left Sam Hornish Jr. with the driving duties for the No.22 beginning with the July 7 race at Daytona International Speedway.
Following successful results in his handful of starts, Hornish Jr. was named the driver of the No.22 for the foreseeable future.
Now it appears as though Penske Racing has found their long-term driver in the team's second car.
"We welcome Joey Logano to the Shell-Pennzoil team, and we know he will do a great job representing our brands and Penske Racing in 2013 and beyond," said Lisa Davis, president, Shell Lubricants Americas.
"Joey is clearly a special talent on the race track, and we look forward to working with him off the track as well."
Logano will leave the only organization he has ever known in NASCAR to join the Penske Racing family to be a teammate to Brad Keselowski who has made the Chase in 2011 and 2012 with the organization.