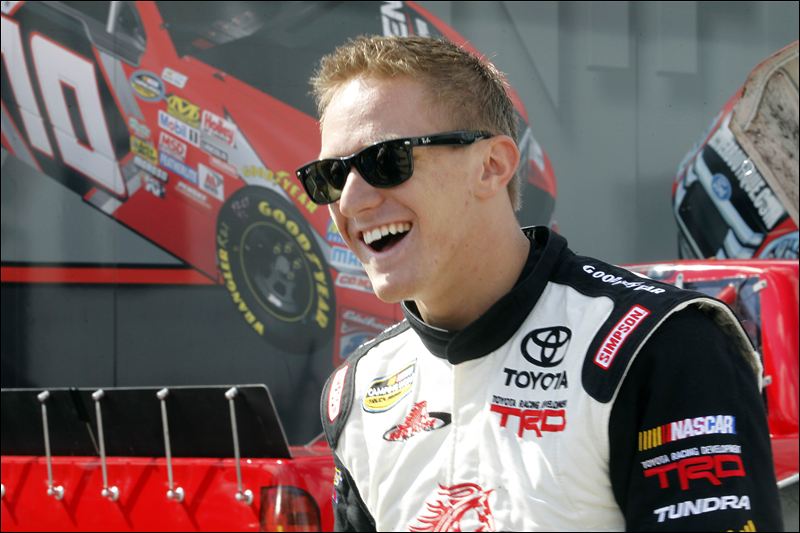 Parker Kligerman will lead the field to the green flag tonight at the Iowa Speedway for the Camping World Truck Series American Ethanol 200.
Kligerman's lap at 137.507 mph was enough to top the speed of the second place truck, Ryan Blaney.
Timothy Peters, who won the most recent Truck Series race at Iowa Speedway back in July, will start the race tonight from the tenth position after his lap just under 136 mph around the 7/8th's-mile track.
Kligerman, Blaney, Nelson Piquet Jr., Johnny Sauter, James Buescher, Cale Gale, Ron Hornaday Jr., Miguel Paludo, Ty Dillon, and Peters round out the top-10 starters for the American Ethanol 200.
With only 36 trucks attempting to qualify their way into the 36 truck field, no drivers failed to qualify.
American Ethanol 200 Starting Lineup: 
1: Parker Kligerman
2: Ryan Blaney
3: Nelson Piquet Jr.
4: Johnny Sauter
5: James Buescher
6: Cale Gale
7: Ron Hornaday Jr.
8: Miguel Paludo
9: Ty Dillon
10: Timothy Peters
11: David Mayhew
12: Matt Crafton
13: Justin Lofton
14: Joey Coulter
15: Todd Bodine
16: John Wes Townley
17: Drew Herring
18: Jeff  Choquette
19: Jason White
20: August Grill
21: Ryan Sieg
22: Ross Chastain
23: Brennan Newberry
24: Bryan Silas
25: Tim George Jr.
26: Justin Jennings
27: Ryan Lynch
28: Caleb Roark
29: Dennis Setzer
30: Chris Jones
31: Jennifer Jo Cobb
32: Wayne Edwards
33: Todd Peck
34: Norm Benning
35: Benjamin Reynolds
36: Chris Lafferty