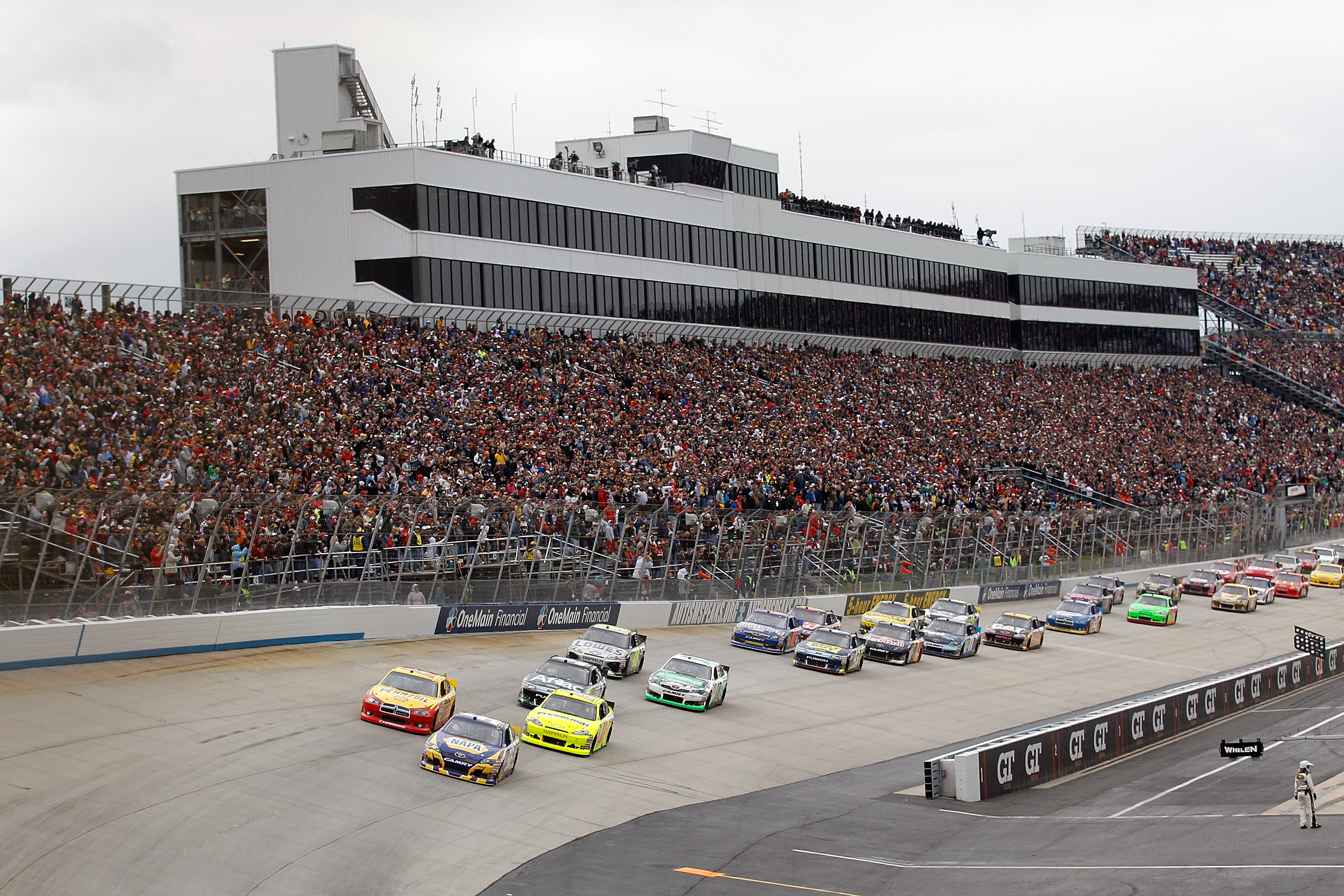 Race Information: 
Date: Sunday, September 30, 2012
Time: 2 p.m. ET
Track: Dover International Speedway (Dover,D
Laps: 400 ; 400 miles
Broadcast TV: ESPN with coverage starting at 1 p.m. ET
Broadcast Radio: Motor Racing Network, Sirius XM Channel 90
Dover International Speedway Track Facts: 
Track Length: 1 Mile (400 laps = 400 miles
Grandstand Seating Capacity: 135,000
First Race: July 6, 1969 – Mason-Dixon 300
Banking in Corners: 24 degrees
Banking on Straights: 9 degrees
Frontstretch: 1,076 feet
Backstretch: 1,076 fee
Qualifying: Jeremy Mayfield, Dodge, 161.522 mph (22.288 sec.); June 4, 2004
Race: Mark Martin, Ford, 132.719 mph (3:00:50); Sept. 21, 1997
Notes and Story Lines: 
– After two races, it's been a consistency show by Jimmie Johnson thus far. With back-to-back second place finishes, Johnson leads the standings by one point over Brad Keselowski.
-Leading over half the race back in June, Johnson returns to Dover with the same car that won both at Dover and Indianapolis Motor Speedway. With 7 career wins at "The Monster Mile" in his 21 starts at the track, the five-time champion should be a threat to win on Sunday.
– This weekend is a big one for drivers outside of the top-five in points. With the first two Chase races seeing the 12 drivers finish towards the front of the running order, Dover can be considered the "wildcard" of the opening three races. With the 12 Chase drivers having average finishes all over the board at the Monster Mile, consistency will remain important.
– While it may be unlikely, Kurt Busch has a chance to repeat his win in this race one year ago. It was announced earlier this week that Busch will replace Regan Smith in the No.78 Chevrolet for the 2013 season with the possibility that Busch could step into the car as early as Charlotte next month.
AAA 400 By the Numbers: 
Most Wins: 7 – Bobby Allison, Richard Petty
Most Poles: 6 – David Pearson
Most Top Fives: 23 – Mark Martin
Most Top 10s: 31 – Mark Martin
Most Lead Changes: 29 – 2 times, most recently 5/18/86
Fewest Lead Changes: 3 – 10/17/71
Most Cautions: 16 – 9/19/93
Fewest Cautions: 0 – 6/6/71
Most Laps Led by a Race Winner: 491 – 9/15/74
Fewest Laps Led by a Race Winner: 6 – 9/24/06
Most Wins by a Manufacturer: 31 – Chevrolet
Closest Margin of Victory: 0.080 Seconds – 9/25/05
Greatest Margin of Victory: 22.071 Seconds – 6/6/99
Past AAA 400 Winners: 
2011: Kurt Busch
2010: Jimmie Johnson
2009: Jimmie Johnson
2008: Greg Biffle
2007: Carl Edwards
2006: Jeff Burton
2005: Jimmie Johnson
2004: Ryan Newman
2003: Ryan Newman
2002: Jimmie Johnson
2001: Dale Earnhardt Jr.
2000: Tony Stewart
Fantasy Racing Outlook: 
"A" Drivers: Jimmie Johnson, Carl Edwards
"B" Drivers: Greg Biffle, Mark Martin, Clint Bowyer, Martin Truex Jr
"C" Drivers: Aric Almirola, Ricky Stenhouse Jr.
AAA 400 Entry List: 
#1 Jamie McMurray (McDonald's)
#2 Brad Keselowski (Miller Lite)
#5 Kasey Kahne (Farmers Insurance)
#6 Ricky Stenhouse Jr. (Cargill/Safeway)
#9 Marcos Ambrose (DeWalt)
#10 Danica Patrick (GoDaddy.com)
#11 Denny Hamlin (FedEx Office)
#13 Casey Mears (Geico)
#14 Tony Stewart (Office Depot/ Mobil 1)
#15 Clint Bowyer (5-Hour Energy)
#16 Greg Biffle (Scotch-Brite)
#17 Matt Kenseth (Roush Fenway Racing)
#18 Kyle Busch (Interstate Batteries)
#19 Mike Bliss (Plinker Tactical)
#20 Joey Logano (The Home Depot)
#22 Sam Hornish Jr. (Shell Pennzoil)
#23 Scott Riggs (North Texas Pipe)
#24 Jeff Gordon (Drive to End Hunger)
#26 Josh Wise (MDS Transport)
#27 Paul Menard (Menards – CertainTeed)
#29 Kevin Harvick (Budweiser)
#30 David Stremme (Inception Motorsports)
#31 Jeff Burton (Caterpillar)
#32 TJ Bell (Greensmoke)
#33 Cole Whitt (LittleJoesAuto.com)
#34 David Ragan (Long John Silver's)
#36 Dave Blaney (Drive Sober, Arrive Alive DE)
#37 JJ Yeley (TBA)
#38 David Gilliland (Taco Bell)
#39 Ryan Newman (US Army)
#42 Juan Pablo Montoya (Target)
#43 Aric Almirola (Super 8)
#47 Bobby Labonte (Kingsford Charcoal)
#48 Jimmie Johnson (Lowe's / Kobalt Tools)
#49 Jason Leffler (TBA)
#51 Kurt Busch (Phoenix Construction)
#55 Mark Martin (Aaron's 2000th Store-Bronx, NY)
#56 Martin Truex Jr. (NAPA Auto Parts)
#78 Regan Smith (Furniture Row-Farm American)
#79 Kelly Bires (Team Kyle)
#83 Landon Cassill (Burger King)
#87 Joe Nemechek (AM-FM Energy Wood & Pellet Stoves)
#88 Dale Earnhardt Jr. (National Guard / Diet Mountain Dew)
#93 Travis Kvapil (Burger King)
#95 Scott Speed (Jordan Truck Sales)
#98 Michael McDowell (Phil Parsons Racing)
#99 Carl Edwards (Fastenal)