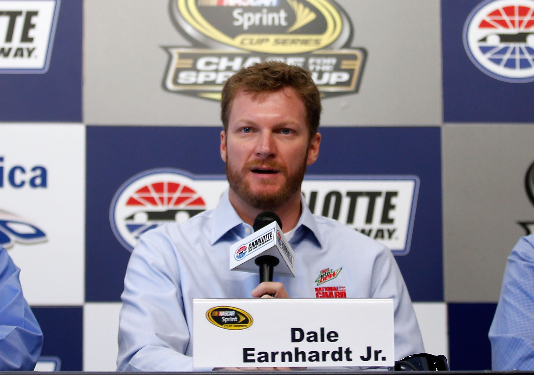 The NASCAR world was faced with stunning news early Thursday morning involving the sport's most popular driver, Dale Earnhardt Jr.
During the last-lap crash in Sunday's Sprint Cup race at Talladega Superspeedway, Earnhardt Jr. suffered a concussion after his No.88 Chevrolet sustained a hit registering at 20-G's.
But that wasn't the first time in 2012 that Earnhardt Jr. had suffered from a concussion. On August 29th during a Goodyear tire test at Kansas Speedway, Earnhardt Jr. blew a right-front tire and crashed into the turn one wall at a high rate of speed.
Despite knowing he was hurt, Earnhardt Jr. kept the racer's mentality in his mind, do whatever it takes to win.
As the race to the Chase picked up, it was a sure thing that he was going to be one of the 12 drivers that would compete for the championship. His health, however, wasn't necessarily a sure thing.
"I felt pretty good after a week or two and definitely 80, 90 percent by the time the Chase started," said Earnhardt Jr. Thursday at Charlotte Motor Speedway. "By the time we got to Talladega I felt 100 percent, felt really good."
However, after Talladega, things changed for Earnhardt Jr.
"I knew that I had sort of regressed and had a bit of a setback and knew – again, you know how your body is and you know when something is not quite right, and I knew as soon as it happened that I had reinjured myself, for lack of a better way to describe it," Earnhardt Jr. continued.
"It didn't feel – it was not even half of the impact that I had at Kansas, but it was enough to cause me some concern."
One of the toughest things for an athlete to do in any sport is to admit to themselves that they aren't able to compete. That adage holds to in the high-paced world of NASCAR as well.
"I went a couple days wondering how my body would react and sort of waiting for it to process what was happening.  About Wednesday I was still having some headaches, just that was really the only symptoms that I was having was the headaches," said Earnhardt Jr.
"So I took it upon myself to – I contacted my sister, and we talked about seeing a neurosurgeon, and we ended up getting steered toward Dr. Petty.  Met with him, ran through a couple tests, everything was checking out, and did an MRI, everything looked good there.  But I was really honest with him about how I felt and honest with him about the whole process from Kansas all the way on.
"He spent the night thinking about what we discussed and everything that we did on Wednesday and couldn't, in good – couldn't clear me to race this weekend.  I trust his opinion.  That's why I went to see him."
This isn't the first time that Earnhardt Jr. has dealt with concussions over the course of his time in NASCAR. In fact, Sunday's injury was the fourth time that he had suffered one of those severe shots to the head.
In the past though, Earnhardt Jr. pushed through the pain and continued to race. With that came lingering symptoms that made him want to do it the right way this time around.
"I can't really recall precisely every run I've had," said Earnhardt Jr.  "Me and Dr. Petty were trying to count them the other day.  But those were really mild and you were fine in 48 hours.  For whatever the reason the wreck at Kansas was just really severe and really surprised me how tough it was to get past that.
"I started having headaches and stuff immediately after the wreck, and then into the next day and into Tuesday, and I thought, man, this is pretty soon after the other accident in Kansas.  I should probably take this really seriously and seek some professional opinions on this.
"Typically they only last 24 to 48 hours and go away, and sometimes you don't even – sometimes to be honest you don't even really know you have a mild concussion."
While there is absolutely nothing easy about this choice made by Earnhardt Jr., support from the NASCAR community around him can only help with the disappointment of having to watch someone else drive his race car.
"I think that's one thing everybody admires about Dale is how honest and up front he is.  He cares a lot about the team, his fans, and the sport in general.  But when he knew that there was something not right, he went to see Dr. Petty here, and I admire him," said team owner Rick Hendrick.
"I think a lot of guys would try to play hurt, but when the doctor tells you if you get hit again like right away, it could be catastrophic, so I think this deal has worked out extremely well as it could.  I mean, we were so happy yesterday that the MRI was completely normal, no damage.  We don't have a problem there.
"For these two guys to have the kind of year they've had, to lead the points and get in the Chase, we've got a lot of years left to race, I always want to be on the side of safety, and I applaud Dale for raising his hand and going in there and getting checked out."
Not only does the move to step out of the race car benefit Earnhardt Jr. personally, but it also benefits NASCAR as a whole. When a prominent figure like Earnhardt Jr. steps forward and openly admits that he has a big enough problem that forces to make a difficult decision, it only opens the door for more drivers in the future to think to themselves "If Dale Jr. can do it, so can I" if they're ever faced with a situation such as this.
While NASCAR's biggest star will miss two races, it should be taken with a grain of salt. We've already lost a star once in a tragic manner, we don't need another putting himself in danger when he has the power to make the choice.
In the end, this is all for the best. Something, I'm sure, Earnhardt Jr. has reminded himself of numerous times throughout the day and will continue to do until he climbs back behind the wheel.