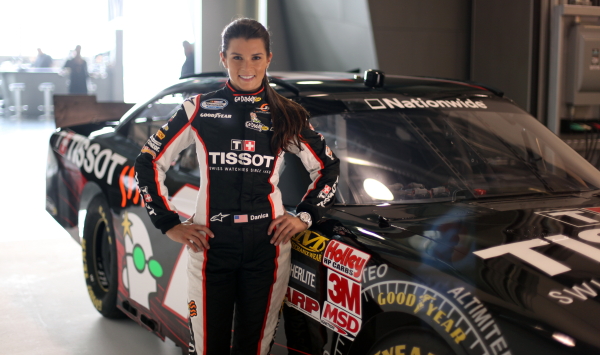 Swiss watch manufacturer continues long-standing history with Danica as brand ambassador
WEEHAWKEN, N.J. (Oct. 16, 2012) – Tissot, a manufacturer of Swiss watches since 1853, will be the primary sponsor on Danica Patrick's No. 7 Tissot / GoDaddy.com Chevrolet in Saturday's NASCAR Nationwide Series race at Kansas Speedway in Kansas City, Kan.
Patrick, who is in her first full season in the Nationwide Series, is coming off an 11th-place finish in Charlotte. Entering the Kansas Lottery 300, she is ranked 10th in the driver point standings with four races remaining in the 2012 season.
Saturday's race will mark the third time in as many years that Patrick will drive the No. 7 Chevrolet for JR Motorsports with Tissot as the primary sponsor. Her other outings in a Tissot-sponsored car were 2010 in Fontana, Calif. and 2011 at Chicagoland Speedway in Joliet, Ill.
"I have had an outstanding relationship with Tissot over the years and it's always an exciting time — both on and off the track — when Tissot is the primary sponsor on our JR Motorsports car," said Patrick, who has been a Tissot ambassador since 2005 and has her own signature Tissot-designed timepiece – the Danica Patrick Limited Edition T-Race, available at retailers nationwide.
"Danica's electric fan appeal brings an enormous amount of enthusiasm and energy to Tissot," said Sharon Buntain, Brand President Tissot, U.S. "She is a terrific partner who champions our values of cutting edge technology, precision and innovation. We are proud to have her on our team."
Saturday's race will mark the second appearance for Patrick at the Kansas 1.5-mile oval. In her other appearance – October 2011 – she started 15th and finished 15th.
"The Kansas track has undergone a repaving since the last time I competed there, and what we learned at Kansas last year will most likely not apply to this year's race," noted the 30-year-old driver. "I look forward to the new challenge in Kansas and am optimistic about closing out the 2012 Nationwide season with successful performances."
Patrick was a part-time racer in the Nationwide Series the past two years while competing full time in the IndyCar Series. She is the only woman to win an IndyCar Series race (2008 in Japan) and her fourth-place finish in the Las Vegas Nationwide race in 2011 was the highest finish for a woman in NASCAR history.
Patrick will perform double duty at Kansas Speedway October 20 and 21 as she will also compete in Sunday's Sprint Cup race for Stewart-Haas Racing.
About Tissot For Tissot, "In touch with your time" is far more than an advertising claim. This phrase expresses the brand's DNA; its proven dedication to being perfectly in tune with the technology and tastes of each era. Tissot has been growing and developing its tradition of innovation since 1853. From the early days to the present, in its home in Le Locle in the Swiss Jura mountains, Tissot has translated craftsmanship and precision into stylish timepieces now sold in over 160 countries around the world. Special materials, advanced functionality and meticulous design detail join forces to create the luxury of accessibility. Tissot is a member of the Swatch Group, the world's largest watch producer and distributor of Swiss watches, as well as official timekeeper and partner of the MotoGP, FIM Superbike, International Basketball Federation (FIBA), Australian Football League (AFL), and the World Championships of cycling, fencing and ice hockey. With the latest innovations in communication and product, Tissot presents impressive proof of its signature, "Innovators by Tradition." www.tissotshop.com
About JR Motorsports Based in Mooresville, N.C., JR Motorsports is the management company and racing operation for Dale Earnhardt Jr., NASCAR's nine-time Most Popular Driver and winner of more than 40 NASCAR-sanctioned races. JR Motorsports competes in multiple racing divisions, including the NASCAR Nationwide Series where the team owns 10 victories. To learn more about the organization and its stable of drivers which include Earnhardt Jr., Danica Patrick and Cole Whitt visit www.jrmracing.com. The JR Motorsports facility also houses The JR Nation retail store, Hammerhead Entertainment and JRM Licensing.