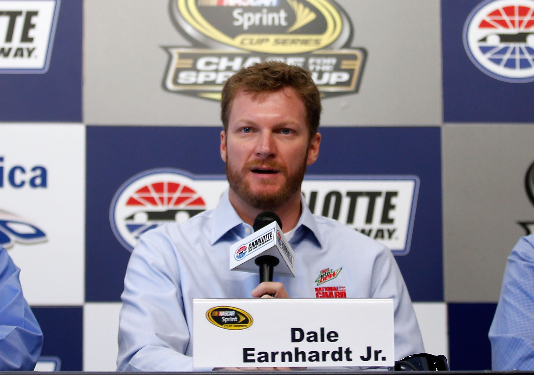 Following a closed test session at Gresham Motorsports Park on Monday and an appointment with Dr. Jerry Perry earlier this morning, Dale Earnhardt Jr. has been cleared to run Martinsville Speedway this weekend.
"Dale Jr. has done everything asked of him," Petty said. "He hasn't had a headache since Oct. 12, and we have not been able to provoke any symptoms since that time. I have informed NASCAR and Hendrick Motorsports that he is medically cleared for all NASCAR-related activity."
Earnhardt Jr. was forced to sit out two races – Charlotte and Kansas – after suffering two concussions back-to-back. The first concussion was suffered as a result of a crash well testing at Kansas in August, followed by the second concussion after the 25-car wreck at Talladega Superspeedway.
During the two weeks that Earnhardt Jr. missed, he participated in a rehabilitation program directed by Charlotte neurosurgeon and NASCAR consultant Dr. Petty. The process included a trip to the University of Pittsburg to consult with Dr. Mick Collins, who directs the University of Pittsburgh Medical Center Sports Medicine Concussion Program. The final piece of the program saw Earnhardt Jr. run 123 laps in a Sprint Cup car at Gresham Motorsports Park on Monday.
Martinsville seems to be the perfect track for Earnhardt Jr. to come back at as he has 14 top 10s in 24 starts, including seven top 10s in his last nine Martinsville starts. While he has not won at the paperclip halfmile, he does have  10 top fives.
It will also benefit to the entire Hendrick Motorsports organization with Earnhardt Jr. back as he can help teammates Jimmie Johnson and Jeff Gordon in their chase for the championship.
"Junior and I have worked very hard, now that we're in the same shop, the way we describe things, how, why, all that stuff," Johnson said during NASCAR's Weekly Teleconference. "With two weeks working with Regan (Smith), it was tough to know what his sensations were in the car. He gave great feedback. We're building trust in what he was saying, how to apply that to our cars. It was so brief, it's hard to say we could take a lot from that. It is helpful to have Junior back in the car. I'm very happy he is back in the car. Saw him this afternoon at our team lunch, debrief meetings. The guy is smiling ear to ear. He's excited and we're very happy to have him back."
It will also be about building towards the 2013 season since Earnhardt Jr. can finish no worse than 12th in points and will look to have a strong 2013 season after scoring 18 top 10s so far this season.
Moving on towards the future, there are questions as to whether Earnhardt Jr. coming forward with his concussion will change how drivers and NASCAR view things currently. Johnson said that from his perspective, it doesn't change anything.
"From a driver's standpoint, there is little we can do," Johnson said. "Our seats are what they are. The foam systems, we make decisions what brand of helmet you want to use. Our HANS devices are mandatory. I don't know what we can really change until you have the injury. At that point, I haven't been through that process before, or of recent times. I'm sure it's heightened a lot since my last concussion and Really since Junior's incident."
Gordon says that there is lots they can learn from it.
"I'm very close with Jerry Petty, Dr. Petty," Gordon said. "Any time I see him or speaking to him, it's something I'm always curious. I want to know as much as I possibly can to recognize the signs as well as make sure that I'm protecting myself the best way I possibly can out there in the car."