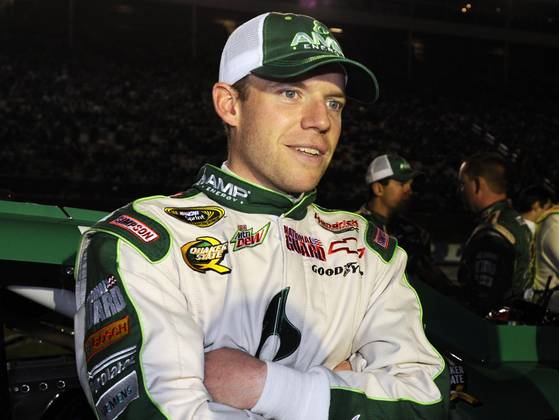 MOORESVILLE, N.C. (Oct. 24, 2012) – JR Motorsports announced today it has reached an agreement with Regan Smith to drive the team's No. 5 NASCAR Nationwide Series entry full time in 2013. General Manager Kelley Earnhardt Miller said Smith will make his JRM debut this year, as the company will field three teams for the Nov. 17 race at Homestead-Miami Speedway. Smith will join teammates Cole Whitt and Danica Patrick in the season finale.
"This is an extremely good opportunity for me," Smith said. "Dale Jr. and I first started talking about the possibility of me driving for his team several years ago, but the timing never matched up to where we could make it happen. Now it's time. I'm happy to be a part of this organization. I don't want to just win races. I want to be the team that dominates races and contends for the championship."
Smith, a 29-year-old native of Cato, N.Y., has competed in the NASCAR Nationwide Series and Camping World Truck Series since 2002 and Sprint Cup Series since 2007. He was crowned Sprint Cup Series Rookie of the Year in 2008, but it was 2011 when he made his biggest splash. Driving the No. 78 Chevrolet, Smith held off Carl Edwards in a thrilling finish to win the prestigious Southern 500 at Darlington Raceway. The popular victory was Smith's first in NASCAR competition and was part of a storybook season that included two top-fives, five top-10s and 36 laps led.
Smith has not competed in the Nationwide Series since 2007 when he tallied three top-fives, five top-10s, and a pole award at Kentucky Speedway.
"Regan has always impressed me," said Dale Earnhardt Jr. "He gets the most of his car, no matter what he's driving or who he's driving for. He takes care of his cars and gets good finishes. With his experience and ability, we feel he can excel in our equipment. He has a super personality, and his ability to work with everyone here at JR Motorsports and Hendrick Motorsports will be important in getting us back to the winner's circle."
Smith's No. 5 Chevrolet, to date, is the only JRM entry cemented for a full-season slate in 2013. Earnhardt Miller said the goal of the organization is still to run two full-time teams – the No. 5 and No. 7 – with addition to Earnhardt Jr. competing in select Nationwide Series races in the No. 88 car.
"We feel it is important for our sponsors, our fans, and even Dale to keep his Nationwide Series number consistent with his Cup number," Earnhardt Miller said. "His brand is associated with the No. 88. That's what makes him distinguishable on the race track, so it's only natural that he drives the No. 88 all the time. To do that, we are making our No. 5 Chevrolet our full-time entry. We hope to have Cole in the No. 7 full time in 2013, and we are working hard on securing sponsorship for that."
Smith recently was thrust into the spotlight as the driver chosen to fill the seat of the No. 88 Diet Mountain Dew/National Guard Chevrolet for Hendrick Motorsports while Earnhardt Jr. healed from a concussion. In Earnhardt Jr.'s absence, Smith competed in two Sprint Cup races in the No. 88 Chevy, most recently scoring a seventh-place finish at Kansas Speedway this past Sunday. Smith had recorded his season-best finish of fifth two weeks earlier at Talladega Superspeedway for Furniture Row Racing.
"It has been a whirlwind couple of weeks for me, but it's been great," Smith said. "Filling in for Dale Jr. was an honor, and it got me acclimated to the Hendrick Motorsports group, which obviously JR Motorsports works with hand in hand. I was glad to fill in for Dale Jr., and I'm happy that he's back in his race car this week at Martinsville."