Two man race? Not so fast, Bowyer still alive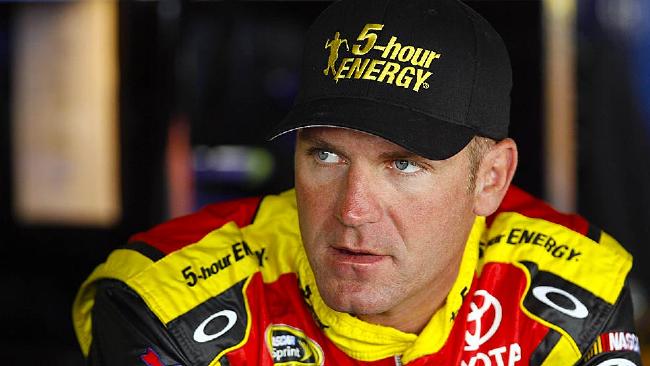 Following Sunday's race at Martinsville Speedway, one may look at the point standings and come to the conclusion is down to Jimmie Johnson and Brad Keselowski. That's it.
First off, to think it's a just a two man race in a Chase in which we have seen some of most consistent performances by the Chase drivers as a whole is a crazy thing to think.
As we have seen in Chases of old, there's always a chance that something can go wrong with the top-two in the standings, allowing the driver in third to find himself in the running at Homestead.
Take the 2005 Chase for example. At Texas Motor Speedway, a loose wheel for Greg Biffle during the middle stages of the race all but ended his title chances. Prior to that race, the points spread between Biffle and Tony Stewart, the eventual champion, was in striking distance of Biffle. Following the miscue by a team which had seemingly been flawless all season, the championship was decided in that very moment.
A more recent memory of championship tides turning brings us back to 2010 when Jonson and Denny Hamlin fought it out for the championship.
At the penultimate round of the Chase at Phoenix International Raceway, it was Hamlin's championship to lose. Leading a race-high 190 laps, it looked as though Hamlin was going to cruise to a commanding lead in the standings heading into the season finale at Homestead.
But as fate would have it, Hamlin's fuel and championship hopes would run dry when crew chief Mike Ford miscalculated the fuel mileage to his driver, running out of fuel with only 14 laps remaining while Johnson stayed on the track and cut into Hamlin's point lead.
As we have seen this year in many races, the slightest of an error can take you from having a clear path at victory to battling to crack the top-10 by race's end. And that margin of error goes both ways as we saw Sunday at Martinsville.
Running mid-pack for most of the race, Keselowski's crew chief, Paul Wolfe, took a chance late in the race when many of the front running cars decided to pit. Instead of bringing his driver down pit road, Wolfe left Keselowski on the track, getting him the lead of the race in the process.
Obviously, Keselowski didn't win the race, that went to Johnson. But their willingness to take a risk knowing what they had wasn't good enough to beat them in the conventional way is just another example of how quickly a bad day can be turned into a good day and vice versa.
And if Bowyer and his team have shown anything to us in 2012, it's that they know how to win races despite not always having the best car. All three of Bowyer's wins in 2012 have come in races where his crew chief, Brian Pattie, used the power of his calculator to put the No.15 in victory lane.
When Bowyer does have the fastest car, you're seeing him running up front and leading laps. However, he has yet to turn one of those days into a victory but in a way that can be overlooked based on how many times this team has made something out of nothing.
Sitting 26 points out of the lead with only three races remaining is a daunting task, no question about that. But, if recent history is any indication of future events, those final three races are the ones where teams will make a mistake if they make one at all.
Regardless whether he wins the championship or not, it's certainly been interesting to watch Bowyer and his new team preform this well this late in the season in a situation where many didn't even see him having a snowball's chance in hell of being in the title mix with just three races remaining.