Johnson's sixth will be an uphill battle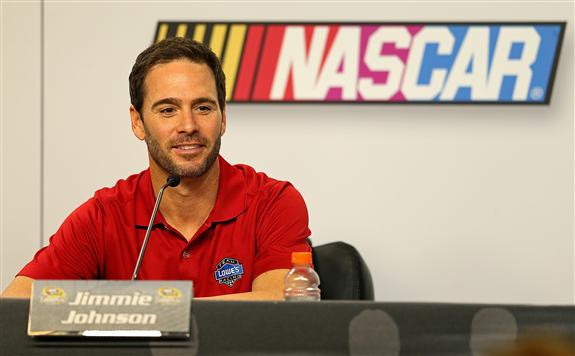 There's almost no way around it. In order for Jimmie Johnson to become a six-time Sprint Cup champion, he needs to win the race, lead the most laps and have Brad Keselowski struggle to barely a top-20 finish.
That's what has to happen if Johnson wants to overcome a 20-point deficit to Keselowski in the final race of the season. And if the first nine races of the Chase are any indication, that won't be an easy task.
Not to mention, Johnson has never won at Homestead-Miami in ten prior starts at the track.
In the nine Chase races, Keselowski has finished ahead of the No.48 car five times. Both drivers have two wins during the stretch of races as well.
While many of those finishes for both drivers are inside the top-10 and equate to a difference of sometimes as few as one point, the biggest swing in the points race came just one week ago at Phoenix.
Of course, the race is what pays the points and what ultimately counts towards winning the championship, but the rest of the weekend is just as important. And not only did Johnson get beat by the No.2 of Keselowski in the race, he was beaten by him on Friday and Saturday.
From the get-go of the weekend, it was obvious that the No.2 had a better car than the No.48 of Johnson. That trend carried over into qualifying and into Saturday's final practice where Keselowski would never let Johnson ride behind him in practice, always pulling off the track when he got close to him.
As everyone knows by now, the weekend got no better for Johnson as he smacked the wall with 76 laps to go and finished 32nd while Keselowski brought home a sixth place finish.
And so far this weekend, we've seen a similar trend between the two.
In opening practice, Keselowski jumped towards the top of the speed charts while Johnson barely eclipsed the top-20 on his first run of the day. And as practice went on, you got a sense that Keselowski had a calmness about him while Johnson seemed to be a bit rattled after not finding what he wanted in his race car.
Over the course of the session, Johnson and his team were able to tune the car in for him, placing him sixteenth-fastest by at the end of practice.
Keselowski wasn't too far behind him, however, in 21st.
When qualifying took place, the coolness of Keselowski showed up, once again, and he put his No.2 on the provisional pole, five cars ahead in the order before Johnson would go out for his hot lap.
In the Chase, we've seen Johnson be without question the better of the two when it came to qualifying. That wasn't the case on Friday night as Johnson qualified tenth while Keselowski timed in third-fastest.
"I'll find a way to make it good for me if I can. I'd love to have him right there by me when we start the race and put the pressure on him," said Johnson after qualifying on Friday.
"The best pressure I could put on him would be winning the pole. But we didn't do that. Hopefully we'll stay there in the top 10, which is good for us."
Following both practices on Saturday, Keselowski has once again showed that he may in fact have the better car of the two championship contenders. But that doesn't mean that Johnson has given up hope one bit.
"Ready to race for sure," said Johnson. "Very pleased with how our car finished up.  It's really nothing for me to lose sleep about tonight.  It's an easy night for me.  I got my training in this morning.  I know I'm going to be tired and ready for bed.
"We finished on a high note in practice and just got to bed, get up and get to work tomorrow.  Easy from my stand point, because I've got nothing to lose.  We will see what they do on the other side."
If practice on Saturday is any indication of what we're in store for on Sunday, it looks as though the Homestead-Miami Speedway could present an element of trechory to the drivers.
In the first practice on Saturday, a crash between Denny Hamlin and Greg Biffle off the fourth turn collected pole-sitter for Sunday's race, Joey Logano. The crash forced all three drivers into backup cars, which means Logano will forfeit his first-place starting position and Keselowski will line up on the front row for the race.
That almost guarantees the championship leader of collecting one bonus point for leading a lap, but Johnson thinks the race will be competitive and will present each driver with a challenge all day long.
"Turn four is a tricky corner.  The car turns so strong through the center of the turn and then as you come up onto the straightaway you can lose the front end a lot.  So, I think that is why we see issues over there.
"The race should be good.  We are going to be on the line to the wall.  This progressive banking makes for a really good race."
While no one really knows how the race or the championship will play out, it's obvious so far this weekend that Johnson is going to have an uphill battle if he wants to turn his five championships into a six-pack.