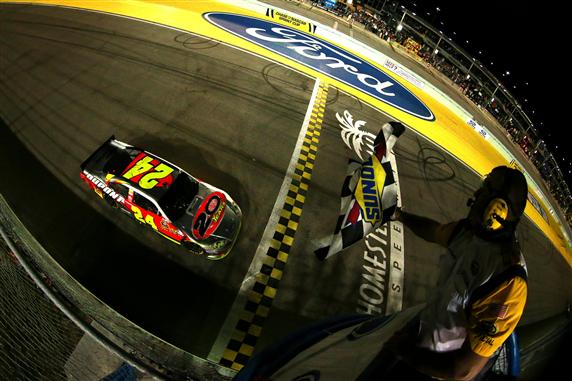 HOMESTEAD, Fla. — The fuel strategy that was supposed to carry Jimmie Johnson to a sixth championship instead made a winner of his teammate, Jeff Gordon, who triumphed in Sunday's Ford EcoBoost 400 at Homestead-Miami Speedway as Brad Keselowski locked up the NASCAR Sprint Cup title.
Gordon crossed the finish line 1.028 seconds ahead of Clint Bowyer, his nemesis from a week ago at Phoenix, as Johnson's No. 48 Chevrolet sat forlorn in the garage, Johnson's title hopes the victim of a pit road mistake and a rare part failure.
Ryan Newman ran third, followed by Kyle Busch and Greg Biffle.
Keselowski finished 15th, a lap down, but Johnson's difficulties took the suspense out of the title fight in the closing laps of the race. Johnson entered the season finale 20 points behind Keselowski, but his 36th-place result cost him second place in the final standings.
The Cup championship was the first for team owner Roger Penske, and the first since 1975 for car maker Dodge, which is leaving Cup racing at the end of the season.
"It means the world — it really does," Keselowski said. "I've got the best team in racing, and I'm just so thrilled to be a part of it. From the top down, Roger Penske, (crew chief) Paul Wolfe, everybody else, the crew guys and my family — that means so much.""
Bowyer passed Johnson for the second spot in the standings, 39 points behind the first-time champion. Johnson held third, 40 points back; in 11 full seasons of Cup racing, Johnson never has finished lower than sixth.
Gordon made some history of his own. He won for the second time this year and the 87th time in his career, most among active drivers and third-most all-time behind Richard Petty (200) and David Pearson (105). The victory was Gordon's first at Homestead and the first for Hendrick Motorsports.
"This is just huge," said Gordon, who wrecked Bowyer in retaliation last Sunday at Phoenix and drew a $100,000 fine and 25-point penalty for his actions. "Man, it's been an emotional week and a hard one — one of the hardest ones I've ever gone through, just looking back on my decision.
"What an unbelievable week. There were so many ups and downs this week, and to be able to end in Victory Lane with just an awesome team effort was just awesome… This is the way you want to win a race, by just going to battle with them and having a good race car and playing it all out really smart."
Aggressive pit strategy put Johnson in position to challenge for the title, but the race fell apart for the 48 team after the 200-lap mark.
Able to finish the race on one pit stop to Keselowski's two, Johnson brought the No. 48 Chevrolet to pit road on Lap 214. Johnson, however, pulled away from his stall with a loose lug nut, and NASCAR mandated another stop to correct the error.
The coup de grace came on Lap 224, when Johnson returned to pit road with the drive line problem. The No. 48 crew pushed the car to the garage, where it sat for the rest of the race.
"Yeah, we were in position and putting the pressure on the 2 car (Keselowski) like we needed to," Johnson said ruefully. "I said at the beginning of the week, 15th isn't a lay-up, and I certainly had him in position.
"He made it really interesting here at the end of this thing. If we could have not had the mistake on pit road and then the gear failure at the end… Didn't really catch exactly what happened, but I know there was oil under the back of the car."
Keselowski, who didn't cover Johnson's move when the No. 48 topped off the fuel tank on Lap 158, knew he had dodged a bullet.
"He was going to win this race, and I know that," Keselowski said. "We were not as fast as we wanted to be, and we'd be the first to admit that, but my guys never gave up. We kept working, and at the end there we were even capable of getting back up enough to where it wouldn't have mattered if he'd have won — which made me feel a lot better."
Notes: Pole winner Joey Logano started from the rear in a back-up car after a crash in practice and finished 14th in his last race for Joe Gibbs Racing… Matt Kenseth ran 18th in his last ride at Roush Fenway Racing… Tony Stewart finished 17th in the 500th Cup start of his career.
By Reid Spencer -NASCAR Wire Service
Ford EcoBoost 400 Unofficial Results 
Jeff Gordon
Clint Bowyer
Ryan Newman
Kyle Busch
Greg Biffle
Martin Truex Jr.
Aric Almirola
Kevin Harvick
Kurt Busch
Dale Earnhardt Jr.
Paul Menard
Carl Edwards
Marcos Ambrose
Joey Logano
Brad Keselowski
Mark Martin
Tony Stewart
Matt Kenseth
Jeff Burton
Jamie McMurray
Kasey Kahne
Sam Hornish Jr.
Trevor Bayne
Denny Hamlin
Bobby Labonte
Travis Kvapil
Landon Cassill
Juan Pablo Montoya
Casey Mears
Regan Smith
David Ragan
Dave Blaney
David Gilliland
David Reutimann
JJ Yeley
Jimmie Johnson
Ken Schrader
David Stremme
Ricky Stenhouse Jr.
Josh Wise
Michael McDowell
Scott Riggs
Mike Bliss