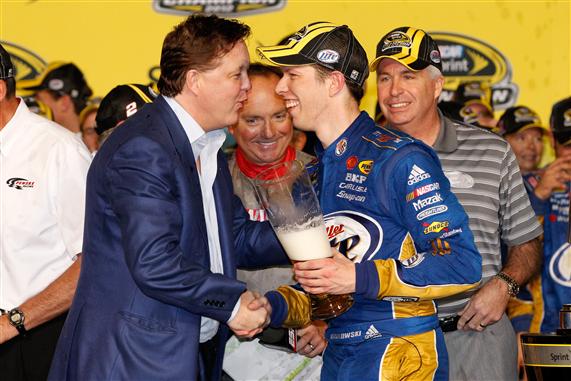 It's been a long road to the top for Brad Keselowski. From starting his days in NASCAR driving for his family owned team to winning the first Sprint Cup championship for his team-owner, Roger Penkse, Keselowski has always overcome many challenges to achieve success.
Back when he was running for his family's team in the Truck Series, Keselowski was talented, but things just never worked in their favor and the team's pocket book eventually ran dry. But, if Keselowski wanted to keep his dreams alive, he had to remain tough.
Midway through the 2007 season, Keselowski got the break that saved—and at the same time made—his NASCAR career, getting a ride for Dale Earnhardt Jr.'s Nationwide team.
Keselowski would translate that break into getting his first win at Nashville in 2008 and was the top-Nationwide-Series-only driver to have a chance at betting Kyle Busch for the championship in 2009.  And late in that 2009 season, Keselowski joined forces with the Penske Racing team for the final three Sprint Cup races of the season after running a limited schedule for Hendrick Motorsports and Phoenix Racing, picking up his first career Sprint Cup win in the process.
But when Keselowski burst onto the the Cup seen with Penske, it was anything but instant success. Instead, it was rough as Keselowski started out his tenure with the team with an early-race spin in the season-opening Daytona 500.
Keselowski would finish that first season with Penkse 25th in the point standings.
In 2011, the pressure was increased as he would take over the wheel of Penske's famous No.2 Miller Lite Dodge.
Scoring a win in the thirteenth race of the season at Kansas, most of the first-half of the 2011 season was a struggle for Keselowski. By now, everyone knows of the story how Keselowski broke his ankle in a testing crash at Road Atlanta and came back later in the week to win a 500-mile race at Pocono. It's an overplayed story, but it really marks a transitional period in Keselowski's career as a driver.
And in a way, it marked the very moment when Keselowski started on the path to becoming the 2012 Sprint Cup champion.
When you look back at what Keselowski has done since that moment, it's quite remarkable. In the 51 races since his win at Pocono in 2011, Keselowski has won six races, five of which came in 2012.
But more importantly, that stretch of races has shown that Keselowski belongs as a top-driver at NASCAR's top-level.
"I can't believe how everything has come together," said Keselowski. "I feel like the best is yet to come, I really do.
"I feel like this team, with these two people sitting next to me, that we can do anything we put our minds to if we work together like we have over the last few years, I really do."
When a driver is competing for their first championship, there's always something crucial that they have to overcome to get it done. In stick-and-ball sports, many say you have to lose one before you can win won and that the expierienced teams usually have the upper hand when it comes to championships.
For Keselowski, his test was to out-duel the five-time Sprint Cup champion, Jimmie Johnson, over the final ten races of the season. It was a challenge Keselowski accepted right off the bat, going toe-to-toe with Johnson in the opening Chase race at Chicagoland and carrying it through to Sunday night's Ford EcoBoost 400 at Homestead-Miami.
"Once we won Chicago, I knew we could do it, I really did. I knew we had with speed, with so many mile-and-a-halves in the Chase, I felt like at that moment I felt like we had a group that could get the job done."
And that's exactly what Keselowski did. He had the point lead going into the final race against Johnson, something Denny Hamlin had done prior in 2010. However, unlike Hamlin, Keselowski didn't lose the point lead as Johnson had a mechanical failure late in the race, all but assuring Keselowski of the championship.
While the championship was in fact decided under the Florida-night sky, Keselowski looked to a race during the middle portion of the season as to where he knew his team could be a champion.
"We didn't have the speed we wanted through the summer, but what we did have was execution that was incredible. I knew right away.
"At the spring (June) Pocono race, we had some troubles with a part on the front of the car, and we fixed them and came back from what should have seen a 30-somethin'-place-day and finished like 16th.
I knew right then, those days right there, if we could do that in the Chase with speed that we could win it."
NASCAR now has a new champion, a kind in which they have never seen before and will probably never see again after Keselowski hangs up the helmet when his career is over. It's not so much the records he tied and broke Sunday night, nor is it his interaction with fans through social media. But rather, it's his ability to speak his mind in a modern way in a time where political correctness is overdone and drawn out.
Brad Keselowski is a man of the people. When it comes to his racing on the track, he's a racer's racer, fighting all the time and yet still knowing when to push the car and when not to. When it comes to the fans, he knows how to make them feel genuinely wanted and listens to what they have to say. To sum it up, Keselowski is a people person.
"I said it before, it's not how much money you put in your race team, it's about the people," said car owner Roger Penskse who Keselowski delivered his first Sprint Cup title. "It's about human capital, and I guess Brad's right at the top.
"He came in and said I want to help you build a championship team. He's a great leader on our time. When he took over as leader of the team, he hasn't missed a step.
"For me, it's what I love. To take people within an organization and see them flourish. He certainly has today."
NASCAR fans have long cried for a new champion. They got a break from the Johnson-era last year with Tony Stewart. But he wasn't new. With a new face and a people person like Keselowski as champion and with the new Sprint Cup cars coming next season, the NASCAR world is filled with positives.
A sport built on personalities has a people's champion. It doesn't fit much better.