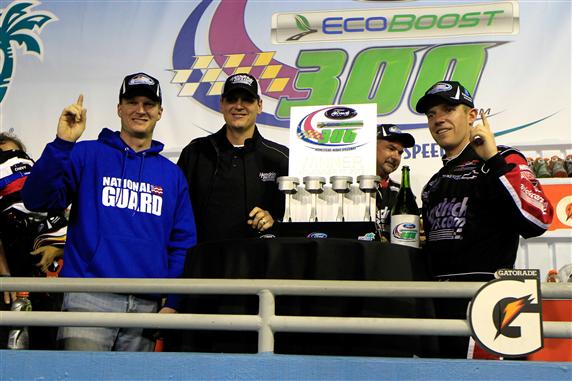 "We've made some changes to try to improve our company over the last several months, and we've seen the speed and the performance step up over the last several weeks.  We're just putting some pieces into place to formulate what our plan will be for next year, and part of that was bringing in Regan to drive the car."
With bringing in Ryan Pemberton in and letting both Tony Eury and Tony Eury Jr., it was the beginning of changes. Other changes have come within the organization as they have been finding what direction they want to work towards. Through that process, the idea of Smith running the season finale came about with Rex Stump and Steve LeTarte in charge of the effort.
"Steve Letarte has been helping quite a bit behind the scenes as far as helping my sister and the company, Pemberton and all the guys with what our direction is and sort of honing in on how we can improve overall as a company for the long run," Dale Earnhardt Jr. said. "It became an idea to run Regan this weekend, and I knew that Rex is really talented, and Regan having that opportunity to work with Rex this weekend was great, gave us an idea to have a third teammate to have new ideas."
That choice certainly highlights the changes paying off as Smith was able to find victory lane on Saturday night. Earnhardt Jr. says that he knew Smith would be strong and competitive, though didn't think they'd be strong enough to win.
"I'm just thrilled to death with the effort they put in tonight, and Regan did a good job driving the car," he said. "Just really fast all night.  We made some really good changes that helped him kind of improve, and the track, we kind of kept up with the track."
Through the process of making the changes, there's been tough emotions to deal with, including Earnhardt Jr. letting both his uncle Tony Eury and cousin Tony Eury Jr. go.
"We have made a lot of changes, but you have to make changes sometimes," he said. "Things do change, people come and go in your career and in your life, and you have to do what's right.  It is a business in the end, and you have to make those business decisions."
The win now puts an explanation point on it as progress was being seen through both Danica Patrick and Cole Whitt.
For Danica Patrick, in the first 26 races with Eury Jr. as her crew chief, she had two top 10s. In the final seven races with Pemberton, she had two top 10s with her worst finish being 16th at Dover in their first race together.
For Cole Whitt, in the first 26 races, he had three top five (12%) and 11 top 10s (42%). In the final seven races, he had one top five (14%) and four top 10s (57%).
"I think in the right circumstances, we've got the tools as a company to be competitive in this series, and I think that we made some good changes over the last several months that have given us good direction and given us the ability to come and do things like we did tonight," Earnhardt Jr. said. "I think we can start off the year next year feeling confident we're on the right track."
For 2013, Earnhardt Jr. has already signed Smith to take over Patrick's seat as she moves to Sprint Cup with Stewart-Haas Racing. He also wants to Whitt to return, though is short on sponsorship.
"Hopefully this raises some awareness and gets some of the potential partners that we're talking to excited about our potential for next year because we really feel like we're making a lot of strides in the right areas." he said.