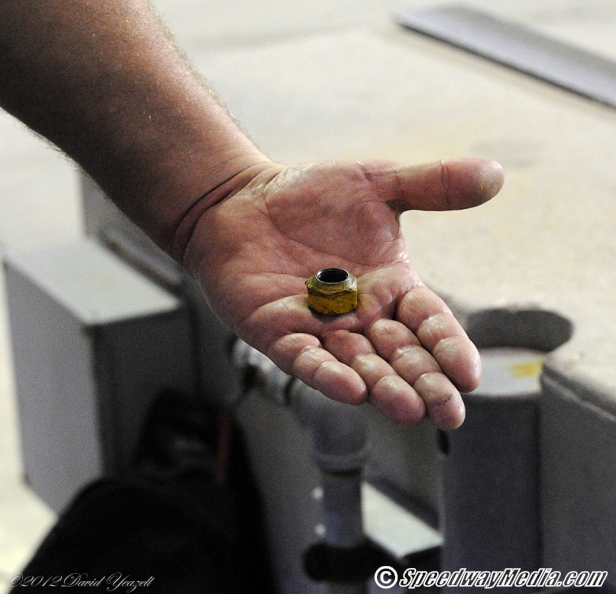 "I felt so calm and relaxed all day long because I didn't have anything to protect.  But it was as much like a normal race for me as ever.  And that's something that I enjoyed, it allowed me to stay loose in the car and communicate what I needed and we made the car better."
For a portion of the 400 mile race at Homestead-Miami Speedway, it looked as though Jimmie Johnson could overcome the 20 point deficit to Brad Keselowski and win his sixth championship.
However, the unthinkable then happened. Johnson came down pit road and had an error as a crew member dropped a lug nut, causing them to have to come back down pit road.
"We were in position and putting the pressure on the 2 car like we needed to," Johnson said. "I said at the beginning of the week, 15th isn't a lay-up, and I certainly had him in position.  He made it really interesting here at the end of this thing."
Despite being a lap down and possibly out of contention, crew chief Chad Knaus was still optimistic that they could come back and win the championship.
Then, a couple laps later, everything came absolutely undone when Johnson began to smell gear oil.
"I could smell gear oil, and my experience is you never smell your own, you smell someone else's.  But clearly I was smelling mine," he said. "And maybe something coming down pit road like a loose lug nut or some debris on the apron as I was getting on the track could have.  But again, that's just speculation."
As a result, Johnson would end up going behind the wall.
"I'm not sure if a fitting busted or was hit by debris or line but something back there allowed the car to puke out gear oil," Johnson said. "So as I was saying, there was oil all over under the back of the car, so something happened from either a line failure or a fitting was hit by debris or something and it puked all the gear oil out and burned up the gear."
The result was a poor finish and instead of possibly winning the championship, Johnson would drop to third in points. It brings forth disappointment to the team that looked to be in the right position, though Johnson is still proud of his guys.
"I have a lot to be proud of this year and so does this race team, and I can't thank everybody — I need to thank everybody at Hendrick Motorsports," he said. "Every man and woman there put in countless hours giving me great equipment, the support from Lowe's, my fan base, Chevrolet and my family.  We did all we could and came up a little short."
Johnson is proud of how they ran as they were able to put the pressure on, running in the top five throughout most of the night, including leading a bunch of laps.
"I would have hated to come out here and do the trash talking I did to start the week and run 25th all night long," he said. "You know, I'm proud of the fact that we went out there and backed up what we said we could do and we put the pressure on.  It doesn't take the sting away from losing the championship.  It helps in some ways and stings in others, so it balances out, I guess."
Photo by: David Yeazell/SpeedwayMedia.com