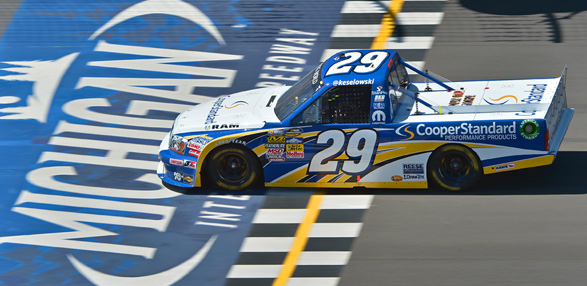 After fielding one full-time team in the NASCAR Camping World Truck Series the past two seasons, Brad Keselowski Racing will field two trucks for the 2013 campaign.
Ryan Blaney, who picked up the team's first win at Iowa Speedway last season, will drive the No.29 Ford for the full schedule. Blaney will be paired with veteran crew chief Doug Randolph who worked with Blaney the night he earned his first career win.
Ross Chastain, who has drove for SS Green Light Racing in 2012, will drive the No.19 Ford for 15 races in 2013 beginning with the season-opener at Daytona International Speedway on February 22.
Chastain will bring the Melon 1 sponsorship over the the BKR team for five of his 15 races, while the Cequent Performance group will sponsor BKR's efforts on the No.29 full-time and the No.19 with the companies Draw-Tite, Reese Towpower, Reese Towpower Carbon Forged, Bulldog, and Harper
Adding to the driver lineup for BKR in 2013 will be team owner and defending NASCAR Sprint Cup Series champion Brad Keselowski  and his Penkse Racing teammate Joey Logano are scheduled to run a number of races behind the wheel of the No.19 Ford.
When the Truck Series visits the Eldora Speedway for the first time on July 24, veteran NASCAR and World of Outlaws driver Dave Blaney will take the wheel of the No.19.
Chad Kendrick will have crew chief duties on the No.19 truck shared between the drivers.
"I couldn't be more pleased with the way 2013 is shaping up for BKR," said Keselowski. "With enhanced support from our long time returning partners, Cooper Standard and Cequent Group, we are poised for a successful season.
"We have been able to retain and attract top notch personnel. The crew chiefs, drivers, and team members all put their hearts into this organization. Hard work equals results, and I am proud of each and every teammate's passion for excellence.
"Last season was a huge stepping stone for the organization as we claimed our first victory. We are looking forward to building on last year's success this season."