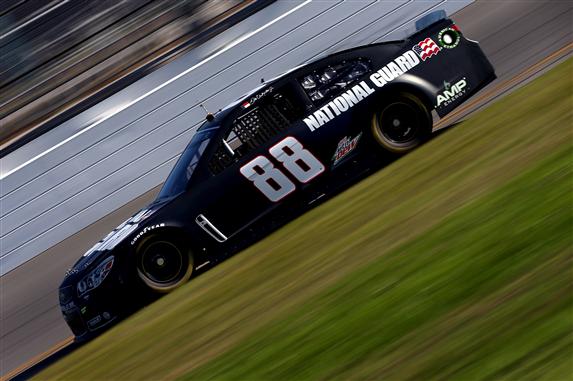 Testing in Daytona is all about learning and for Earnhardt Jr., he learned one thing – he can't push a Ford that well. The result of that experiment was a big wreck, collecting 10 of his fellow competitors.
During the second draft session on Friday afternoon, Earnhardt Jr. was trying to push Marcos Ambrose down the backstretch when he ended up turning Ambrose in front of the whole field.
"We got off the back straightaway and were just kind of pushing him along there and our cars sort of just didn't match up very well," he said. "I got him hooked into the fence."
It wasn't the first time in the new car that Earnhardt Jr. had tried pushing as he had pushed Martin Truex Jr. in his Toyota and the cars matched up good. However, with Chevrolet's front end and Ford's rear end, they just didn't match up well.
"The roll bar of the front of my car is just at the right place where his car sets right up on top of that," he said. "I sort of had him going down the back straightaway like a forklift. It was a big mess and tore up a lot of cars down here trying to work on their stuff."
Though even with some pushing going well, Earnhardt Jr. says that drafting is not the same anymore and you won't be able to tandem draft with these cars.
"Our bumpers on the Chevy's have a little bit of a point," he commented. "It makes it a little bit of a challenge to get into guys and kind of help them. We definitely weren't doing that in the corner at all because it was pretty hairy trying to do it on the straightaways."
As a result, Earnhardt Jr. advises that it will take more concentration and being careful when around each other if they are going to survive the 500 miles that make up the Daytona 500.  However, that should bring back the pack racing that fans are used to from the early 2000's and bring back exciting racing.
Beyond that, Earnhardt Jr. says that there were strides made as he was fourth on the final speed charts. Though the true tell-tale sign will come in February and whether Earnhardt Jr. can return back to his dominating form on the restrictor plate tracks.