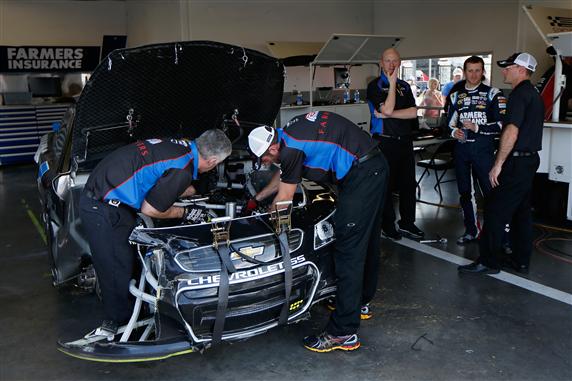 "That is just the way this deal is. It is unfortunate but sometimes you have to wreck 'em to learn." – Brad Keselowski
Anticipation had been building over the course of testing as everyone wanted to see it – everyone wanted to see the pack hit the track with the new Generation 6 cars. Friday afternoon brought forth a pack of 20 cars that let everyone see what they'd expect with drafting.
However, it didn't last long as contact between Marcos Ambrose and Dale Earnhardt Jr. would cause a wreck, collecting a total of 10 cars.
Coming down the backstraightaway, Earnhardt Jr. was trying to push Ambrose in the draft, though a tap near the end of the back straight sent Ambrose spinning in front of the whole pack.
""We were just out there running around," Earnhardt Jr. said. "I felt like Marcus (Ambrose) was backing up to me in (turns) one and two to get a run down the back. I was just going to give him a push down the back straightaway and see if he could get the lead. I was trying to eventually get the lead myself. We got off the back straightaway and were just kind of pushing him along there and our cars sort of just didn't match up very well. I got him hooked into the fence. I pushed Martin (Truex) a little bit in his Toyota and they matched up good. The bumpers were good, didn't have any problem with any of the cars. That is the first time I pushed a Ford. The roll bar of the front of my car is just at the right place where his car sets right up on top of that. I sort of had him going down the back straightaway like a forklift. It was a big mess and tore up a lot of cars down here trying to work on their stuff."
"I just feel bad for my Stanley and Richard Petty Motorsports team," Ambrose said. "You know, I had junior pushing me. He's just a great drafter, really can feel it well. I guess I just got caught on the edge of the bumper there and with the shaped noses and the tires, just spun me out. It was hardly even a bump. It was just enough at the wrong angle, wrong time and just went for a spin. I feel bad for everybody because quite a few cars were torn up there. But we'll repair this one and probably build a couple new ones and get ready for Speedweeks."
Collected in the wreck was Jamie McMurray, Brad Keselowski, Kasey Kahne, Kyle Busch, Jeff Gordon, Joey Logano, Aric Almirola, Regan Smith and Carl Edwards. All teams were sent home packing due to the damage except for Busch and Edwards – Busch made repairs while Edwards was the only one with a back-up car.
However, despite the incident, there were lessons learned with the drafting as teams were able to make notes and have some idea of what to expect next month when they come back for the Daytona 500.
One thing that defending series champion Keselowski learned is the sport is "rewinding" in that we are going back to the way drafting used to be. Instead of two-car tandem drafting, we're back to pack racing with gaps between cars. It reminds Keselowski of the way the plate racing was in the early 2000s with the Gen 4 car before the Car of Tomorrow (Gen 5).
Due to that, Keselowski admits that you have teach yourself that and when doing that, you will mistakes. There will be incidents. There will be big wrecks and carnage. But it's a product of plate racing and learning, testing the waters.
"I might be the guy that makes the mistake next time so I can't be mad about it," Keselowski admitted. "It is unfortunate that there are torn up cars but lets be honest, it is January and we have another month-and-a-half to build them right. Nobody if the field was going to race these cars anyway."
Edwards joked that it wasn't too serious – nobody flipped, and they made it 90 minutes which is pretty good considering the way pack racing is. He also brought up the question as to whether how hard you're supposed to test. Do you push it learn things or do you be conservative?
"It is really too bad but I don't know how hard you are supposed to test," Edwards said. "You want to learn everything you can."
Gordon agrees, saying that you need to be in those big packs to learn.
"I think you can kind of weigh into both sides of it," he said. "You know when the cars are starting to push and move around a lot more that the chances are getting higher that something is going to happen. There are some rookies out there as well. I saw some things happen a couple of laps before that. You just ride it out and hope you can make it through it. Unfortunately, we didn't in this case."
For Earnhardt Jr. on Friday, it was testing the waters of whether he could tandem draft. While it is possible to tandem draft, those waters are very testy in that it makes the car in front of you really loose or tight and the bumpers don't properly a line.
"You can't really tandem certain cars; certain cars don't match up well," Earnhardt Jr. said. "Our bumpers on the Chevy's have a little bit of a point. It makes it a little bit of a challenge to get into guys and kind of help them. We definitely weren't doing that in the corner at all because it was pretty hairy trying to do it on the straightaways."
"I think you can see from Dale that you can do it but we are all learning the consequences and nobody wants to be that guy," Keselowski said. "Unfortunately somebody has to be that guy. That is the way it is."
"You can still get to the guys bumper, but the cars just don't line up very well," Gordon added. "You really just shouldn't even be doing it. Unfortunately, that is kind of that last little bit of momentum that you need to sometimes make the pass or make your lane move."
That's why Gordon says that it is important to balance that line of how close you get with the handling and keeping things in line while Earnhardt Jr. advises knowing who you should work with versus who you won't.
Though with the handling playing a factor, Edwards says that it will make the racing better.
"That is good for racing," he said. "It is good for the fans. It will make it more exciting and make pit strategy come into play. If you put tires on you will be able to go faster. I think all of that is good. This is going to be a heck of a race. I like that the cars were sliding around and hard to drive. It will make it a fun race."