Ten bold predictions for 2013: A year of change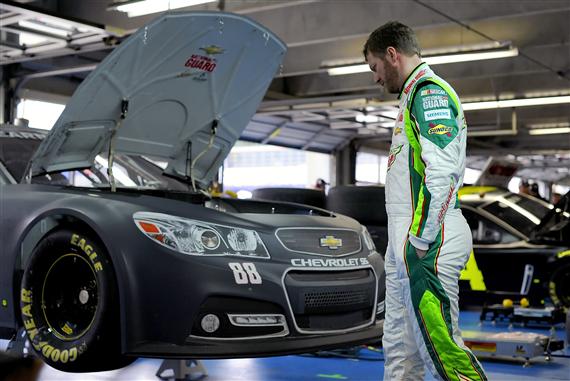 With the 2013 NASCAR season fast approaching, it's never too early to look ahead to what's in store for the upcoming season which will see some of the biggest changes to the sport's top level in recent years.
Looking to increase individuality between the three manufactures (Chevrolet, Ford and Toyota), NASCAR will increase a new body-style for each manufacture beginning with the season-opening Daytona 500 on February 24.
Enough with all of the talk. Here are some of the things I see happening in 2013.
1: Brad Keselowski won't repeat as champion. 
– The 2012 Chase was arguably one of the best ten-race performances in Chase history as Keselowski out-dueled five-time champion Jimmie Johnson where the two drivers were seemingly neck-and-neck each and every race. While the young, Michigan native has a wave of momentum in his favor, there is a lot of change for the Penske Racing team in 2013. Making the switch from Dodge to Ford could be a bigger change that some foresee it being. After being the lone Dodge team full-time in Sprint Cup, Penske now is part of a joint effort where they're relying on another team for components once pieced together in the confines of their race shop.
It's not uncommon for a champion to repeat, and Keselowski certainly has all the makings for a driver that can do it. Just not in 2013.
2: Joe Gibbs Racing will have the most wins. 
– 2008 was the last time JGR brought a driver from an outside organization into their race team. That driver was Kyle Busch, and he won eight races in his first year with the team who also made a bold manufacture move from the Chevrolet powerhouse to the unproven Toyota crew. In 2013, JGR will welcome Matt Kenseth to the fold, a veteran presence which has been missing since Bobby Labonte and Tony Stewart left the team years ago.
It's no secret that the team has needed some guidance over recent years. With one of the youngest driver lineups out there, the team provided fast cars with talented drivers behind the wheel, but the results never culminated into a championship. With Kenseth now as a veteran presence, look for big things out of the JGR team.
3: Aric Almirola will win a race. 
– If I would have made this prediction at this time last year, nobody would take it seriously. That still may be the case now, but there is a reason for me thinking this is going to happen.
Over the course of the 2012 season, Almirola made steady improvements while his team underwent changes at the crew chief position on multiple occasions before the Chase began. During the Chase, Almirola was seemingly a constant dark-horse on the 1.5-mile tracks, having one of the dominant cars in the early stages of the race at Kansas Speedway before blowing a right-front tire.
Where will Almirola win? More than likely at a 1.5-mile track. When? Who knows.
4: Stewart-Haas Racing struggles. 
– If the trend from the 2012 Chase continues, SHR isn't going to be spending much time in victory lane in 2012.
After winning four races in the first 26 races, the team was almost non-existent in the Chase. Granted, it was the exact opposite in 2011, but performances like that aren't common.
With the addition of Danica Patrick to the full-time fold for SHR, it's given that her effort will attract a lot of attention which isn't always the best thing for a driver trying to learn a new series and a new style of race car. The guidance and talent is there for SHR to be strong, but it's going to take a lot.
5: Joey Logano makes the Chase. 
– A change of scenery is going to do wondrous thing for Logano. After being thrust into a high-pressure, big shoes to fill situation at JGR when he was just 19-years-old, Logano makes the move to the Penske Racing organization for 2013.
While the pressure to perform at the highest level is still there for Logano, a new opportunity and organization is something that could do the now 22-year-old driver a world of good. After dominating the Nationwide Series in his select starts, you have to think one day he's going to show that talent in the Cup Series.
Maybe now with Penske Racing.
6: Earnhardt-Ganassi will win a race. 
– After two horrendous campaigns which have ended without a victory for either drivers Jamie McMurray or Juan Pablo Montoya, the EGR team will somewhat be back on track in 2013.
Now, I'm not saying that this team will make the Chase, that's quite the stretch after neither car finished in the top-20 in points in 2012. But, they will show enough improvement to squeak out a race win.
For the 2013 season, EGR is making the switch from Earnhardt-Childress engines to the powerhouse of Hendrick Motorsports as they look to strengthen their program from under the hood.
Both McMurray and Montoya are talented drivers on a wide variety of tracks. They should be in victory lane.
7: Kurt Busch returns to victory lane. 
– The older Busch brother has spent much of the past two seasons under a microscope, and that probably won't be any different this year. While he's with a new team (Furniture Row Racing), many don't see the attitude of Busch changing. However, results are a different story.
In the final six races of 2012, Busch made his first starts behind the No.78, scoring a pair of top-10 finishes and averaged a 14th-place finish in those races. No one questions the talent of Busch, just the way he goes about the things he does on and off the track.
Don't be shocked to see the No.78 in victory lane at least once in 2013.
8: Jeff Gordon contends for the championship. 
– 2012 wasn't a banner year for Jeff Gordon, but it couldn't have ended much better for the four-time champion. Finally winning a race at Homestead and having a Chase in which he was seemingly always up front, it was a horrendous year turned OK for Gordon.
It wasn't any secret that the COT didn't mix well with Gordon's driving style. But, with the new 2013 car having an increased amount of down force  it's conceivable that Gordon could turn into a major championship threat.
The "Drive For Five" resumes.
9: Richard Childress Racing bounces back after rough 2012. 
– There wasn't much to cheer for on the Cup side for RCR in 2012. With just one win coming at the penultimate round of the season, the team performed no better than mediocre most of the season.
In the past, it's been common place for RCR to go from seemingly non-existent to being one of the top teams in the standings over the course of the off season.
With Kevin Harvick leaving the team after 2013, Jeff Burton in a contract year and Paul Menard needing to perform, 2013 could be a big year for RCR in terms of redeeming their status following 2012.
10: Kyle Busch wins the Sprint Cup Championship. 
– In all honesty, this is the one I thought the least about. In fact, during the November Texas weekend, I made up my mind as to who my pick would be for the championship.
It's well documented that Busch struggles in the Chase and that his only win during that stretch came when he was a rookie and not even in the Chase back in 2005 at Phoenix. But that's all about to change.
As I said previously, I see Matt Kenseth having a calming presence over JGR as a whole, and the driver that I think will take the most from having a new leader will be Busch.
Busch is coming off the worst year of his NASCAR career, only posting one win across NASCAR's top-three series. Many would be quick to say that Busch is far too talented not to do better in 2013.
The COT played well into Busch's hands, I see the 2013 car working out better for Busch and him hoisting the Sprint Cup trophy following the Chase at Homestead-Miami.