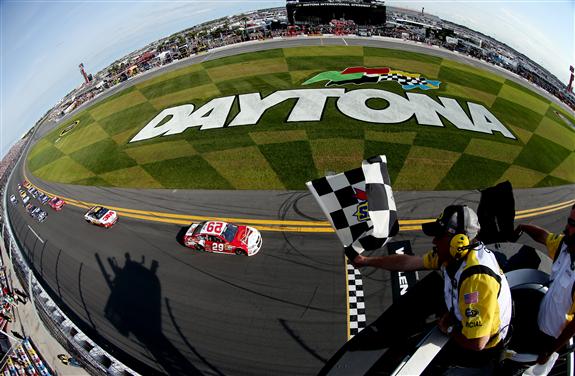 Kevin Harvick held off Greg Biffle for his third Sprint Unlimited victory, tying him with Tony Stewart and 3-time Daytona 500 champion Dale Jarrett. Only one more driver has more Sprint Unlimited wins and that is the late Dale Earnhardt, who has six.
"The 3M Ford Fusion really was strong all night," Biffle said. "It seemed like some cars were better than we were and we will work on our stuff for the 500. I had a run on him at the top there and he closed the door. Kevin did what he had to do to win that race. I didn't think there was room to stick it in there. I thought we would end up wrecked. I looked in the mirror but didn't have any help. I was against his bumper but couldn't do anything. I am happy to come home second. I have been so close so many times here at Daytona. It would feel nice to win one."
Joey Logano finished third, followed by Tony Stewart and Matt Kenseth.
Kenseth had the dominant car for most of the night, but got shuffled back late and couldn't make it back up to the front.
That wasn't the only wreck avoided tonight for Harvick.
On Lap 15, Tony Stewart saw a chance to dive to the inside to take the lead position away from Kenseth, but came right across the nose of the No.9 of Marcos Ambrose causing a chain reaction crash behind them.  As drivers let off the gas, Denny Hamlin plowed into the side of Jimmie Johnson, collecting his teammate Jeff Gordon along with Kyle Busch, Mark Martin and Kurt Busch.  Martin Truex Jr. received some cosmetic damage, but he was able to continue.
"I got a big run on the 20 (Kenseth), and went on the bottom, and the spotter didn't clear me so I went before I knew," Stewart said. "I was trying to make a move for the lead, and was probably a little anxious. I was feeling good about moving up, a little too racey."
Stewart later made contact with Dale Earnhardt Jr. causing aerodynamic problems on his race car and could really never get back up to the front.
Stewart won the first segment of the race, while Kevin Harvick led the final two to take home the win.
"That's one for the Lame Ducks. We'll see how many we can get." Harvick said.
"I think it is one of those deals that for us, it's all about winning races," Harvick added. "The politics and everything is what it is, but when we get to the race track, it's all about winning the race. For those guys, that's all they think about."
Daytona Speedweeks will continue tomorrow with Daytona 500 qualifying.
Sprint Unlimited Results 
Kevin Harvick
Greg Biffle
Joey Logano
Tony Stewart
Matt Kenseth
Aric Almirola
Kasey Kahne
Dale Earnhardt Jr.
Martin Truex Jr.
Juan Pablo Montoya
Marcos Ambrose
Carl Edwards
Kurt Busch
Jimmie Johnson
Denny Hamlin
Kyle Busch
Jeff Gordon
Mark Martin
Terry Labonte