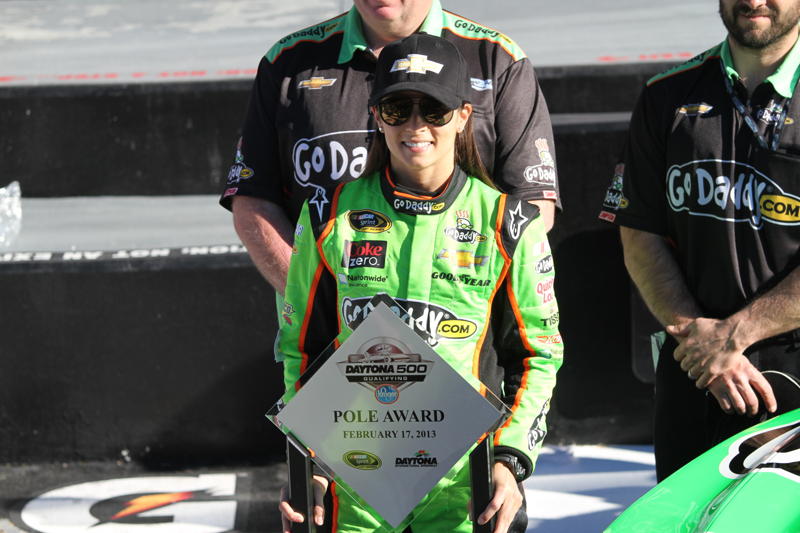 Danica Patrick grabbed the Coors Light Pole with lap of 196.434 mph (45.817 seconds) and became the first female driver to win a pole at NASCAR's top level, the NASCAR Sprint Cup Series on Saturday at Daytona International Speedway.
Patrick also became the first rookie to win the Daytona 500 pole since Jimmie Johnson in 2002.
"If you're anywhere but the front row, it's really hard to see on race day. This just speaks volumes of Stewart-Haas Racing. It just shows what a great organization it is." Patrick said.
3-time Daytona 500 champion, Jeff Gordon will start on the outside of the front row.
"It's great to be part of history. I can say I was the fastest guy today." Gordon said.
The 2011 Daytona 500 champion, Trevor Bayne will start his third 500 from the third position.
"I am happy to get a Ford up there because it wasn't looking good up there at the beginning. We have the 1963 paint scheme here and all kinds of good stuff going on. I am proud to be a part of it." Bayne said.
Rounding out the remaining top-10 were Ryan Newman, Tony Stewart, Kasey Kahne, Denny Hamlin, Kyle Busch, Joey Logano, and Matt Kenseth.
The Gatorade Duels are Thursday and will determine the starting positions from 3-43. And to round out pole qualifying.