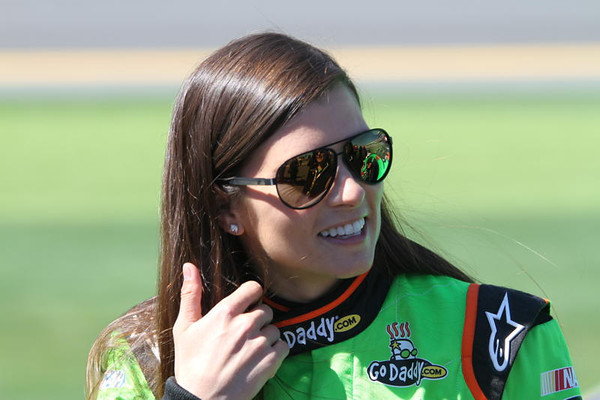 History was made in more way than one Sunday afternoon at Daytona International Speedway.
For the first time in the 54-year history of the Daytona 500, a woman will lead the field to the green flag after Danica Patrick won the pole position for next Sunday's 55th running of the Daytona 500.
Patrick also becomes the first woman in the history of what is now known as NASCAR's Sprint Cup Series to win a pole position. Until today, the best qualifying effort by a woman driver was set by Janet Guthrie back in 1977 with a ninth place start.
Being the eighth of 45 cars to make their timed laps in qualifications for next Sunday's race, Patrick knocked her car owner, Tony Stewart, from the provisional pole early on.
After her lap circling the 2.5-mile Daytona International Speedway in 45.817 seconds, Patrick was forced to sit and wait for over two hours as the rest of the field tried to knock her off the top spot.
While many tried, only Jeff Gordon was the real threat to Patrick's time; missing her mark by 0.03 seconds.
"I'm proud of all the hard work that goes into making a pole car," said Patrick after the qualifying session was complete.
"It's not just turning left, it's so many other things. It's all of the attention to detail that [the crew] puts in over the winter. I can't be more proud of them."
Patrick's lap of 196.434 mph is the second-fastest lap turned in the restrictor plate era (1988-present) at Daytona since Ken Schrader's lap of 196.996 mph back in 1989.
During yesterday's practice sessions, the No.10 Chevrolet of Patrick was third-fastest in the first and quickest in the final, making her the odds-on favorite to win the pole.
"I didn't think anyone else had a shot," said Gordon who still start alongside Patrick for next Sunday's race.
"It's big for the sport. I'm excited to be on the front row with Danica.
Patrick and Gordon are the only two drivers with their starting positions set for next Sunday's Daytona 500. The rest of the starting field will be set based on the results of Thursday's Budweiser Duel 150-mile qualifying races.
Daytona 500 qualifying results: 
Danica Patrick 

Jeff Gordon
Trevor Bayne
Ryan Newman
Tony Stewart
Kasey Kahne
Denny Hamlin
Kyle Busch
Joey Logano
Matt Kenseth
Dale Earnhardt Jr.
Ricky Stenhouse Jr.
Juan Pablo Montoya
Paul Menard
Casey Mears
Austin Dillon
Carl Edwards
Clint Bowyer
Martin Truex Jr.
Jeff Burton
Jimmie Johnson
Jamie McMurray
Brad Keselowski
Marcos Ambrose
Kevin Harvick
Aric Almirola
Greg Biffle
Mark Martin
David Gilliland
David Ragan
Michael Waltrip
Josh Wise
Kurt Busch
Michael McDowell
Scott Speed
Terry Labonte
Regan Smith
Dave Blaney
Bobby Labonte
JJ Yeley
David Reuitmann
Travis Kvapil
Joe Nemechek
Mike Bliss
Brian Keselowski